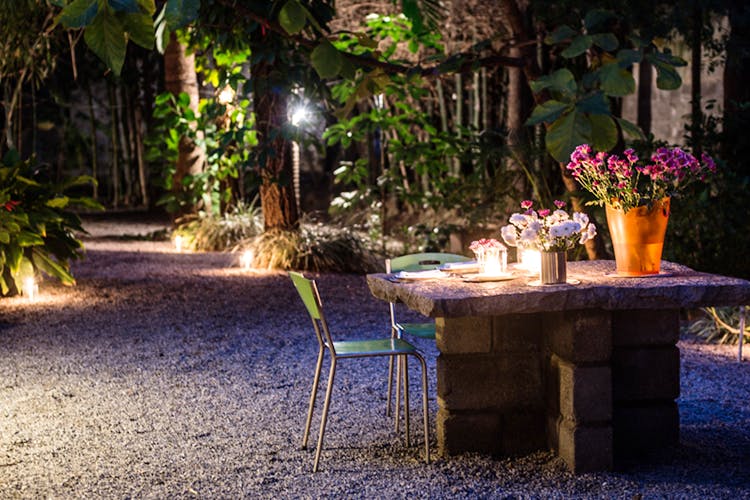 Book A Table At These Restaurants For A Romantic, Candle Lit Dinner
If you're looking for a lovey-dovey celebration of romance this Valentine's Day, then, a candle-lit dinner at a cosy restaurant may just be the answer. To add a spell of l'amour to your life, head to these restaurants for a pampering meal, fine wine, and plenty of fireworks. And just in case, you want everything to go smoothly, get in touch with the restaurant and rope them in to ensure things are in place when you and your beloved swing by.
Fenny's Lounge & Bar
You'll leave busy Koramangala behind once you step into this breezy, open-air lounge. Snap up a cosy nook, surrounded by Mediterranean inspired decor, and settle in for a romance-filled evening. Their cocktail menu is a hit with the crowds and will add an extra dose of headiness to the evening. You can pair your drinks with wood-fired pizzas, Honey Flavoured Grilled Chicken, or their delicious Rosemary Baked Beef. The place can get particularly crowded so make sure you call and book your table in advance. 
Grasshopper
Set in a farmhouse, Grasshopper is an out-an-out romantic escape right here in the city. We recommend you make a reservation here (they don't entertain walk-ins) when you want to do things in style. Especially if you want something exclusive, private, and custom made for your taste. You can linger over a beautiful five or seven-course meal and enjoy fine wine and the company of incredibly adorable pooches. Right now, their menu includes highlights like prawn with sesame, ginger, and mango, juicy lamb roundels, and dark chocolate ganache. It will be a Valentine Date to remember! For more, read here.
Olive Beach
A favourite with much-in-love couples, Olive Beach knows hows to make a night truly magical. There's the pretty-as-a-picture setting, complete with white-washed walls, blue windows and doors, and the intimate nooks under the stars. The food impresses too. You and your lover can feast on Crab Cakes, Harissa Prawns, Seared Fillet Mignon, and other exquisite dishes that stud the menu.
On The Edge
If you're running out of ideas for what to do on Valentines Day, fly high at this rooftop restaurant that sits pretty on the 13th floor and offers a panoramic view of the city. They have compact booths, where you can cosy up with your loved one, and take in the romance. The menu is packed with Asian flavours and includes dishes like Wasabi Mushrooms, Thai Drunken Beef, Nasi Goreng, and Baos. They have a fully-loaded bar in case you are in need of an extra dose of intoxication.
Fava
When you want to pull out all the stops, this plush restaurant is perfect! Located in UB City, you can grab a spot in the al-fresco area and settle in for an evening of coochie-cooing. When you can tear your eyes off each other, we recommend you concentrate on the stellar food here that includes gems like Polenta Crusted Goat's Cheese & Thyme Rolls, Smoked Salmon Labneh, Juicy Lamb Chops, and Pork Spare Ribs. Finished up with their excellent Baked Lemon Cheesecake or their house special – Baklava.
Bricklane
Done up in pristine white, this charming restaurant in Indiranagar has an outdoor and indoor section. We recommend the outside area – that has a real, intimate feel to it. You can start off by pairing your tipple with short-eats like Spicy Crisp Lotus Stem, Chettinad Chicken Tikka, and Ghee Roast Lamb. For mains, you can chomp on pizzas, Creamy Rigatoni Bolognese, or their flavourful Thai Curry.  
By The Blue
Part of the Grand Mercure property in Koramangala, this place is popular with lovebirds. You can sit by the poolside and take in your serene surroundings. When you are ready to order, you can nibble on Galouti Kebabs, Dahi Ke Kebabs, Dum Biryani, and Dal Makhni.
Forage
In the quiet bylanes of Indiranagar is Forage. No request is too big or small for them and, ensuring that your Valentines Date is absolutely perfect because they'll customise it to the T! With a private rooftop, indoor and outdoor seating options, the world (with bae) is your oyster because they'll cover the space with flowers, balloons, fairy lights or any other props to set the mood. Enjoy a three course meal (fully customisable menu, to be decided a few days in advance), or some wine and Tapas to wine and dine your date.
Rural Blues
Be transported outside the city (literally and figuratively), and dine under a billowy cabana in the Love Garden at Rural Blues. The star package involves wine, spirits of your choice, a pre-set (unlimited we might add) menu, rose petal decorations, cake and a violinist too if you'd like! If that's too extravagant (different strokes for different folks), you can go a-la carte, but get the decorations and cake at private nooks across the Santorini inspired space.
Kaze
Keep it within city limits, and take your date to Kaze on Residency Road. With a 360 degree view of the Bangalore skyline, the rooftop restobar (on the 21st floor!) is sure to be the highlight of your Valentine's Date. Offering a Pan-Asian menu (fulfill your sushi dreams!) and an eclectic range of cocktails and craft brews, you and your date will be spoiled for choice. Red meat lovers, try their New Zealand Lamb chops!
Comments