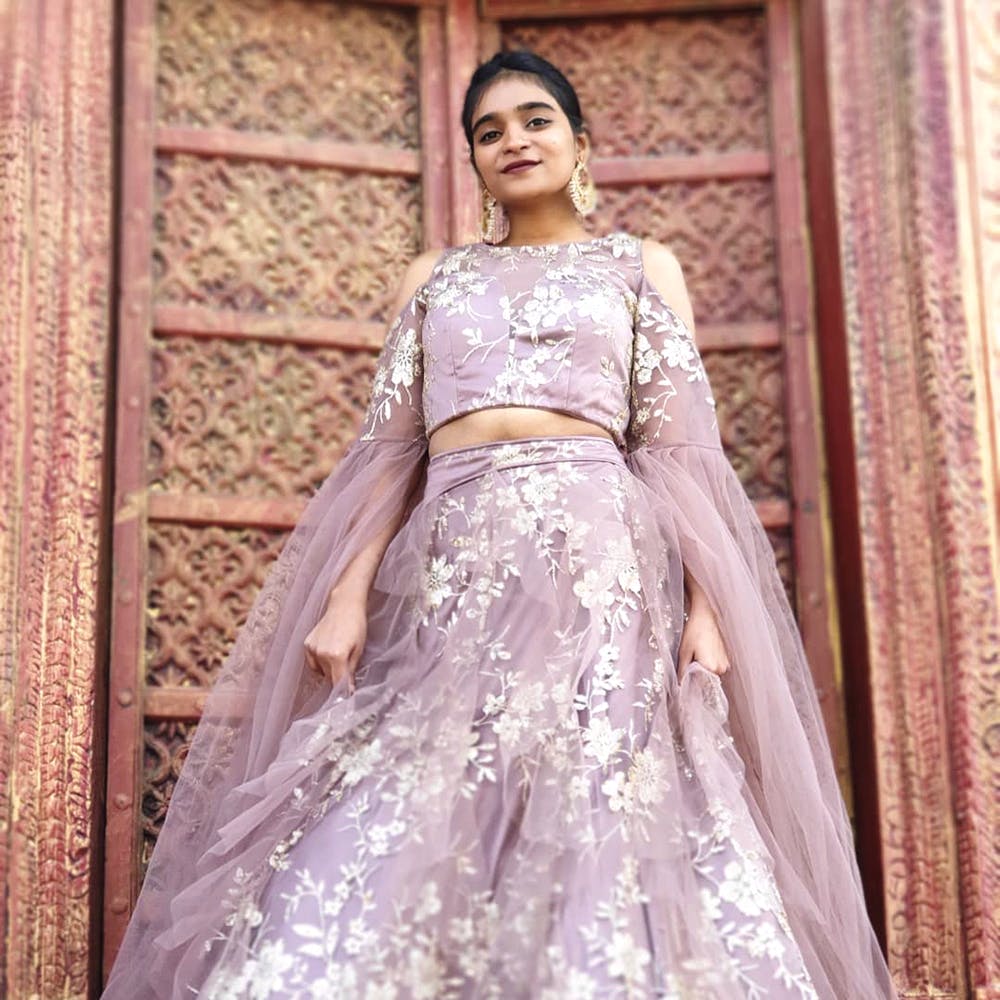 Floral Is The Way To Go: Your Guide To Floral Lehenga Shopping In Bangalore
Unless you're living under a rock, you've been witness to the recent barrage of Bollywood wedding pictures - and from our in-depth analysis, we have come to the conclusion that LEHENGAS. ARE. IN. Especially floral lehengas, if you go by Sara Ali Khan's Instagram (we really need to get a new hobby). Not only are they super on-trend and flattering, but they are also oh-so-comfy and give you princess feels, too. So, if you have swanky weddings to attend in 2019, scroll through this list of places where you can find the best lehengas in town.

Badsha Stores - The Silk Experience
The best thing about this store is that they make lehengas suited to your budget. Plus, their lehenga collection features intricately embroidered sets that can be worn to most shaadis and festivals. Our favourite was this stunning peach silk one with embroidered aquamarine blue flowers.

Arshvi By Shraddha
This busy boutique just off Comm Street is lehenga paradise. If you're looking for an outfit that will make you stand out from the crowd, then, simply head here. While the store specialises in custom clothing, you can check out their samples of elegantly done floral work lehengas featuring pearls and zari work that we think will be worth your buck.

Velvet Sheen
For the latest, designer-inspired lehengas, it doesn't get better than Velvet Sheen in Jayanagar. Find here showstopper lehengas that come with contrasting fabrics. We spotted net fabrics that were embellished with lace and elaborate floral embroidery work that would look great when accessorised with a waist belt and mogra flowers for the hair.

Tantu Designs
Known for their embroidery and intricate handwork, Tantu creates beautiful lehengas for every occasion. For big events, check out the blouses that feature beaded peacocks or colourful floral motifs on them. Netted lehengas, silk kurtas, and chic gowns are their speciality.

Armadio
Specialising in bridal and occasion wear, Armadio houses creations from some of India's best fashion designers like Masaba Gupta, Anushree Reddy and Dolly J. Apart from their gorgeous collection of sarees and gowns, we loved their floral print lehengas in pastel colours that make for perfect mehendi or sangeet outfits. Anything you pick here can be altered to your specifications. They take custom orders, too.

Indralokk
To get the outfit of your dreams, simply head to Indralokk in JP Nagar. Just entering the store will make you feel like you're in a fairy tale. While they have a curated collection of lehengas featuring zari, kaatdana and stone work that will leave you slack-jawed, you can always get something custom made too. Plus, they have time-honoured jewellery options, too, for upping your desi glam factor.
Ask Roshni a question