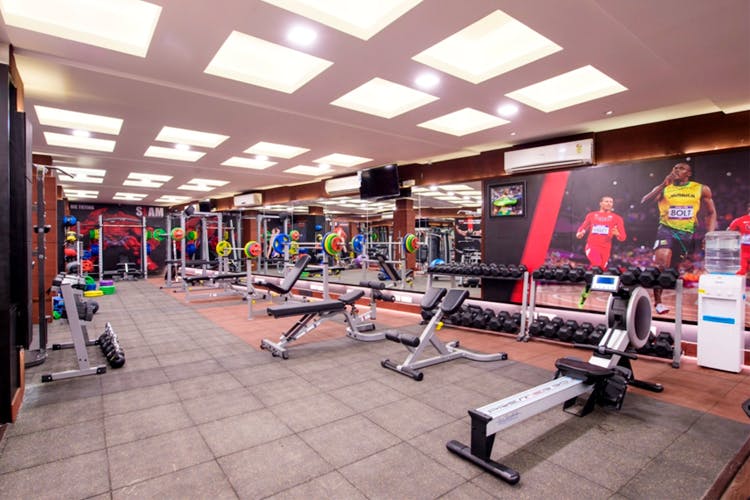 Work That Body And Get Fit The SLAM Way
Shortcut
Indiranagar's SLAM gym promises not to intimidate you, despite their grueling and personalised workouts. We tried a session at Slam Lifestyle and Fitness Studio and lived to tell the tale.
Warming Up
OK, I admit. I'm not the biggest fan of gyms. So, when 'that new gym on 12th Main, Indiranagar' opened up, I wasn't exactly enthusiastic to go check it out. After all, how different could this gym be from the others, right? Go there, break a sweat and listen to endless amounts of Avicii and Calvin Harris (Do all gyms have the same playlist?) with the hope of losing/gaining weight/inches/muscle. But when I spied the striking black and red stairs leading up to a swanky-looking space, I was already motivated. Part of the Paulsons Group (which also brings you Toni&Guy and Häagen-Dazs, among others), this one gave off happy vibes, right from the trippy staircase.
The studio spans two floors — cardio at the bottom and weights on the top level floor above, but whatever your focus, they have a program for you. Yes, you too, you wanna-be Chris Hemsworths! What is most interesting (and actually useful) is that their programs are all individual results based. You won't find group classes here as each workout is tailored to suit you, your body and pre-existing levels of fitness. An acronym, SLAM really means Sports Liberation Aesthetics Muscle. Confused? It only means solid 30 minute (or more) High Intensity Interval Training (HIIT) workouts, gruelling bootcamps, and hardcore power lifting to tone and build muscle. Or even a 90-day program which promises to show you an absolute body transformation.
When my trainer noticed I was all-too-comfortable with the given workout (which included basic cardio), he instantly upped the ante by throwing in high-knees, jumping jacks and planks. They do push you to the limits but they know exactly when to stop. That said, slacking is not an option! Forget becoming strong, you'll become Superman here! With coaches trained in strength, bodybuilding and functional fitness, you'll always be working towards a goal and no indiscriminately exercising.
Pro-Tip
As part of the launch, there's plenty of discounts on offer. Plus, a different kind of Happy Hours that gets you 10 per cent off if you only workout between 11am and 5pm.
More Information
SLAM Lifestyle & Fitness Studio
Nearest Metro Station: Indiranagar
Comments