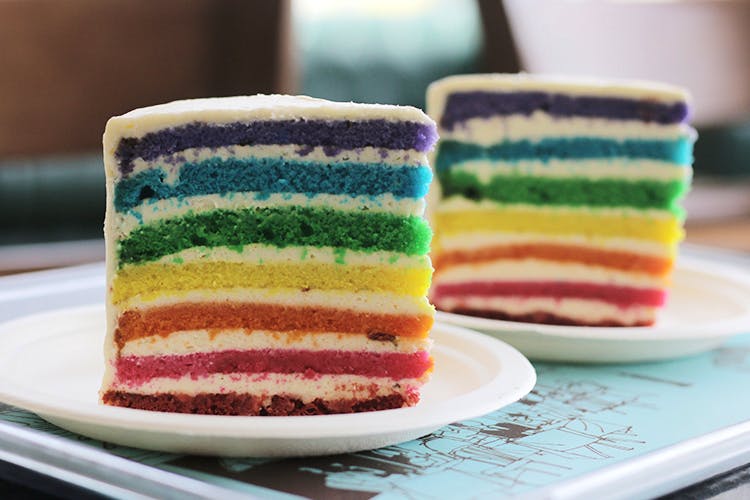 Colour Me Happy: These Rainbow Desserts In Gurgaon Will Light Up Your Instagram Feed
Rainbows are Instagram-perfect because all that colour just can't get a bad picture. Here is a list of the most Insta-worthy rainbow foods in Gurgaon – perfect to display your Pride with.
The Brookie Box's Rainbow Pie
The Brookie Box, named after their cookie and brownie fusion, does rainbow desserts as cake jars and brookie pies. Their quirky packaging and colourful desserts make this desert almost celebratory.
Theobroma's Rainbow Cake
Is there anything Theobroma can do wrong? Food of the Gods indeed with this slice of heaven, take this colourful cake jar home to family – it'll be the icing on top of a gossip and laugh laden dinner. Fluffy, light and sweet, it is the perfect chaser to every rain shower.
The Cake Story's Colourful Cake
Famous for their rainbow cake, the Cake Story is a Gurgaon exclusive gem. This cake at any birthday party would be an absolute hit! However, their adorable cakes are a reminder that the real marker of adulthood is when you realise you don't need an occasion to eat cake anymore.
Rainbows' Signature Pastry
The renowned Delhi classic (open in Gurgaon also) is known for its signature pastry. For all of Delhi's oldies this place is nostalgic, so relive those golden days in multi-colour.
Krispy Kreme's Rainbow Doughnut
If your love for doughnuts is Homer Simpson-esqe, a chocolate doughnut with iced glazed rainbow sprinkles is all you need to brighten your day. Because for the sake of a colourful Instagram, you can't possibly forsake your love of chocolate.
Angels In My Kitchen's Rainbow Pastry
Their heavenly rainbow pastry is famous in Gurgaon. When the Angels themselves are creating cakes from fluffy clouds, who are the mortals to nitpick? Show up at a doorstep with this offering in hand and any occasion will become an exuberant one.
Comments