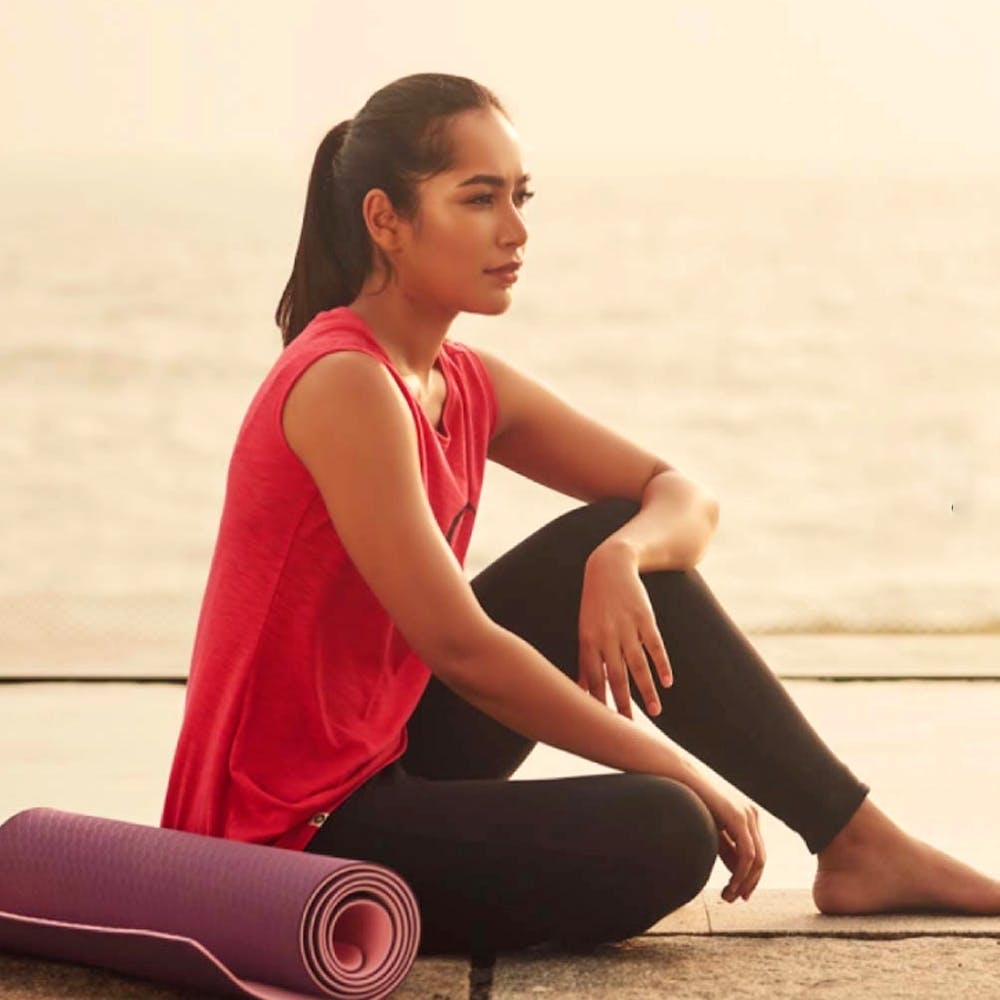 Get Fit Fashionably With These 12 Activewear Brands
If you think gym OOTDs are a thing, we guess you are on the right track. Also, don't you think it's always a good idea to not restrict your active wear just to gym or yoga classes, and maybe, experiment a little?
Here are some of the best active wear brands (some of which are even lesser-known) to help you sort your pre, during, and post gym looks.
Alcis
If you are looking to invest in good quality apparel, shoes for men, women, and kids, then this Noida-based brand will have you sorted. For women, we are particularly a fan of their t-shirts, leggings, while for men, we heart the footwear. In the past, the brand had also designed a collection for Rajasthan Royals (well, yes you read that right!).
Their tees for women start from INR 399, leggings from INR 1,299 while footwear for men start from INR 3,499.
Silvertraq
Offering apparel for both men and women, this brand stocks really trendy stuff. Plus, their garments are designed with features such as sweat-wicking, anti-odour, stretchability, breathability, and most importantly, these are incorporated with anti-dry properties (best, no?)
We absolutely love their performance t-shirts for women, priced starting at INR 899 and men's training t-shirts which starts from INR 795.
Creez
Creez is an athletic apparel brand that aims to provide its customers clothing that is just not comfortable but also flexible enough to stretch out. What we really love about the brand is that the clothes are perfect to be worn in and out of the gym. Also, the brand is quite affordable too (at least the tees and tanks).
The price for women tees start from INR 999, while the leggings start from INR 1,999 and t-shirts for men start from INR 899.
Brakefree
Started by record-breaking endurance runner, Sumedha Mahajan, the brand was started by her when she realised that there was a need to establish an authentic sportswear brand for women in the country. The brand has High Impact Champion Tights, High Impact Anti-Odour Tee, High Impact Non-Bouncy Bra, and trust us, these are really good.
Price for sports bra starts from INR 2,860, Anti-Odour Tees start from INR 1,600, and tights start at INR 3,000.
Athlos
With an idea that was executed out of personal experience, Athlos is an activewear brand that is sustainable, focuses on a minimalistic approach, and concentrates on 'less is more' concept. They use their signature bamboo fabric to make garments and our favourite is their training crew tee.
Price for their crew training tee for men and women starts at INR 1,290.
Satva
If you are looking at buying apparel that is organic and sustainable, then this is the place where you should buy stuff from. They use organic cotton and the products are free of chemicals too.
We particularly love their sporty tank tops and the price starts from INR 1,499.
Myriad Activewear
With a number of celebrities sporting Myriad's clothing, this brand has been gaining a lot of popularity considering the quality of products. We love how colourful their garments are and they are quite unique in terms of the styles used in crop tops, leggings.
Their bralette/crop tops start from INR 1,500 while leggings start from INR 1,200.
Yogue Activewear
With an aim to provide comfortable clothing that could be worn post gym too, this brand was started in the year 2015. It provides active wear for both men and women, and every single garment in their collection is unique. What's best is that the brand is quite affordable too.
For women, the price for short tops start from INR 899, and shorts from INR 999. For men, gym vests start from INR 699, T-shirts start from INR 799, and guess what? They currently have a discount going on their website so, you could get all this at much cheaper rates.

2go Activewear
2go Activewear was started with an aim to provide functional apparel and footwear for both men and women. We personally are a fan of their tank tops for women and cycling jerseys for men.
The price for their cyclic jerseys start from INR 1,299 while tank tops start from INR 799.
Jump USA
With their store based in CP and factory outlet based out of Noida, this is one place where you would not just find athleisure but a lot more. But, what we really love about this brand is their stock of leggings for women (we love their solid coloured ones!). We also like their menswear but, they do not have a lot of variety.
The price for their leggings start from INR 1,299.
Kica Active
Kica is an activewear brand that has a collection of leggings, sports bras, shorts tanks, tops in bright colours, and lots of mesh. Kica's workout wear is light and breathable. So you can exercise in their clothes without worrying about feeling too hot or permanent sweat stains. We love their range of leggings. Choose from solid neutral colours to bright colours such as blue and magenta. They've gone all out with mesh, giving them an edgy, chic look.
Their leggings start from INR 1,200 and tops from INR 950.
Skyria
If you are looking to build your athleisure wardrobe at affordable prices then your search ends here. Their collection is fierce and fashionable, and they have a wide range that you could choose from.
Their sport bras and bottoms start from INR 1,399 while tops from INR 949.
Ask Mitali a question