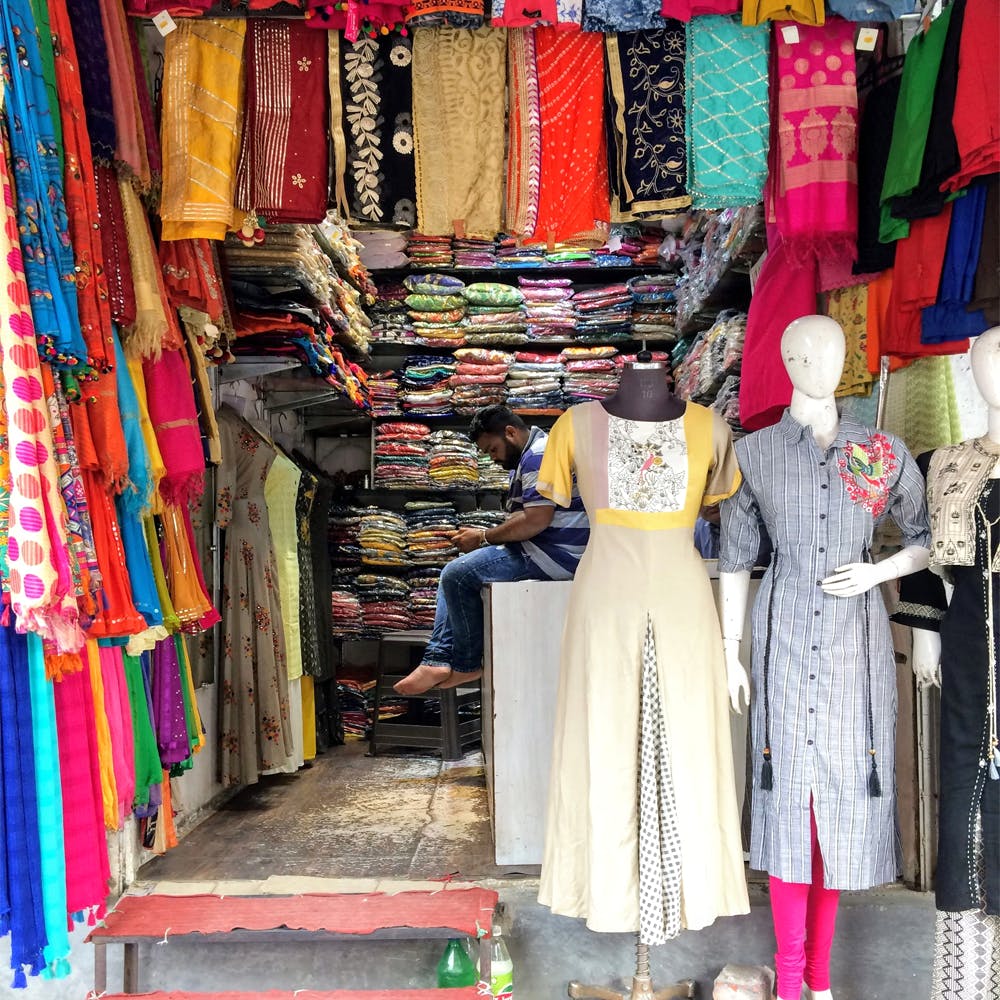 Ever Heard Of Avantika Market? You Can Find Affordable Fabrics & Kurtas Here
In 1983, when my mother was moving away from Delhi for the very first time, she shopped from Avantika Market for new clothes for the new experience she was about to go through. Evidently, you can see how old the market is.
Although it has got a lot of shops that offer great kidswear, fabrics, saris and lehengas fit for weddings, this market can be a little overwhelming. There are way too many shops to fully understand where to go to get the best things.

But if you delve deeper, and look around long enough, you'll find a couple of shops that are quite good. Give our list a read-through to know exactly where to go for what.
Batra Cloth House
Batra Cloth House is a fabric shop that also sells ready-made and semi stitched lehengas, suits and saris. What we liked about them is that they sell heavy bridal lehengas at affordable prices (although, don't expect anything too extraordinary from them, they've got the classic red, maroon and pink variants for brides-to-be).
Find fabrics starting at INR 250 here.
Ahuja Collection
Ahuja Collection is a shop that sells western casuals. So basically, you'll find palazzos or culottes here along with crop tops and co-ord sets as well. We recommend you go here for the palazzos and the crop tops.
Ahuja Collection sells their apparel at about INR 300 and upwards.
Saas-Bahu
Saas-Bahu is where you go to find lehengas, suits, ethnic gowns, casual menswear, kidswear and footwear. This shop has everything. But we recommend heading here for pretty and affordable, floor length gowns and kids wear. For kids, you can get decent sets of sherwanis, bottom wear, and waist coats.
All this for about INR 2,500 and above.
N-2 Designer Studio
N-2 Designer Studio is a great place for men to shop at. Though technically, it's not a shop for readymade garments. They have sample pieces of sherwanis, coats and three-piece suits, and you can order to get customisations and fittings done; this will take a couple of days. We quite liked their waist coats.
You can find coats here for about INR 2,500 and above.
Sagan Selection
We found Sagan at the end of the entire market, but this store had some of the nicest and least repetitive designs. They have pretty sequinned blouses with lehengas, ethnic gowns, and cotton kurtas as well.
Sagan's collection starts at INR 2,500 and can go up to INR 7,000.
Pooja Collection
Pooja Collection is a basic kurta shop. They have a lot of basic kurtas and palazzos to choose from. Though, their collection is not anything out of the ordinary, and we recommend that you drop by in case you're looking for good, neutral-hued kurtas (blue, black, white and grey).
Range starts at INR 550 here.
Ujjwal (Men's wear & kids' wear)
Ujjwal is one of the largest shops in the market for menswear and kids' wear. They have everything from fun, printed waist coats, three-piece suits and men's casuals to kids' clothes.
PS: We recommend this place for its men's waistcoats which start at around INR 550.
Stylish Bitiya
There's a reason for this shop's name. Stylish Bitiya sells simple suit sets that are great for college kids, and the prices here are super affordable. You can find one of those trendy umbrella cut kurtas and matching palazzos to go with them for about INR 500, altogether. They have a lot of matching suit sets that are around the same price, and single, simple kurtas with fun tassel work for about INR 300 or so.
Pari Collection
Pari Collection is another shop that you can drop by if you're looking for nice suit sets for college/work, or even a simple family event. Their suits are a good cross between dressy and comfortable everyday outfits. For instance, you can find cotton blend suit sets with sharara bottom wear here. Their apparel is priced at INR 600 and above.
We also recommend you head here for pretty dupattas. They have dupattas in bandhani, Jaipuri phulkari, dupattas made of tissue fabric with metallic embroidery on it, as well as basic georgette ones that'll match with any suit or kurta you've bought separately (starts at INR 250).
Saraswati Cloth Emporium
Saraswati Cloth Emporium is the shop you should head to if you're looking to buy saris for a special occasion. Although, they have simpler saris and suits, we recommend you go here for their pretty net saris with zari embroidery on them. Personally, we loved this super elegant sari they had in a grey hue, made of net and embellished with gold pearls (major Tarun Tahiliani vibes) (priced at INR 2,000).
Most of their products are priced at INR 800 and above.
Ask Harshita a question