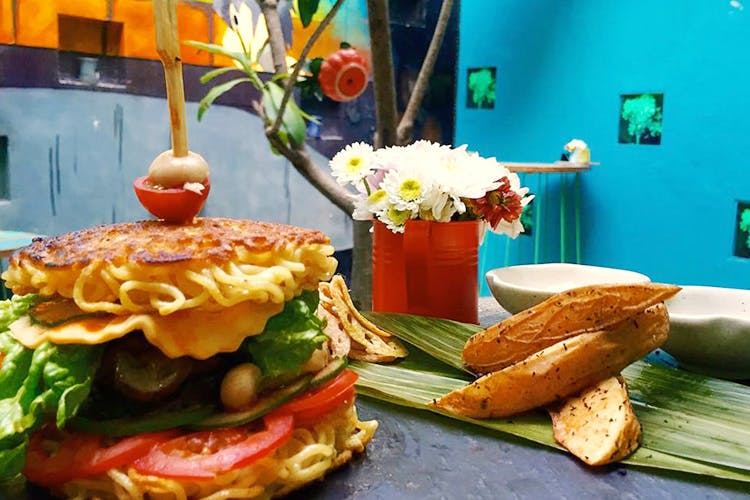 #LBBPicks: The Meatiest, Juiciest, Yummiest Burgers In Delhi
In a city that doesn't serve authentic beef, has an assortment of patty melts, fancy chef creations, and an influx of famous burger joints, which ones are the trailblazers? LBB presents its top picks.
Bacon And Lamb Burger At Smokey's BBQ and Grill
They had us at two meats. An 8oz lamb patty flavoured with thyme and bacon lard, and served with baconnaise, there's no words to do this justice. Go try it, or have it home delivered.
Make Your Own Burger At Fork You
So, half of us voted for the Classic Tenderloin burger, but with the make your own option, turns out you can tailor make it your idea of perfection. Slather on the cheese, bacon and any and every artery-blocking ingredient.
Legendary Burger At Hard Rock Cafe
There's a reason legendary is part of its nomenclature: 10oz patty, seasoned bacon, melted cheddar cheese, crisp fried onion rings and pickles to boot. Take our advice – go on an empty stomach.
MoBurger At Monkey Bar
White bread, 300 gms patty, bacon, onion, seasoning and the usual burger suspects. With onion, tomato and lettuce, the MoBurger is a keeper. Your hips might agree.
Juicy Lucy At Cafe Delhi Heights
We know you've been looking for this on our list, and we won't disappoint you. Although we've heard some mixed reviews in the recent past, be it force of habit, the Juicy Lucy found its way back on our ultimate burger list. PS: Go completely empty stomach, or share it with a friend.
Mutton King At Kents
Old school salami sandwiches? Say hello to the grilled, double mutton patty, King Burger. Yes, it still comes with the French fries on the side.
Baconator At Smoke House Deli
They got their game face on – a tenderloin patty wrapped in oak smoked bacon? Not sure where a heart attack ends, and high cholesterol starts. You have the choice of multigrain bread; just throwing it in there, in case you're cutting some corners.
Dizzy Duck From Bun Intended
The Dizzy Duck, like all of Bun Intended's burgers is huge and filling. It comprises shredded duck in a sweet cranberry sauce on a soft bun. It's a welcome change from the regular burgers we're all used to. And the best part? They deliver to your doorstep till late at night.
Did we miss out on something? Let us know in the comments section below or recommend it on our Insiders page!
Comments