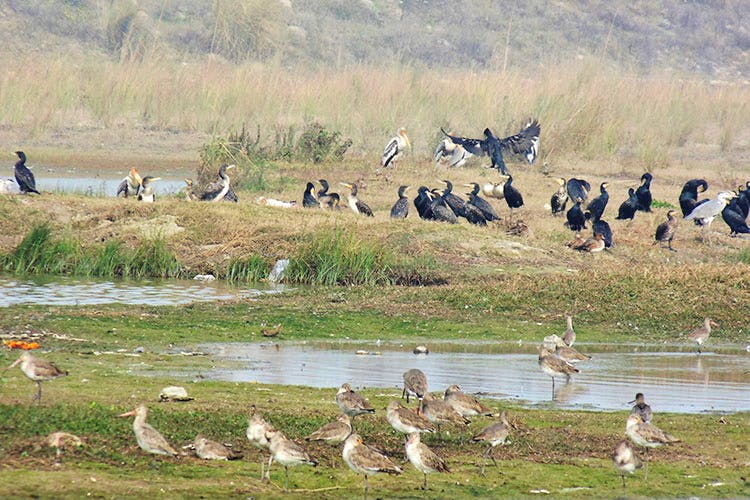 National Parks & Wildlife Sanctuaries
Permission must taken before visiting.:

₹ 0

Nearest Metro Station:

VISHWAVIDYALAYA
Bird Watching at the Yamuna Biodiversity Park
Shortcut
The Yamuna Biodiversity Park is a verdant patch of biologically rich wetlands and grasslands in Delhi. A bird watcher's dream, it is fast becoming one of the most visited sites in the city.
Finding the Park
Looking down the dusty Delhi-Chandigarh highway, a sense of tiredness is inescapable. But head down this highway that holds North Delhi's Majnu ka Tila, that bastion for Burmese shabalay and Tibetan Thukpa, and you will find a refuge in green and blue: the Yamuna Biodiversity Park. Situated on a right turn after passing Majnu ka Tila, and through Wazirabad Village, the biodiversity park recreates the lost Yamuna ecosystem.
A Different Delhi
Once, the river Yamuna was not just beautiful, but also lush and full of diverse wildlife. Historically, the belt along the river was laden with fruiting trees, strained by reeds and frequented by migratory birds. Made on the Yamuna's alluvial flood plain, Yamuna Biodiversity Park (YBP) is a slice of wild Delhi.
First Impressions
On entering the park, your first sensation will be feeling dwarfed. Tall grass rises on both sides of the pebbled path—a testimony to the 'wildness' of the park. Further down the same area is a small staging spot: a serene water body with fat fish, and a bamboo bridge that makes for a good walk. There is a butterfly conservatory you can stroll through, which is florid in spring. If you grew up in North India eating seasonal fruit, chances are your favourite fruit may be on the trees—there are pomegranate, chikoo, guava, ber and mango trees here. You can't touch the fruit though—they are strictly for the birds and the bees.
Bird Watching
And birds here are plenty, especially during the migratory season. The migratory season is between November to March, and the park gets about 5,000 birds passing through. You can spot the colourful, painted storks, the Red-crested Pochard, lithe Cormorants, and other water birds like Pintails and Shovelers.
Take a bird watching tour through the grassland, riparian and watery landscapes, or settle near the larger water body to soak in the quietude. There are lotus ponds bursting in bloom, rustic hides to watch the birds, and trees heavy with surahi-shaped weaver bird nests.
Timings: 9am – 5pm (Monday-Saturday)
Comments
National Parks & Wildlife Sanctuaries
Permission must taken before visiting.:

₹ 0

Nearest Metro Station:

VISHWAVIDYALAYA