Healthy Breakfast Buffet at WelcomHotel, Sheraton Saket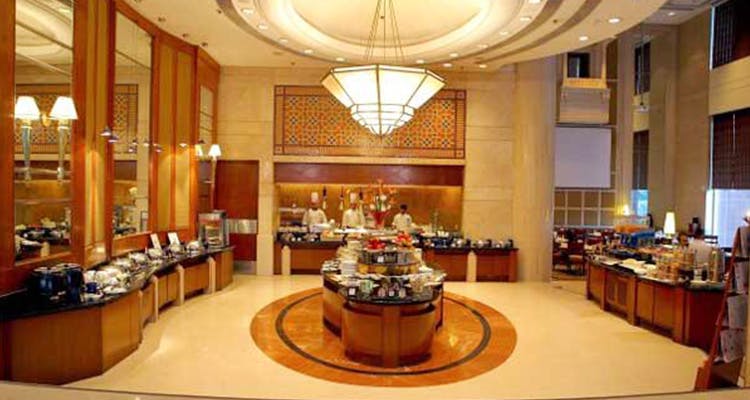 Nearest Metro Station:

MALVIYA NAGAR
Ten-Second Takeaway
For a healthy, yummy breakfast, head to the WelcomHotel Sheraton in Saket and indulge, guilt-free, in a buffet that features  pancakes, dosas, juices and other nourishing options.
Eat
The Pavilion Bircher Muesli, Salmon and Almond Milk Clafoutis, Multigrain Dosa
Drink
Beetroot Ginger, Apple Smoothie
Winning
The menu has calorie metres and more than 40 per cent of the food and beverage used is harvested and processed locally, within a 100 kilometres of the hotel.
What's on the menu?
Meeting over lunch buffets are, let's face it, passé — breakfast buffets are the new "cool" in the city. But, if one is looking for a change from the regular waffles, canned juices and croissants then WelcomHotel Sheraton, Saket gets it just right with their new Signature Mornings Menu. With dishes curated from fresh, local and seasonal produce, the menu is a seasonal mix of organic nuts, forgotten grains, lactose-free ingredients, sugar-free dishes and raw juices. All in all, a great substitute for those looking to start their mornings with a scrumptious breakfast, minus the guilt.
What to pick?
Umm— everything! The Pavilion Bircher Muesli  is a great option for cereal lovers. Made with rolled oats, mixed grains, yoghurt and topped with nuts and flax seeds, go for it if you are looking specifically for a power-packed meal. For egg lovers, The Eggs Benedict Classique is made with gluten-free bread and organic hollandaise sauce, which makes it heart healthy and wholesome too. You can also opt for your choice of dosa made with various grains and dals such as ragi and mung bean, instead of the regular rice options. While the buckwheat and amaranth pancakes topped with honey are good for those looking out to watch their sugar and weight, the beetroot, apple and ginger juice makes for a super delish and healthy detox cleanse.
To brekkie or not to brekkie
Definitely, if you are looking for healthy, wholesome breakfast options and vouch for sustainable and responsible luxury!
Comments
Nearest Metro Station:

MALVIYA NAGAR