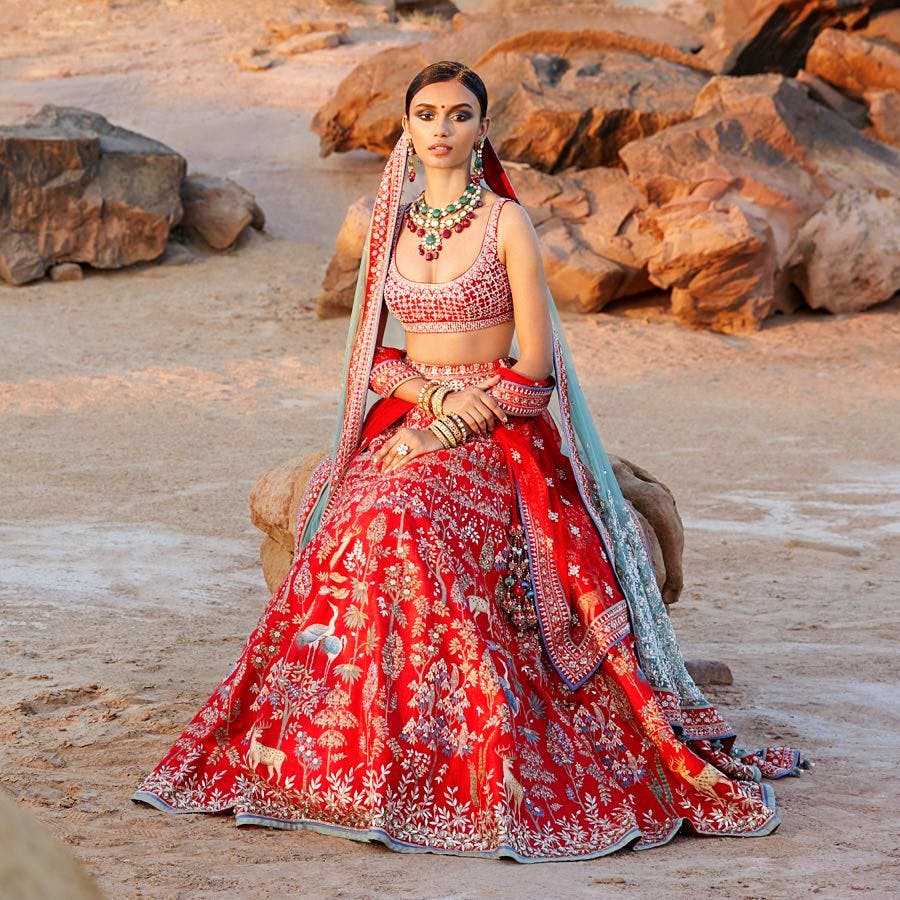 Think Offline Bridal Shopping Is A Hassle? Get Your Lehnga Online With These 5 E-Stores
Whether you're a lazy bride, are short on time or just think of bridal shopping as a big hassle, finding your D-Day outfit online is a lot easier these days. Thanks to a bunch of these websites and technology (& us), finding the perfect wedding outfit is as simple as ever. Here are our top five recommendations:
Aza Fashions
Aza Fashions is a curatorial website, so you'll find lehngas by Manish Malhotra, Ritu Kumar, Anushree Reddy and Abhinav Mishra (among many others), all at one place. This e-store also has a good mix of both classic red and maroon bridal lehngas, as well as those is shades like dark blues, gold, turquoise and green.
Ogaan
Masaba, Eka, Rajdeep Ranawat, Anamika Khanna and Priyal Prakash are some of the many designers whose bridal lehngas you will find on Ogaan's website. One of our favourite things about Ogaan is that it lets you filter out options based on the time they can be shipped within (24 hours, three weeks, six to seven days and so on). So, for brides who're bound by time and don't mind shelling out extra, this e-store is a great option.
Anita Dongre
Not limited by a budget? Then, why not opt for the best in class? Anita Dongre offers some of the dreamiest lehngas that brides have been eyeing for since forever, and isn't it amazing that you can just 'Add to cart' them so easily?! While you will find some made-to-order lehngas that require a waiting enquiry period of two days, this e-store also has a bunch of options in creamy golds, pastel blue and the brightest of pinks that you can simply order online without any waiting time.
Craftsvilla
If you're someone who's looking for slightly heavy bridal lehngas that are relatively more affordable, Craftsvilla is perfect for you. Most of their options are semi-stitched which is actually better considering that you're buying the lehnga online. You can give this e-store's fabric to a tailor you trust for a customised outfit at half the price of designer lehngas.
Utsav Fashion
Utsav Fashion has one of the biggest collections of traditional red/maroon, heavily- embroidered lehngas we've seen. While some of their options might be OTT for our taste, they've also got a bunch of lehngas that are blingy and heavy, but tastefully so. You'll also find lehngas here in bright blues, green and fuschia pink. Plus, most of their options are reasonably priced.
Ask Nitya a question