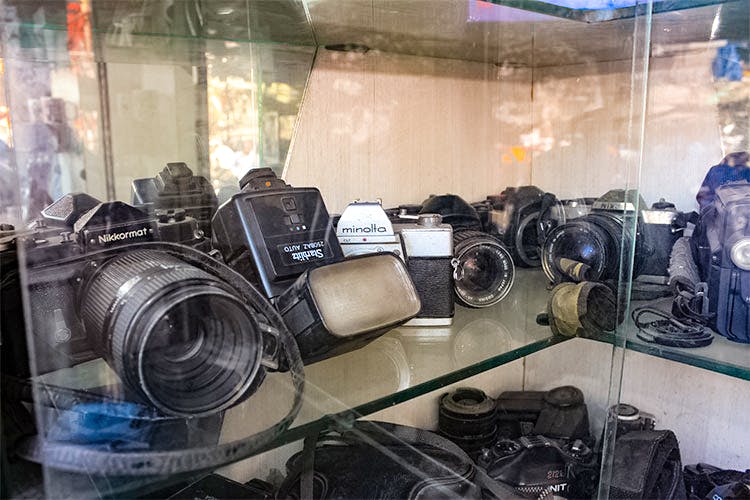 Go Camera Crazy At Delhi's Kucha Choudhary Market
Opened in 1975, or '76 depending on which shop owner you ask, Kucha Choudhary Market in Chandni Chowk is a photographer's dream. It's one of the best camera markets in Delhi.
You can get every type of camera and essential accessory you could ever imagine (and that's not hyperbole) around every corner. Here are our favourite spots for buying cameras and accessories.
Modern Camera Care
Located right on the Chandni Chowk main road is Madan Jee and Co. The famous store, first opened in Peshawar before moving to Delhi in 1955, is one of the largest and most extensive photography stores in the area. Perfect for all your DSLR needs, they sell the latest Nikon and Canon cameras, and do all the necessary repair work in-house.
Madan Jee had every modern camera accessory you would ever require, (and some you wouldn't!), even rolls upon rolls of Kodak film, which we were sure had been discontinued. If they don't have what you need, you can be sure they know where to source it.
Pritam's Digital Camera Repairs
Pritam's (an offshoot of the famous Pritam's Studio on the vintage camera road) is merely a dusty cabin with a series of ancient looking devices strewn across the table. The repairman here, one of the nicest, has been working on cameras since before they were even wires in them.
Kandhari Flash Experts
Adapting with the times and technology, Kandhari exclusively sells flashes; handheld, digital, and manual.

Royal Photo Sales
Royal Photo Sales focuses on photo printers and has a good stock of Epson brand printers.
Rattan Studio
At Rattan Studio, we came across a series of cameras from the '70s and '80s, with names we had long forgotten. The likes of Minolta, Nikkormat, Vivitar and Cosina lined the shelves.

Ashoka Studio
Ashoka Studio, circa 1953, functions as an old-school developing studio and still sells a variety of old cameras, pricing them anywhere between INR 5,000 to INR 10,000.

Prem Studio
We found a gorgeous Yashica 635 from the '50s (talk about old-school) and a stunning Kodak Colourburst 250 instant camera (we don't know if they even make the film for this anymore) at Prem Studio.

Delhi Photo Store
A new kid on the block (only about 15 years old) is Delhi Photo Store. Head here for all your accessory requirements; They have the widest collection of tripods we've ever seen. With tons of accessories for on-the-go shoots, the store has many brands of SD cards, camera bags, tripods, studio lights, and camera filters.
Varun Photo Store
Varun Photo Store surprised us with the seemingly endless amount of Nikon and Canon cameras they had. Definitely check this place out if you're not sure which camera you want, but are eager to browse through many, many, many options.

Comments