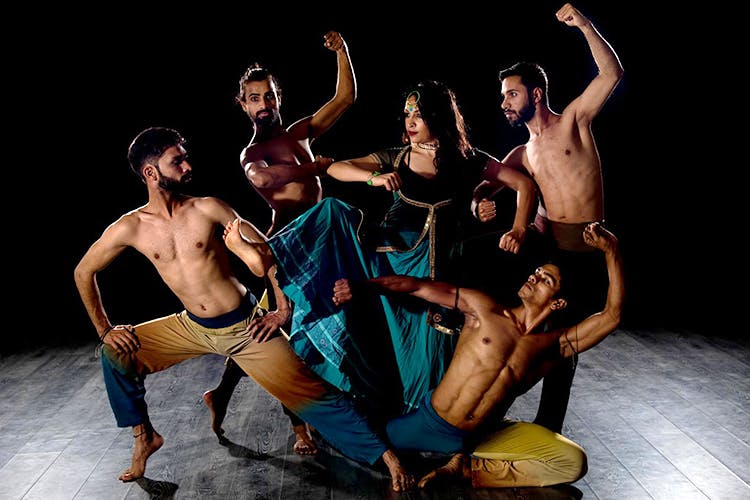 Nearest Metro Station:

NOIDA CITY CENTRE
Dance Like A Warrior At These Chhau-Inspired Classes In Noida
Shortcut
Mayurbhanj Chhau is a native art form where martial arts meet dance and if you're as intrigued by it as we are, you've got to check out the Urshilla Dance Company. Here, they're mixing their own styles (with Chhau as the base) and bringing you performances (as well as classes) that'll leave you speechless.
Dance and martial arts together may sound amazing but managing to pull it off is something you'll be rewarding yourself for – it doesn't come easy (hello, sore muscles). And that is where UDC's got your back. You'll be learning the art a little differently here since their style is also influenced by other forms like Contemporary, Jazz, Kalaripayattu, Muay Thai and more, making the classes more interesting than the usual. Workshops by Chhau veterans is also a regular deal here, so there won't be any FOMO on the classical-only training either.
UDC is the brainchild of Bhavini Misra, a dancer who had deep roots in Chhau training and wanted to create something new from it. Now, it's an 18-member company which has a studio brimming with creativity, culture and a whole lot of fun.
Whether you're a beginner or nearly a pro, feel free to sign up for their classes. They start at INR 3000 for a month (at the beginner's level). You can even drop by for a single class in exchange for INR 500. Give them a call and they'll be happy to tell you all about their class schedules.

So, We're Saying...
Dance lovers and people who wish to challenge themselves (imagine all the cool jumps and splits you could be doing), should save this one for sure. They've also showcased their kickass productions (the last one was at the Kamani auditorium) and you can watch out for their next one on their Facebook page.
Comments
Nearest Metro Station:

NOIDA CITY CENTRE