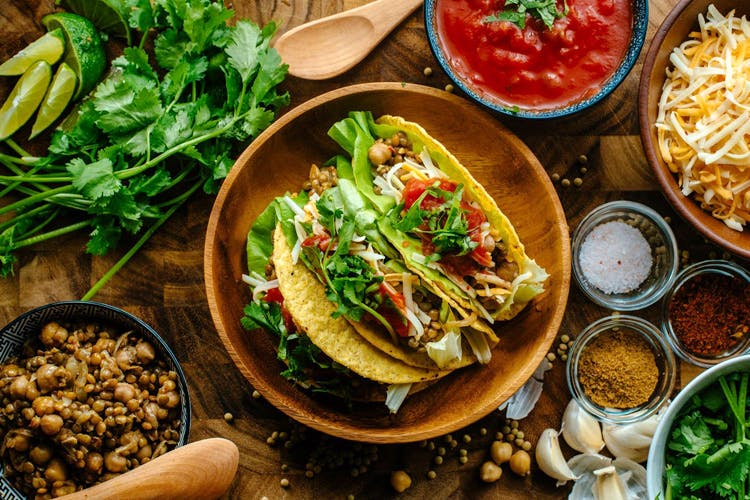 Learn From The Best Chefs In Town & Cook Like A Pro With These Classes
Your intentions to cook could be grate, but you have to hone the skillet to be able to produce a worthy meal. Enter LBB's list of cooking classes in Delhi NCR to help master your skills in the kitchen.
The Kitchen Workshop
Quiches and tarts, Lebanese platters and steaming sizzler,; Swati Khanna tends to be very busy cooking indeed. Cuisines and specialties are neatly slotted into a schedule, so you can swing from Italy to Mexico, to Indian street food, in the course of a week.
Price: On request; depends on what you're looking to learn.
Gourmet Desire
Taking her Indian roots very seriously, Jyoti Aggarwal offers multiple types of classes to choose from, where she also tells you about Indian eating ethics, table manners, food customs, and cultures. Best of all, she takes you to local spice and vegetable markets. She also holds baking and chocolate-making classes.
Price: On request
Manju Monga
Chef Manju Monga has been teaching for 13 years, and offers different courses, covering everything conceivable from Indian, Chinese, Japanese, Thai, Lebanese and Mexican to Italian, South Indian and Rajasthani food. She even offers a special drinks class, where you can learn how to make mocktails.
Price: Between INR 2,000 to INR 5,000 (prices vary according to menu)
Neeta Khurana's Classes
She offers baking classes (cakes, puddings and pies), teaches you how to make ice creams in six different flavours (without egg and gelatin), and also covers everything from soups, salads and snacks, to continental, Italian, Chinese, Mexican, Pan Asian and north Indian cuisine. With over 11 years of experience, Neeta Khurana takes each class herself, and you can be assured of personal attention.
Price: On request
Nita Mehta's Cooking Class
One of the city's most celebrated chefs and an author of three cook books, Nita Mehta offers courses in sandwiches, south Indian food, pasta specials, homemade ice creams, dips and salads, Lebanese food, baking, and party snacks at her academies.
Price: Starting at INR 2,000
Culinary And Cake Decorating School (CCDS)
Learn the art of baking from A-Z; Pick up the basics of not just baking the perfect cake, dessert and bread, but also how to decorate it, complete with flowers, fondant et al. The course is directed towards those looking to go pro, and even offers a diploma at the end of it.
Price: Starting at INR 1,500, depending on the dish

Master Chef
No, this isn't an invite to the show, but a cooking school run by chef Usha Agarwal. They offer a wide range of cooking classes for both adults and kids, making sure each recipe is accessible and (fairly) easy to learn. They also focus on nutritional value and content, and offer certificates on successful completion of a course.
Price: Depends on what course you choose and which model.
Academy of Pastry Arts
They offer both professional degree courses and short certificate courses in bakery goods, specializing in pastries and chocolate art. One thing to note is that they are not a home class. They are a proper institution doing professional studies, hence the fees will be high.
Price: INR 1,25,000 for a 12 week session
Comments