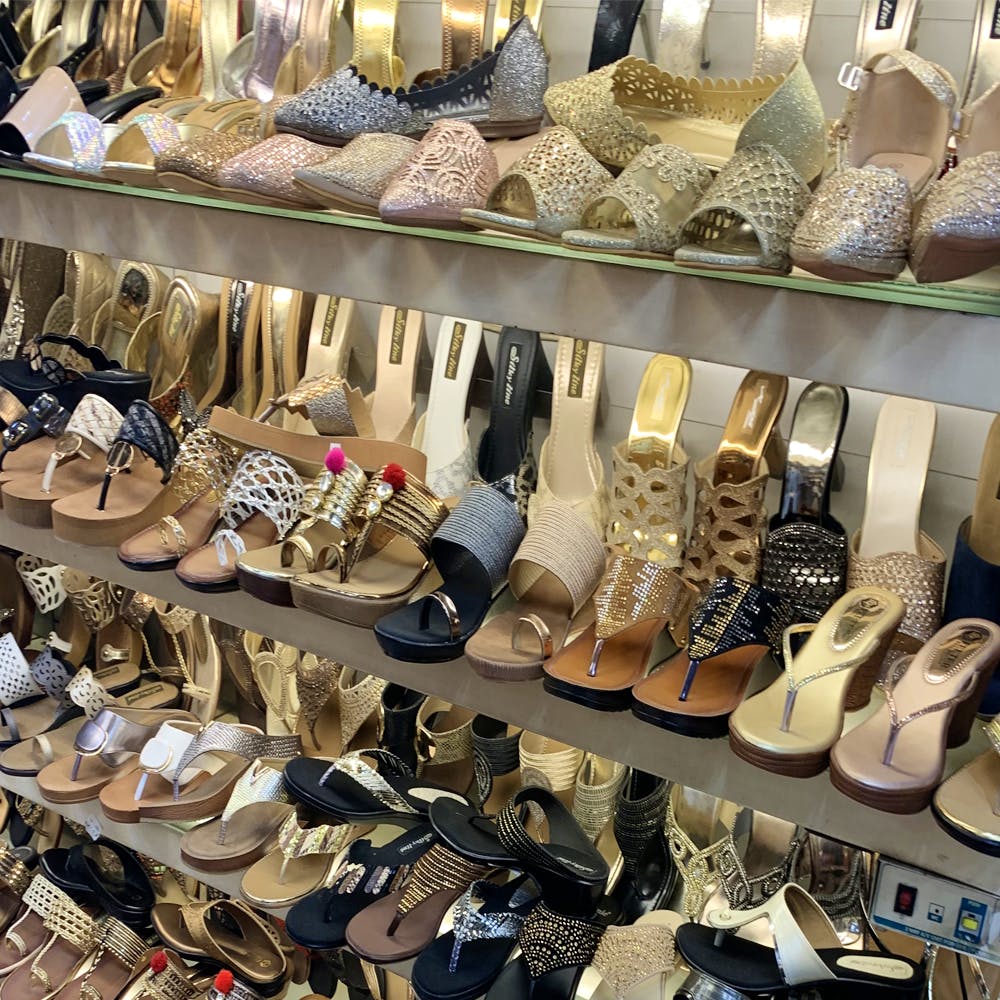 Find Shoes & Accessories Starting At INR 99 At These Jwala Heri Stores
A perfect OOTD is never complete without a perfect pair of shoes and a handbag; and when everything is affordable, you obviously do not mind spending a few extra bucks. We've found some of the best stores (only for you!) that house affordable shoes and bags in Jwala Heri Market.
So, go, go, go!
Aetler Shoes
If you are looking for footwear that is affordable and also good quality, this is the place that you should head to. With shoes starting from INR 99, they have a wide range on offer. From flip flops to slip-on, you'll find it all here.
Silver Steps
Currently, on sale, this might be the golden chance to grab some of the best footwear from this place. They have a good collection of wedges, heels, flat sandals (our favourite was a pair of gladiators). They have a basket sale going on where you can pick any footwear for INR 399. So, go right now!
Classic - The Shoe Mall
With a shoes starting from INR 150, they have plenty of stuff that you could choose from. The best part is, everything that they have is quite trendy and even the salespeople at the store are quite aware of the fashion trends (for instance, they recommended that we should invest in mules rather than open-toe options). We also loved their collection of kolhapuris so, whenever you head to Jwala Heri, do check this store out.
Kumar Shoppe
With a range of bags available, this place is perfectly suited for anyone who is looking to buy travel bags, potlis, and even fanny packs (yes, you read it right!). Also, pretty affordable. We found a travel bag here with polka dot detailing and it was priced at INR 250 only!
Shoe Palace
Perfect for shoes for both men and women, head to this store to find quality shoes at affordable prices. Men, you have an option to choose between sneakers or work footwear, and women, you will find espadrilles, flat sandals, wedges, and a lot more. Some of their footwear is even available at a price of INR 250 (which is, of course, the best thing).
Silver Touch
This shop mainly houses footwear for kids and women, and trust us, their variety of kids' footwear is REALLY good. We found really cute buckle sandals with flower motifs all over and guess what? It was only priced at INR 150. Maybe, get your little one something from here?
New Foot Print
Offering a good variety of footwear for both men and women, this place is best if you are looking to buy wide-strap flip flops (these are in trend, just by the way!). If not, then this place stocks flats, bellies, and a lot more. Also, this place accepts Paytm, Google Pay, credit and debit cards so, don't you worry even if you're short on cash.
Their price range starts from INR 250.
Novelty Selections
Offerings purses and travel bags at affordable rates, visit this place if you want to revamp your handbags closet. We obviously understand that you need variety, so this is the perfect store for you. They even have a good range of suitcases available based on your needs.
Their price range for handbags starts from INR 450, while luggage bags depends on the size you are looking for!
Shivam Footwear & Accessories
Block heels, stilettos, pumps, wedges - you name it and they have it! Also, what we loved about this place was that everything available was non-blingy and it perfectly suited our taste. They also have footwear that is shaadi-appropriate so, not a problem, if you are looking for blingy stuff too.
Their price range starts at INR 200.
Royal Steps
Just in case, you are looking for branded footwear and don't know where to head to in Jwala Heri, then you can drop by here. Apart from non-branded shoes, they have shoes from brands like Skechers, Fila, and you'll be sorted if you are looking for a wide range of sneakers, sports shoes, or casual shoes.
Ask Mitali a question