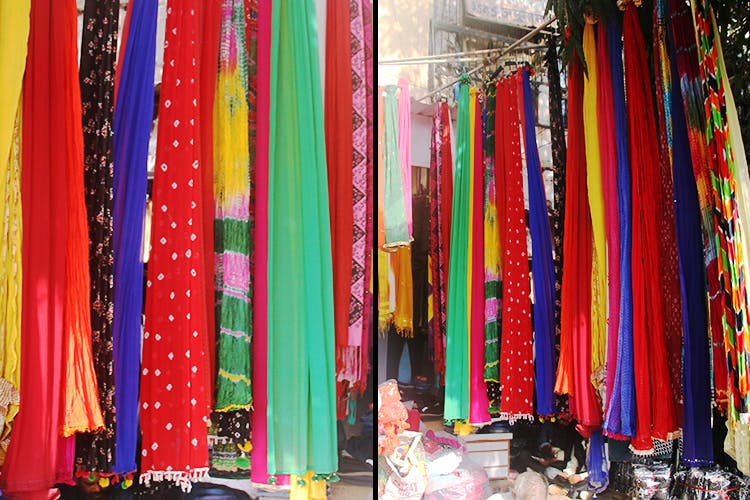 This Hidden Market Has Shirts, Kurtas, Dupattas & More Starting At INR 20
Our search for economical readymade garments took us to one of Asia's largest textile market – Gandhi Nagar (did you know it was?). Truth be told, we weren't expecting it to be this affordable (INR 20 rupee clothes exist at a place other than SN Monday market!). Since Gandhi Nagar is mainly a wholesale market, an even bigger challenge was to find stores that sell less than 10 pieces.
After a long and hard day's work, we managed to find five great stores offering the good, good stuff at ridiculously affordable prices.
Just FYI, the nearest metro station to Gandhi Nagar market is Seelampur on the red line. Also, don't make a trip to Gandhi Nagar on a Monday as most of the market's closed that day.
Roshni Dupatta
Honestly, there's probably not a colour or a particular material of dupatta that you won't find in this store. From net dupattas in bright blues, greens and reds to cotton ones with mirror work and beads to even crumpled sherwani dupattas, it'd be an understatement to say that you'll be spoilt for choice here. Another plus about Roshni Dupatta is that it's right on the main road, so you won't have to navigate your way through tiny lanes and hoards of people to give your dupatta collection a revamp.

Best part? The simple dupattas start at INR 20 per piece! Also, the max that a dupatta will cost here is around INR 130.
Good Morning Shirts
The shelves in this store are full of tons of shirts in varied patterns and solid colours, all rolled into different bundles (or sets, as they're called here). Each bundle is a set of either three or six shirts all in different sizes (S, M, L or XL).
We know it won't make sense to buy different sizes for yourself, so it might actually be better to take your friends along and give shared-shopping a shot here. Another option is that if you buy a set that's priced relatively higher (INR 260/piece), you can get shirts that are only your size.
Miss India Fashion
Love wearing kurtis, but too broke to shop at popular ethnic wear brand stores? A good back-up option is Gandhi Nagar's Miss India Fashion store. We admit that you might have to scour through piles (and be patient through the process), but it will be worth the effort. We found pretty kurtas (starting at INR 80) with geometrical patterns, casual tunics in solid colours (INR 70), plain cotton palazzos (INR 110) and comfy-looking pants and tights (INR 100) at this store.
J.K.L. Chandwani Garments
Locating this store might be slightly difficult, since it's situated in the heart of the market. J.K.L garments has a decent collection of cotton and rayon suits you could probably wear for dressy occasions. This store also retails suits in sets (of four) and thankfully, they offer the same size of each piece (they're open to selling multiple sizes too). We found a set of long, black anarkali-style kurtas (INR 260) with different gold block prints and we admit, that was the moment we were truly impressed by Gandhi Nagar. Upon a little persuasion, the good folks at J.K.L will let you buy single pieces too (woot woot).
Vardhaman Garments
Another great store right on the main road, Vardhaman Garments has the largest collection of golden blouses we've ever come across. While a lot of them were too loud for our taste, we also found plain gold blouses with pretty cuts and doris on the back. If, like us, you're not a fan of bling, you'll love the cream blouses with colorful Gujarati handiwork. Thankfully, this store's more than happy to retail single pieces too, so the cream flower-embroidered blouse will cost you INR 250 (before bargaining).
If you're buying two or more pieces and haggle well enough, you can hit the jackpot at this store, we think.
Comments