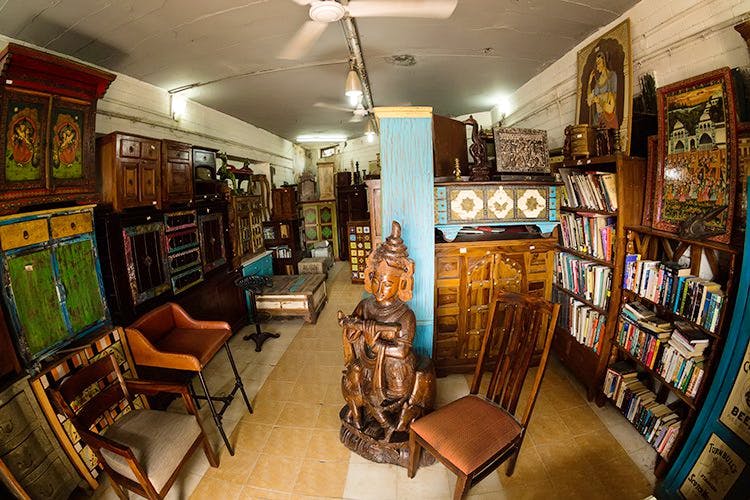 Find Your Furniture: Exploring The Stores On MG Road
Ranging from large, corporate-like franchises to tiny family-run antique and wood carving shops, if you're looking for furniture, the Ghitorni furniture market is for you.
Mody Woody Interiors
Mody's is the store for you if you're looking for antique furniture and ornate designs. The manufacturing is handled by their own workshop and they do both retail and wholesale. While they do metal and brass work, wood is definitely their expertise.
Furniture Walla
The huge franchise store offers patrons a wide, very modern selection of luxury furniture. Beyond the obvious sofas, tables and beds, they offer a series of lights and accessories. If buying antique or hand made furniture isn't your thing, we suggest you hit them up.
Furniture Factory
While much of their wood is in a Jodhpuri style, they have many dressers and bed stands that seem almost Korean or Japanese in look, with a lot of thangka-like and Buddha-based artwork. However, the real kicker is their selection of rugs. Varying in price, the collection includes Kashmiri, Afghani and Persian rugs.
Kasa Adbhuta
It's like opening up the door to an attic; there's old and new wood-work, quirky magazine holders, vintage chests of drawers and lots of chairs and stools. Whether you're in the mood to spend some big money (on their room dividers, or a new mirror) or are looking for budget buys, they've got you sorted.
The Furniture Republic
While they offer much the same as Furniture Walla, the quality and comfort of their sofas stand out. The space is shared with the Rug Republic, so you can pick up a nice warm rug while you search for the perfect seating arrangement. They also offer shipping and home delivery.
Mickey Gurmukh Retro Furniture
Spread over two floors, the place is filled with a lot of wood-work of seemingly Rajasthani origin. The store is good for customers looking to add some colour to their homes.
Asian Treasures
They don't sell just furniture, but a range of décor items for your home too. They source all the items from Thailand, and feature everything from statues, delicate crockery and a huge collection of Buddha heads. Their furniture is limited to mainly tables and dressers, but the intricate hand-painted designs caught our eye. Due to them importing everything, the furniture sells for upwards of INR 20,000 a piece.
Benchcraft Concepts
Benchcraft would be a decent place to visit if you had to do up a modern home. The shop is surrounded by dining tables, bars, living rooms and sitting room sets. It doesn't seem like they encourage buying single units or pieces, which is helpful for families shopping for houses. There's lots of lacquered furniture here, make of that what you will.
#LBBTip
Prices vary greatly from piece to piece and store to store, so it's best to ask on request.
Comments