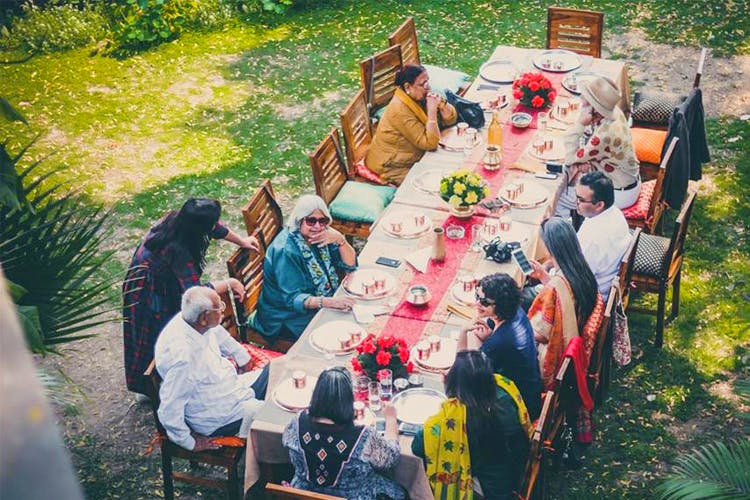 This Haveli-Like House Gets The City's Best Chefs To Cook For You On Weekends
Shortcut
Courtyard By Virasat might just be the sweetest thing to happen to the city's foodies. Reminiscent of old havelis from Rajasthan, this is a beautiful house on Hanuman Road that gets well-known chefs to host culinary pop-ups in its lawn and courtyard.
What Makes It Awesome
Rajan Bedi, a home chef (and the host with the most), decided to open the doors to his exquisite bungalow. He realised that he loved food, and what better way to express it than to share his lawn space with chefs who have everyone polishing their plates off. So, he began a series of culinary pop-ups, with special chefs tables to accommodate up to 30 people.
These specially-curated meals happen on the weekends, but they've moved from his lawn, to his courtyard (that's equally stunning to look at). It won't, in fact, be a tall claim to say that it can rival some of the fanciest date night spots we know in the city. The courtyard at Virasat has a tree rising from the middle, and a smattering of vintage artifacts.
Rajan hosted the first edition of 'What's Cooking, Delhi' in December. Soon enough, in-the-know Delhiites got a whiff of it and booked their spots under the sun for the Crescentia Fernandes' Goan fare. This was followed by a completely different spread, cooked lovingly by chef Sweety Baluja, who did Punjabi dhaba khaana. Since then, they've tried a Kashmiri Pandit Sunday brunch and even a Malayali one by our favourite, Prima Kurien.
A meal here is, indeed, a world away from the clinically-cooked and unenthusiastically served food we were so used to. And, just for this, we're loving this house where masalas are measured by intuition, and food is a labour of sheer love.
What Could Be Better
We'd have loved it if these events happened throughout the year, and more often.
Pro Tip
You can keep a track of 'What's Cooking, Delhi' events on their Facebook page. They pick a different chef with a different regional cuisine every weekend, and tickets are usually priced from INR 2,000.
Comments