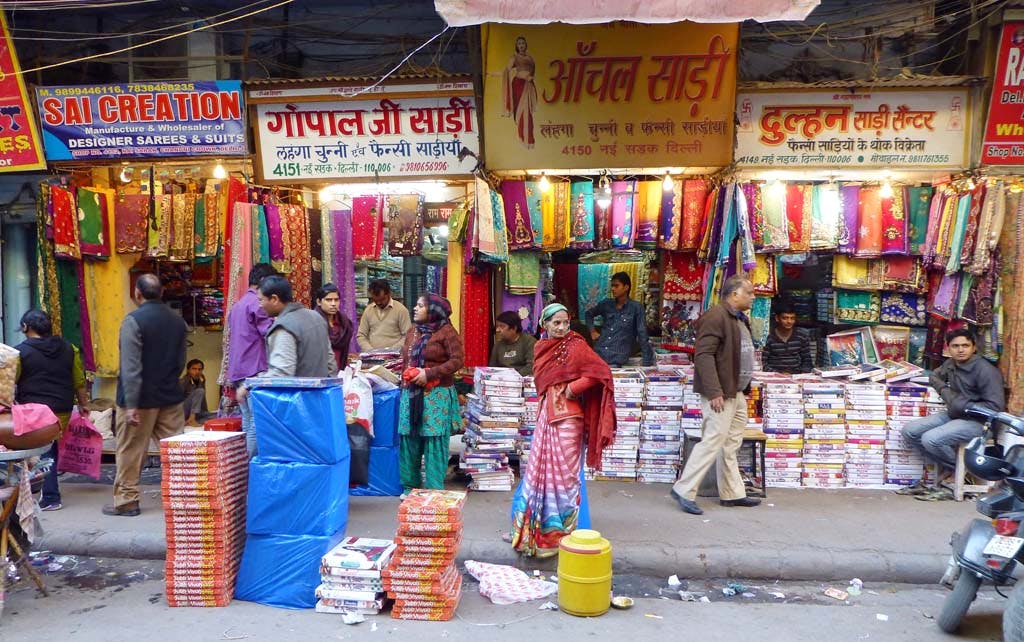 Hit Up These Wholesale Markets In Delhi For Great Bargains
We're giving you the deets on some of the most interesting wholesale markets in Delhi. Flowers, fruits, clothes, and cards—there's so much you can buy at unbelievable prices. All that's needed is the will to do a bit of legwork.
Sadar Bazaar
Let's start off with the largest wholesale market in Delhi. While it is a general market that serves a variety of things, it is most well-known for its massive supply of household items—plastic items like buckets, mugs, & dabbas for the kitchen, utensils, and cutlery and crockery items. There a number of smaller markets within the market—like Timber Market, for plywood and timber, and Swadeshi Market for artificial jewellery, gift items, toys for kids, etc.
Nearest Metro Station: Kashmere Gate

Gandhi Nagar
Located in the eastern part of the city, Gandhi Nagar is known as one of the largest textile markets in Asia. There are about 12,000 shops selling all kinds of fabrics, garments, and trims and laces, all at throwaway prices.
We hear you can get shirts for as cheap as INR 50 here! But for that, you'll have to wear your bargaining hats.
Nearest Metro Station: Seelampur
Azadpur Mandi
This one's the largest market for fruits and vegetables in all of Asia! There are more than 3,500 wholesalers in the area, which see thousands of trucks bringing fresh produce from all over the country (and sometimes the world) every day—so whether it's orange pumpkins from Kolkata, pink strawberries or peaches from Mediterranean countries, you'll find it all here.
Looking for not-so-easy-to-find avocados and zucchinis? You'll get them here too, and all at about half the price you'd usually pay.
Nearest Metro Station: Azadpur
Ghazipur Mandi
The ultimate spot for wedding vendors, retailers and florists, Ghazipur Mandi has any and every kind of flower you might be looking for. Coming in from Holland, China and other South East Asian countries, the lilies, marigolds, orchids, gerberas, and more here are top-notch. During festivals, the bundles of flowers are piled up high, and the trick is to walk deeper and deeper into the market for better deals.
The flowers sold here are at one-fourth of what you'll find in regular stores and even cheaper when you buy in bulk. You can go there as early as 3am to bag the freshest of flowers possible.
Nearest Metro Station: Anand Vihar ISBT
Khari Baoli Spice Market
Located at the western end of Chandni Chowk, Khari Baoli is a street entirely dedicated to all kinds of spices, dried fruits, nuts, and herbs. From amlas, makhanas, red & green chilis, and dried mulberries & plums, there's really nothing in terms of spices and condiments (even the exotic kind) you can't find here.
This market has been operating since the 17th century, and if you're curious, you might get a mini master class on the origin of your favourite spice here!
Nearest Metro Station: Chandni Chowk
Bhagirath Palace
One of the largest wholesale markets for electronic and electrical goods in the country, Bhagirath Palace is lined with shops selling all kinds of lights and lighting equipment. From chandeliers, pendant lights, fairy lights, garden lights, switchboards, electric heaters, there's plenty you can find here and all at the best of prices.
Nearest Metro Station: Chandni Chowk
Nehru Place
While Nehru Place is known as the biggest IT & computer market in the country, there's a section in the market where stores sell cloth at wholesale prices. These stores have direct mill-access, so you can expect wholesale prices for handloom and cotton material. They generally have fixed prices, but you can ask for a discount when buying in bulk, making this one of the cheapest cloth markets in Delhi.
Nearest Metro Station: Nehru Place
Chandni Chowk
For lace, blingy borders, and sequins at wholesale rates, head to Kinari Bazaar; to get frames and sunglasses at dirt cheap prices (as low as INR 200!), head to the lanes of Ballimaran; for wedding attire (for both men and women) and matching jewellery, ask someone to direct you to Katra Neel.

Nearest Metro Station: Chandni Chowk
Chawri Bazar
Specialising in paper products (as well as brass and copper goods), Chawri Bazar is where you should head if you want to get wedding cards printed in bulk (and at a wholesale cost, of course). There are hundreds of shops selling all kinds of invitation cards—from super simple to super fancy.
We suggest you go with the final copy of what you want printed on the cards, because there's a long line of customers at the printers', who will then help you decide the font and style to go with the card you've selected.
PS: Chawri Bazar is also known for wholesale hardware goods.
#LBBTip: Check out Nai Sarak nearby for school and college textbooks at wholesale prices.
Nearest Metro Station: Chawri Bazar
Kirti Nagar
Asia's largest furniture market, Kirti Nagar is a haven for anyone looking to add new pieces of furniture to their homes. Right from king-sized beds to eight-seat dining tables to mattresses, pillows, and curtains, this place has everything for your home furnishing needs.
Nearest Metro Station: Kirti Nagar
Comments