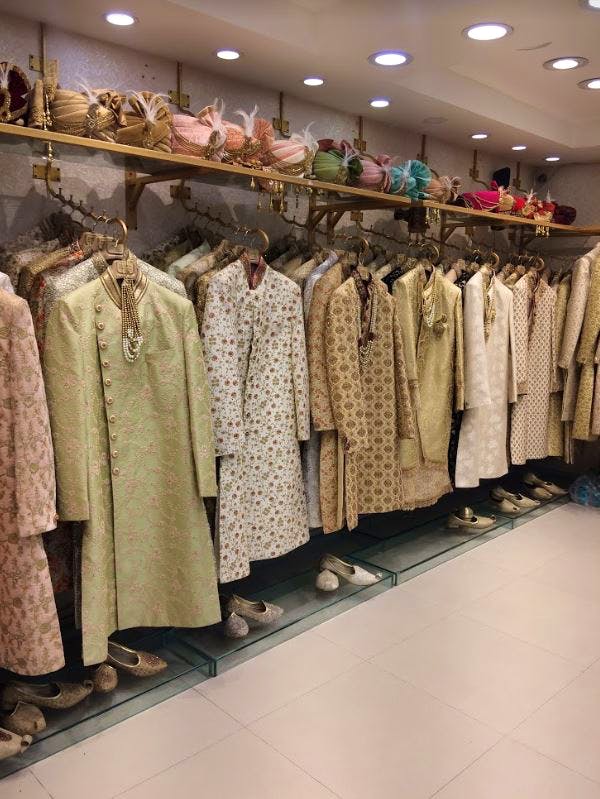 Men, Shop At These Stores In Karol Bagh For Your Best Mate's Wedding
The Karol Bagh Main Market, situated along Ajmal Khan Road, is a huge market area. It had hardly been 5 minutes since I started cruising through the market when I slowly realised that I won't see the end of this market for a good 3 kms. The market is located right across the road from Feast House (an eatery situated right at the foot of the Karol Bagh metro station).
There are so many affordable ethnic wear options for men in this market (especially wedding wear) and these are our fav stores where you can get the best menswear.
PS: The market is closed on Mondays and we suggest you go here in the earlier hours of the day to avoid crowds.
Bharat Gujral
Bharat Gujral is great for affordable men's ethnic wear. They've got a fair amount of casual kurtas as well as heavier sherwanis, Indo-western, and wedding wear. The sherwanis here are priced at INR 10Kand above.
Choice Man
Although at Choice Man you mainly get wedding wear for men (heavily embellished sherwanis), you can also find blazers and whole, three piece suits. Apart from this, you can find turbans to go with your outfit as well. Their clothes are priced at INR 10K and above.
Ethnic India
Ethnic India has a wonderful collection of vibrant and soft coloured waist coats as well as sherwanis. Imagine pink waist coats and suits that have matching paisley printed ties and waist coats. Apart from all this, they've also got affordable casual kurtas and even kurta, pyjama and waist coat sets. Here you can find that the price range begins from INR 800 and above.
Everwell
Everwell only sells kurtas and pyjamas for boys (ages 5 and above) and men. You'll see many adorable little sets displayed inside their shop as you walk in. Mostly, you can find lightweight, casual ethnic wear here which is priced at INR 725 and above.
Groom Makers
Groom Makers mostly retails in heavy sherwanis, turbans, and juttis. They usually sell entire packages of the respective three together which will cost you about INR 10K and above. Aside from the regular groom-wear, they've also got three piece suits in their shop.
Oriental Drapers & Tailors
Oriental Drapers and Tailors basically stitch suits or even trousers, blazers and shirts separately. They charge around INR 600 and above to stitch most of their clothes.
Sanskrity Standard Emporium
Sanskrity Standard Emporium is another awesome place to shop for affordable wedding wear. They've got a lot of options for grooms-to-be. It's a tiny shop but, to be honest we saw a lot of pretty white sherwanis that gave off that elegant and soft aesthetic. Again, their sherwanis start at INR 10K.
Shagun Designer Men's Wear
Shagun Designer Men's Wear had a lot of fancy suit sets for men, ones that had pocket chains in colours like navy blue and ones in oriental prints. They also had a lot of sherwani and turban options (too many to even describe). Shagun Designer Men's Wear sell their sherwanis for INR 10K and above, and suits for 6K and above.
Accent
Accent is one of the fewer shops where you can get a lot of premium quality sherwanis, turbans, and other groom-wear from. They sell their sherwanis at 10K and above.
Yuvraj
When I entered Yuvraj, I noticed a prominent light blue party-wear sherwani. And although they have plenty of sherwanis for the main man himself, that sherwani gave me the sense that they have a lot of affordable ethnic wear options for parties for men (perhaps, for your own or your friend's engagement). Expect to see sherwanis starting from INR 10K over here.
Suneja Sons
Suneja Sons is all about accessories for the groom to be; so, find turbans, embellished matkas, gift thalis, decor items, tokris, shagun, envelopes and lots more here! You can get all of this for about INR 250 and above.
Comments