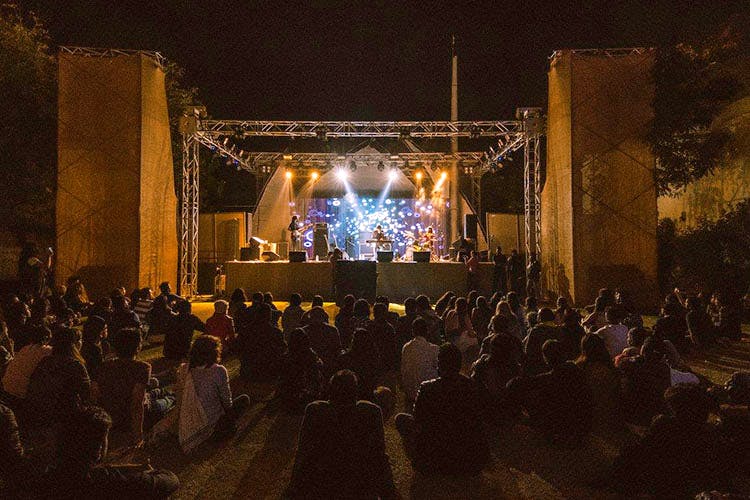 Never Attended A Music Festival? There Are 6 Happening In India This Year!
2019 is here and there's plenty to look forward to – these six music festivals are definitely some of it! With all the music prowess of international artists, lasers and the beautiful destinations, your only agenda will be to dance, party, meet new people, and well… go crazy.
Ziro Music Festival
If you're game for misty mountains, soulful music, and local beer, Ziro Music Festival should be on your list. Situated 5,500 feet above sea level, Ziro Valley in Arunachal Pradesh hosts this festival for Indie music producers to showcase their talents and believe us, your ears are in for a melodic treat. Electronic, rock, and folk-jazz music is ready to captivate you. Time to pack your bags!
When: Usually happens at the end of September.
Magnetic Fields
Back with its fifth edition, Magnetic Fields is a three-day music fest which takes place at the Alsisar Mahal in Rajasthan. You get to attend secret parties, fly kites at dawn, go on a treasure hunt, and dance on the palace rooftops as international music artists showcase their best.
When: Happens right in the middle of December.
Sunburn Festival
The biggest names in the international music scene come down and drop their killer beats in Goa which hosts this epic music fest. Sunburn Festival has been a favourite of many since its inception with people flowing to the non-stop party in herds. This festival boasts the largest music stage in Asia.
When: Happens towards the end of December.
Hornbill Music Festival
The natives of Nagaland host this festival as a part of their tradition and boy, are you in for a musical treat. The whole festival is a rock contest with musicians and bands taking part from all over the world. They are judged by renowned and experienced melodic masters.
Apart from the music, there's also lots of arts, crafts, games and sports. You can expect the colours and vibes to keep you there for the full 10 days.
When: Dec 1–10
Bacardi NH7 Weekender
This festival does way more than just music. Besides the soul-pleasing music, NH7 also does theatre, stand-up comedy, rides, and art. Performers like FKJ, Vir Das, Indigo Children, Kraken, and Blue Temptation have graced the stage at the previous editions.
When: First weekend of December.
Enchanted Valley Carnival
In a short span of five years, EVC has established itself as one of the premier festivals in Asia. It's held on an airstrip for God's sake! The festival has a mixed line-up of techno, Bollywood, pop, fusion, and indie music. Apart from all the music, they host sporting activities, silent headphone parties, jam sessions, and bonfires within the span of the event. They also have a sub-fest called Culinarium which is an all-out gastronomical festival. Your love for music, food, and drinks just found the right pitstop.
When: Mid-December.
Comments