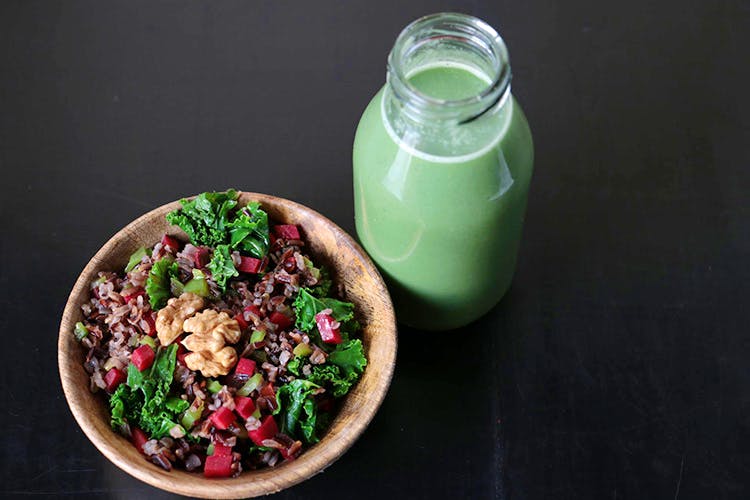 Off Alcohol? Bookmark This List Of Yummy Non-Alcoholic Beverages & Raise A Toast To Sobriety
Whether it's a dry day, you're giving your body a break from alcohol or you're pledging sobriety on a permanent basis, we think you'll find this list handy. Get your good karma going with our picks of the most awesome non-alcoholic drinks to sip on, in Gurgaon.
Oh No Tamarind - Burma Burma
A true explosion of flavours – this drink gets the refreshing balance of sweet and sour just right. Shaken to perfection at one of our favourite veggie restaurants, this tamarind and jaggery based cooler is distinct, full-bodies and topped with plenty of ice and coconut shavings.
The Vietnamese Iced Coffee - C'est La Vie
Indie cutesy café C'est La Vie serves up great drinks, from freshly squeezed juices to delicately infused teas. However, the iced coffee here, which is powered by Sleepy Owl, is worth a special mention. Cold brewed coffee, sweetened with condensed milk, over lots of ice – we wouldn't mind an early morning if we could wake up to this.
Pudina Nimbu Pani - Roots
Our favourite outdoor diner in Gurgaon does great classic beverages, and we love their Chaas and Kokum Masala Soda. Nothing perks us up better, however, than their super fresh and minty Nimbu Pani that is loaded with the real stuff.
The Greenade Cold Pressed Juice at Café Shunya
This verdant beauty packs in a gang of the good guys – cucumber, watermelon, spinach, coriander and apple for a wholesome and very revitalizing experience. Your body will thank you later!
The Black - Salad Days
Another cold pressed darling, this dandy bottle stars our current miracle drug – activated charcoal, and comes packed with other good-for-you ingredient like Himalayan salt and honey. Tangy with the tart of kaffir lime, this one is perfect for those on-the-go as well.
The Oreo Cookie Overload - Morellos
Time to dial up the indulgence levels to stratospheric heights! The crazily loaded shakes here already have quite the following, and come with all the bells and whistles that we love in truly decadent treats. The Oreo Cookie Overload and will give you a sugar high that will make you forget booze- at least for a day!
Comments