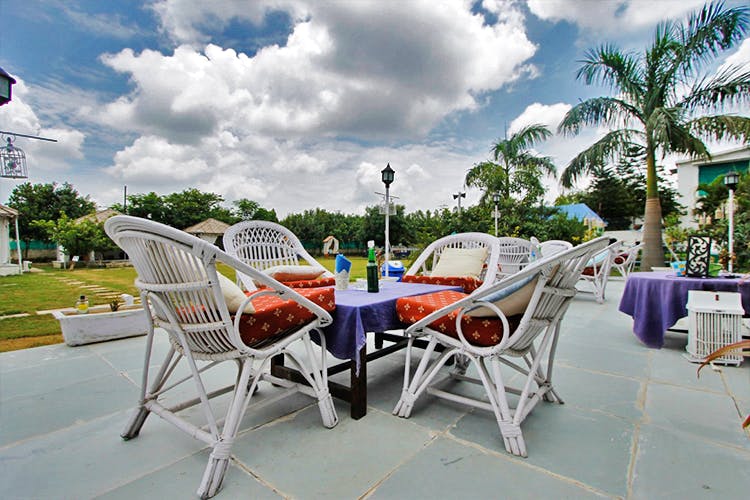 Outdoor Huts, Budget Food & F.R.I.E.N.D.S Screenings: The Circle Cafe Is Our Latest Crush
Shortcut
Give us an aesthetically done up outdoor space and you'll have our hearts forever. The Circle in Greater Noida is our most recent find and if you don't give up on finding it midway through the drive, you too will be treated to a lot of good vibes and budget-friendly food. They're slowly building up their book collection and sometimes screen matches or popular sitcoms at night… All under the stars. 
Live A Farm And Fork Life
We love that there's hardly any pretense about this place. It's just a good ol' family farmhouse turned into a student-friendly cafe. The two sisters, Akansha and Shuchi, stay at the property and have put out a bunch of no-fuss lawn chairs and bare, covered huts where guests can eat, chill or play the guitar for hours at length.
The seating is spread out and there's ample breathing space. There's also a special table literally under a tree with hanging ball lights that's perfect to pop the question when you're broke but also madly in love.
Will You Mix Coffee & Chilli Paneer?
As beautiful as it looks, we had to tear ourselves away from those comfy chairs to eat without prejudice. It wasn't easy but we managed.
Apparently, most spendthrift students from nearby colleges love the white sauce pasta and non vegetarian cocktail momos. So, we put both to test. The pasta was creamy and comforting and just what we needed on a rainy day… In fact, it was a sweet reminder of what we'd make for our best friend on one of those indulgent sleepovers. The momo wasn't exactly out of this world but we know many who'd have it in a heartbeat. We'll leave the ultimate judgement to you.
The crispy honey chicken had the perfect texture and balance of sweet and spice. The hosts even made us sample cheese and vegetable rolls dunked in sweet chilli sauce. It was in essence a spring roll with a difference but a refreshing change for the palate nevertheless. Also, the lemonade was just the hydration we needed. In short, we had a good meal.
Other things on the menu feature pizzas, Maggi, wraps, sandwiches and a whole lot of Chinese food.
Comments