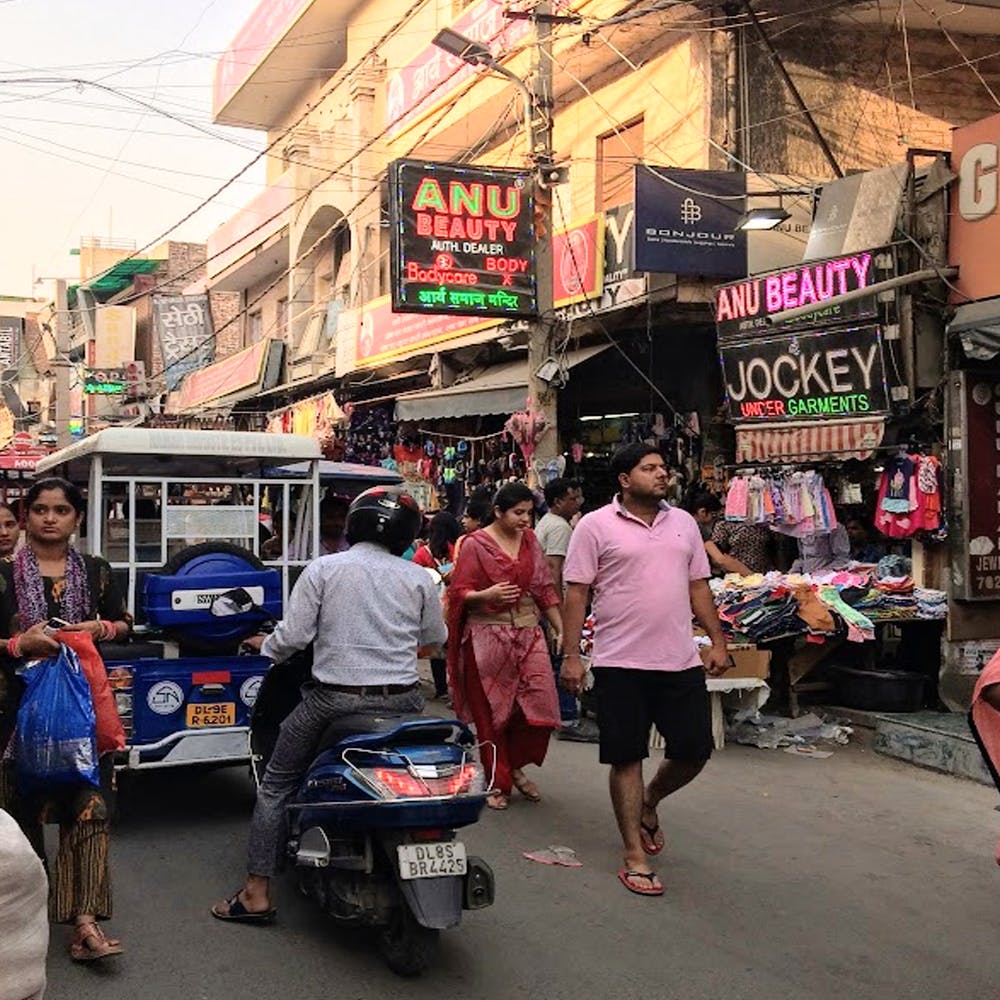 Drop By Rani Bagh Main Market For Great Wedding Wear, Casuals, & Juttis
Ever since I was an annoying twerp of a teenager who constantly badgered her mother to take her shopping (because I clearly never had enough clothes), I remember going to Rani Bagh to shop for clothes that would stand the test of peer pressure and social acceptance. Anyway, the Rani Bagh market is really one of the best markets located in North Delhi; it's like what the Rajouri Garden main market and Sarojini, are to West Delhi and South Delhi folks respectively.
Hence, we've jotted down a list of the best stores to shop from when you're in the area.
Raja Ram Sons
This store is an ethnic wear and wedding wear store. It has a lot of heavy lehengas, suits and ethnic gowns. We recommend this shop for its lehengas more than anything else. Expect super vibrant, occasion based ethnic wear here for about INR 4,000 and above.
Priyanshi Fashions
Right across the street from Raja Ram Sons, this is another great store for occasion-based lehengas, ethnic gowns and more. We really liked that they have lehengas that are quite fancy and super affordable. Picture hot pink lehengas with golden borders for about INR 4,500. Their price range starts at INR 3-4K.
Guru Ji Impressions
This store has western wear that can be mostly worn to parties and special occasions. Guru Ji Impressions has strappy and shiny tops that took me back to the 90s with their glitzy-ness. Occasionally, you can also find mesh and net bodysuits here as well. This shop retails garments starting at INR 900 and above.
Desire (Men's wear)
This showroom is one of the most prominent men's wear showrooms the main market has. They have everything from three piece suits to sherwanis. That's just the ground floor, if you go up to the next floor, they have casual t-shirts and shirts for men. What we thought was cool was that they have those trendy chain, printed shirts as well! The top floor is full of wedding wear apparel. Their price range begins from INR 4, 000.
Shabad Originals
There are two shops with this name, but look for Shabad Originals, and you'll reach the location. Shabad Originals sells wonderful lehengas, suits and suit-lehenga sets primarily for celebratory and special occasions like weddings, engagements and the like. You can find pretty, pink tussar silks with gotta patti work and beautiful embroidery on it, or a nice lavender hued suit-sharara set with interesting zari work on it. Their price range starts at INR 5,000.
Bubble's
Bubbles is a western casual wear shop. What we love most about them is that they have a large variety of jeans. Everything from flared jeans to ruffled hems, and nice grey denims. Apart from this, they have a lot of tunics and shirts that are quite nice and can be worn every day (to college and office). Their price point starts from INR 400.
Laabha
Laabha opened up in this market only a few months ago. It is basically a cotton kurti and bottom wear brand. They mostly have basic, kurtas and palazzos that can be worn anytime, anywhere. Their aesthetic is simple, comfortable and earthy. Think along the lines of W for Women combined with Fab India. Laabha's garments are priced at INR 2,500 and above.
Anokha Saree
Anokha Saree is one of the largest showrooms in the Rani Bagh main market. They've got everything from occasion-based embellished ethnic gowns, to lehengas and suits. Anokha mostly stocks fancy garments and their price point begins from INR 4,500.
Sandals
What really got us interested in this shop is a large collection of traditional tan leather juttis they had displayed right across the street from them - on a separate stall altogether. When we asked around a little, we found out that they're owned by the bigger showroom (called Sandals) across the street. Apart from juttis and kolhapuris, they have a large variety of sliders, flats and fancy heels. Their footwear starts at INR 300.
Southern Silks
Southern Silks is basically a simple but very resourceful shop in a market like Rani Bagh. It's probably the only shop that sells a large variety of silk and cotton saris. They have all kinds of silks- from Banarasi, to South silk. Apart from this, they have traditional Pattu sari lehengas for children too. Their saris and garments are priced at INR 1,000 and above.
Bhai Ji Di Hatti
This is a little shop that is tucked away in a narrow street, so you may have to look for it a little.They only sell bottom wear. We loved that they have sharara bottoms in basic colours like blue, red, white and beige. Apart from this, they have palazzos, leggings and Chikankari palazzos in many different colours. This is where you can go if you're looking to match specific coloured kurtas with bottom wear. Their apparel is priced at INR 350 above.
Comments