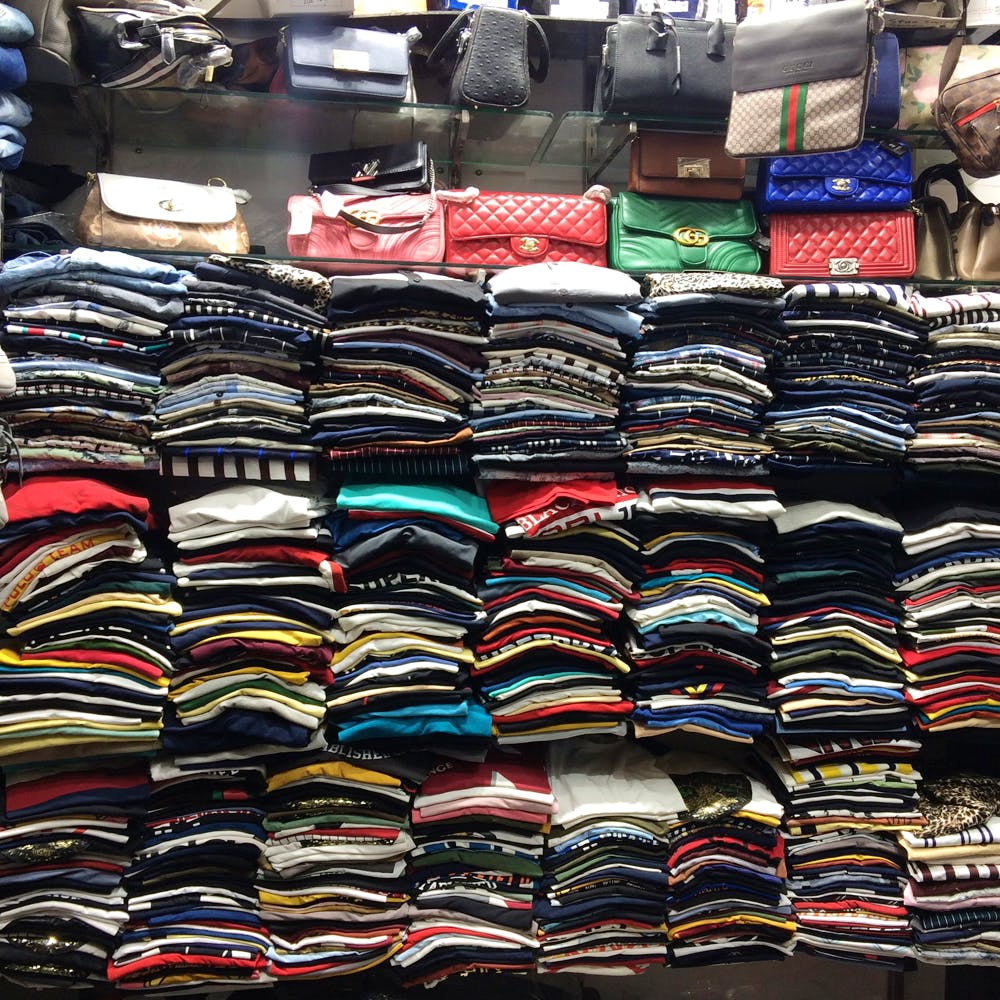 This Shalimar Bagh Market Is A Shopping Paradise You Should Know About
If you live around Shalimar Bagh, you may know about the AL market. Although, I definitely hadn't heard of it before a friend introduced me to it (and boy, am I glad that she did!). The AL shopping arcade is basically a group of shops in and around a complex located in a block called AL in Shalimar Bagh.
So, we went ahead and looked around and found a load of cool shopping options. Here we are now, giving you a clear picture of what the entire market is all about, read on to know more.
Zaraw - The Women Trend
Zaraw technically, is one of the shops that lies a little outside the AL market (perhaps, 2 minutes away from it). The merch at this shop is so good, it had us super excited at first sight. They have everything from excellent quality linen pants, cotton shirt and kurtis, to beautiful long kurtas, suit-sets and plain blouses. They mostly sell cotton and organic fabrics, and it's a slow fashion lover's paradise.
Their apparel starts at INR 600.
Super Jack Jeans
Super Jack Jeans is a store for men's wear. They sell fabrics for shirts and trousers. Mostly, you can find basic cloth material for men here. This includes plain and printed shirt fabrics, and trousers' fabrics in multiple colours.
Their fabrics are priced at INR 200 and above.
Bhatia Optics
Bhatia Optics is a licensed retailer of branded sunglasses and spectacles, so you can find frames from brands like Burberry, Prada, Versace and Calvin Klein. They also have a few local brands as well, so you don't have to worry about blowing the cap off your budget.
Their frames are priced at INR 650 and above.
Down Town (Gifting & Bags)
Down Town Gifting and Bags mostly has a large range of bags, clutches and perfumes. Other than that, they have a nice collection of sunglasses, watches and bracelets as well. Although, we recommend you head to this shop for their awesome range of bags. Expect to see very cool clutches that you can carry to parties or weddings; imagine those 90s inspired chain strapped purses, metallic bags or beaded and tassel embellished clutches.
Their products are priced at INR 250 and above.
Kuchh Different
I for one, really liked this shop. It has super fun footwear, belts and bags. Kuchh Different has sliders with holographic leather aesthetic. They have cute and pretty decent bags, trendy belts, and you'll find a bunch of copies in the mix (which we feel you can steer clear of).
Kuchh Different (KD) has products starting at INR 500.
Anarkali
Anarkali, again, is one of the shops outside the AL market complex, it is located in a basement. What we liked about this shop is that they have the best collection of basic cotton kurtas, palazzos, and saris. They mostly have cotton ethnic wear. Think of indigo tie-dye kurtas, plain-coloured, mandarin-collared kurtas, all for very reasonable prices (they even sell W for Women kurtas on discounted rates for the brand itself). Their garments are priced at INR 400 above.
PS: They have 50% discount on some of their merch at the moment, so go ahead and make the most of it.
Golden Threads
This is your basic but resourceful multi-brand store. It's a small shop, but they sell more than ten brands, easily. You can find clothes from brands like Aurelia, Madame, Levi's, Global Republic, W for Women, Deal, Cashewnut and U.S. Polo Assn. They've got pretty scarves from such brands as well. So, if you're in town and looking for a place to pick up a good branded kurta/blouse, you can head here.
Their apparel is priced at INR 500 above.
Paras Fabrics
Paras Fabrics should be your go-to fabric shop when at the AL market. They've got everything from simple but fun, digitally-printed fabrics to fabrics with a lot of surface work. Basically, this is where you go if you have more faith in DIY clothes. Find good printed fabrics for custom made pyjama sets or for that extravagant suit you've planned to wear at your cousin's wedding.
Get fabrics here for INR 250 and above.
Hans Emporuim
Hans Emporium is a shop that sells a lot of organic and natural fabrics. Expect to see a lot of khadi at their store, although yes, they have other more varied kinds fabrics too.
Their price range starts at INR 200 above.
Down Town (Women's wear & Sleepwear)
This Down Town retails fancy dresses and tops. You can find nice wrap-around dresses here along with trendy choker dresses or chiffon tops that are ideal for work, dinner dates and business meetings. They also have great nightwear and pyjama sets in fun prints and fabrics like satin, cotton and mixed fabrics.
Apart from apparel, you can find trendy earrings and other accessories here. I went ahead and bought a pair of medium-sized, thick, gold hoops from them for about INR 300 (because they were too pretty to not buy).
Get their products at INR 300 and above.
Durga Jewellers - The Silver Shop
This is a sterling silver shop that stocks everything from basic silver jewellery to heavier and more intricate designs fit for special occasions. We would say that this shop is for people who enjoy good quality design but also want to shop jewellery on a budget.
You can find jewellery at this store starting at INR 500 and above.
Gogia Cloth Emporium
Gogia Cloth Emporium, as the name suggests, sells fabrics, mostly for menswear. Though, we recommend that you head to this shop if you need to buy water bottles and school materials for your child. They've got an entire section for kids, for their uniforms, bottles and other school accessories.
Their products are priced at INR 400 and above.
Et-Cetera Boutique
This boutique is located a little outside of the market (to be precise, a little behind it). What's cool about this boutique is that they will recreate and replicate designs for you. They will also create more complex designs that have embellishment and intricate work; which is refreshing to know because not a lot of small boutiques in North Delhi do such complicated work.
They will charge you around INR 5K and above for most of their work.
Comments