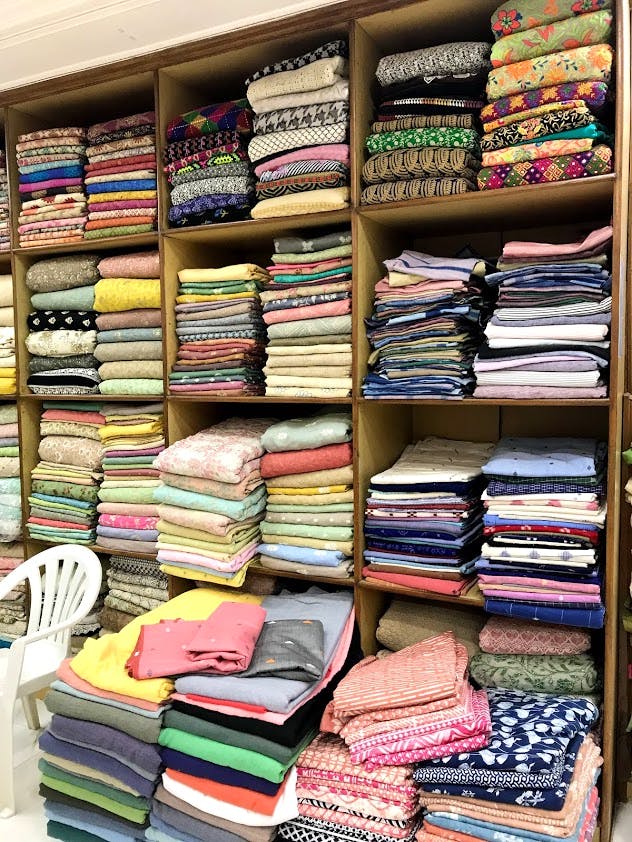 These 10 Shops In Shankar Market Should Be On Your Radar
If you didn't know it already, Shankar Market is one of the best places Delhi has to offer when it comes to buying ethnic wear or fabric by the metre. From cotton fabric with basic prints, silk brocades, sequins, lace, georgette, and Indian handloom, the shops have it all.
Fashion House
If you have to buy silk brocade for upcoming shaadis, walk into this shop with your eyes closed (no, not really). And the brocade here is far from the generic booti or paisley designs that is the usual norm.
We found Moroccan-inspired geometric patterns in gorgeous shades, and we had a hard time taking our eyes off of them. These stunning silk fabrics were priced at INR 975 per metre. If you don't want to spend as much, go for their cheaper variant (a mix of 80 per cent silk and 20 per cent cotton) with smaller patterns.
We also loved their small stack of cotton fabric in pretty pastel shades and intricate chikan work (priced at INR 350). Plus, they've got a decent selection of last remaining bits of fabric that you could use to add interesting details to your suits. Or even make blouses or tops out of.
Narula Selection
Like most stores in the area, Narula too has a kitty of running fabric to offer, but what we're going back here for is their selection of dupattas. You won't even have to enter the store to check these out because the dupattas are stocked in the outside area of the store.
Simple Chanderi dupattas cost as low as INR 225. If you want something fancier, check out their colourful leheriya, bandhini, as well as georgette phulkari dupattas that cost about INR 1,000. If you end up going inside though, their batik print and gotta patti suit sets are not too bad either.
Joyce International Handloom House
As fans of handloom, we were instantly drawn to this shop. Established in 1959, this handloom house's weavers are spread across multiple states in the country, like Odisha, Bengal, and Andhra Pradesh.
While they have a big range of different fabrics, their collections of ikat, Bomkai, and Sambalpuri fabrics from Odisha as well as kalamkari were most extensive and impressive. Between paying INR 350 per metre for the fabric and then getting a pair of pants stitched, or paying a crazy INR 4,100 for readymade pants, guess which one we'd choose?
Gamthi
Right from Pochampally ikat (priced between INR 175 – 1,000 per metre) and vegetable-dyed kalamkari (INR 1,250 per metre), to Shibori fabric from Kutch (INR 1,250 per metre), khadi (INR 225 per metre), and south cotton border fabric (INR 250 per metre), everything at this store had a certain quality that made it stand apart.

Run by a husband-wife duo, both of whom have a background in fashion, Gamthi's selection of fabric is rather unique.
PS: They even stitch suits, skirts, blouses, and more.
S. S. Brothers
This store has a huge variety of suit materials across fabrics such as cotton, chanderi, georgette, and more. The prices range from INR 600 per metre to INR 8000 per metre. They've also got a few saris in georgette, chanderi, and silk, that you might want to check out while you're here.
Glamour Prints
This store is one that you don't want to miss, when you're in Shankar Market. It's huge and so full of beautiful prints, that you'll be spoilt for choice! The kind of fabrics you'll find here will be very subtle and tasteful, and very Ogaan-like (minus the hole that would burn in your pocket). Their ikat collection is stunning, and the fabrics they store are soft, breathable, and of great quality, too. They also have lots of block prints, tie and dye fabrics, and kalamkari fabrics.
Kurta Emporium
Chikankari lovers, this store will put an end to your search for great Chikan fabrics and suit pieces. From cloth material to kurtas and suits, to even saris, this store has literally everything! Their stuff is of great quality, and since they only keep fabrics with hand-embroidered work. The ready-made kurtas start at INR 775, and the short ones at INR 595. They also have saris, starting at INR 1,650. If you ask them, they'll even show you pictures of Bollywood actors Anushka Sharma and Sara Ali Khan in their pieces.
Best Emporium
Best Emporium is a tiny store, but has a great variety of saris. From cotton and georgette, to silk, they have a huge collection in their store. The cotton saris are priced starting at INR 300 and the silk ones start at INR 3000.
Comments