The information in this post might be outdated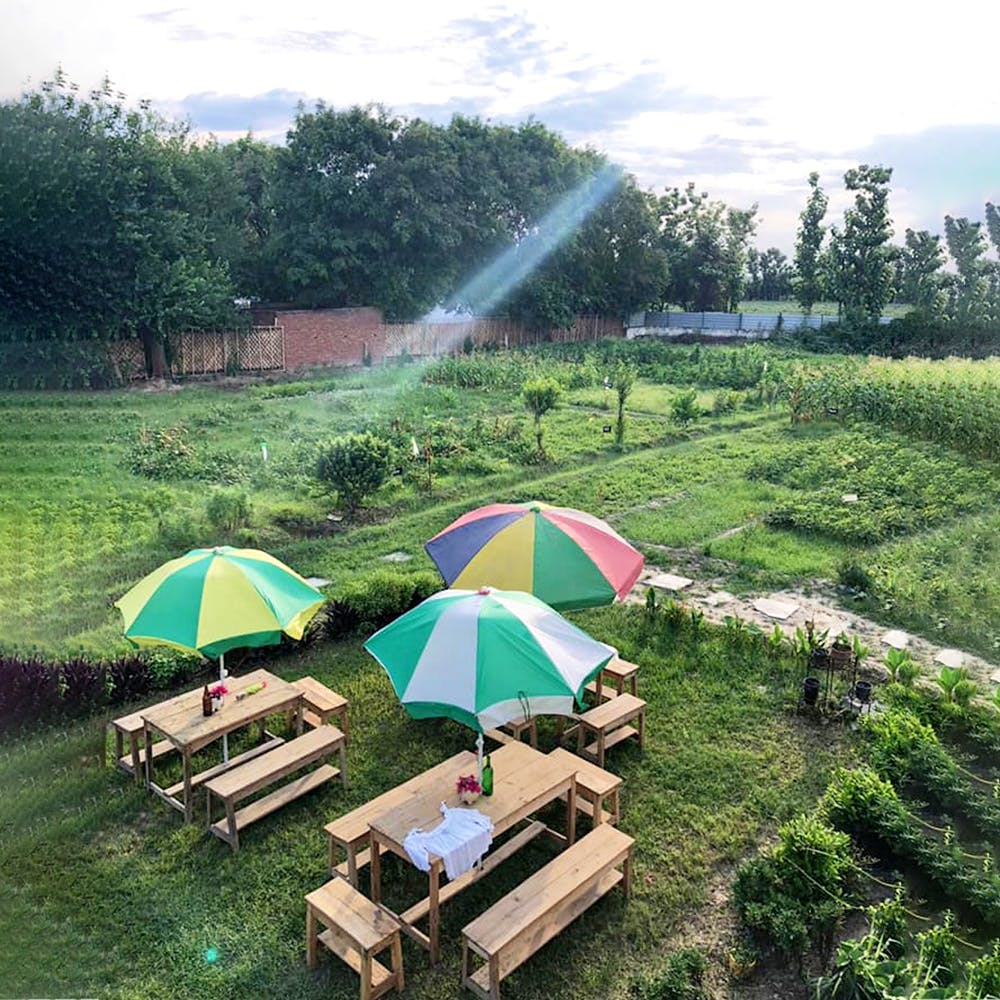 Nearest Metro Station:

BADARPUR
Sun & Salads: This Noida Farm Does All-Organic 4-Course Sunday Brunches
Shortcut
The Prodigal Cook Farms in Noida is an urban farm that does a lot more than growing and delivering farm-fresh veggies. They now host open-air brunches every few weeks (called Plucked & Plated) where the dishes are made from organic farm ingredients.
What Makes It Awesome
Parents looking for a place to picnic, folks who've resolved to eat healthy this year and everyone hoping to get out in Noida without heading to the mall, these Sunday brunches are perfect for you.
Neha and Puneet, head chefs and farm folks, have a special community table where everyone eats a zero-mile brunch. Everything you're served is made from freshly-plucked produce from the farm itself and we see interesting things on the four-course menu including organic beverages, salads, banana and sweet-potato muffins, makki ki roti and saag, veggie burgers and even coffee. Recently, they've added wood-fired, healthy pizzas to their brunch menu.
This farm food will not only be good for you but you'll also get interesting insights into farming in a sunny, informal setting. If nothing else, look at this as a way for you (and your kids) to play with garden tools, get your hands dirty and actually learn a thing or two about where your food's coming from.
Their adorable, overenthusiastic doggie, Tofu (vegan name FTW) and buffalo, Basanti love being petted when you're taking a break from your meal.

What Could Be Better
The brunch could get a bit uncomfortable if it's a particularly hot day. Be sure to carry sunscreen, sunglasses and wear comfortable footwear.
Pro Tip
If you'd like to jam, paint, cook, click photos or showcase any of your talents, they are open to letting you explore any possibility under the sun. We're thinking freshly-brewed coffee and acoustic music would be nice, right? Also, let the folks at Prodigal Farm know if you're bringing your pet(s) too.
They can host 10 people at once and the cost is INR 1,450/person and INR 700 for kids between 5 to 10 years. To know about upcoming farm meals, check out their Facebook page.
Also On The Prodigal Cook Farms
Comments
Nearest Metro Station:

BADARPUR