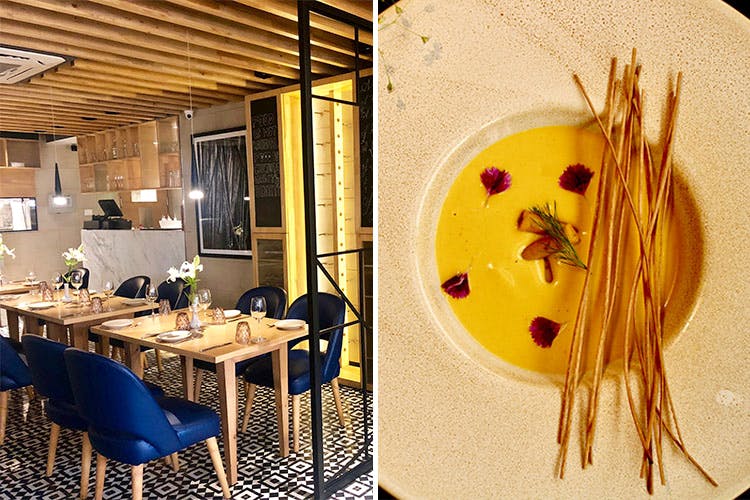 Nearest Metro Station:

KAILASH COLONY
Bored Vegetarians, Eat Flower Pots & Bao Bhaji At This All-Veg Fine-Dine Restaurant
Shortcut
Say an all-veg restaurant and highway spots churning buttery parathas or decades-old family hotels with menus stained in gravy, come to mind. Shoving these horror images aside is GK's newest fine-dine, Kiara Soul Kitchen, that's got an unconventional menu where everything comes with an Oriental twist.
Leaf The Stereotypes Behind
As a vegetarian, our biggest grouse has been limited options, between the usual North Indian dal makhani and shahi paneer, or an occasional thin crust pizza with beautiful olives and rocket lettuce. Thankfully, Manav and Madhav realised that while the whole world was giving a leafy green signal to vegan khaana, back home, the options were sadly limited.
Once back in Delhi, they decided to create this veggie-loving food place themselves. Kiara was born with a thoughtfully curated menu that could indeed only come from well-travelled fellow veggies who understood our predicament too well.
The chief cook was told to forget all precedents and put together a menu that didn't go by the book at all. The crockery was sourced straight from artisans, and there was a cute little transparent kitchen in place. Finally, a menu full of salads, soups, sushi, kebabs, curries, daals, khichdis and desserts were added, and they opened their doors two weeks back.
Lettuce Try New Things
We began our evening with a Mojito and Watermelon Martini, and if we had to pick, we'd say go for the former. The fresh mint and light sugar make it a summer favourite that no other beverage can rival. Next up was the Kiara Flower Pot, which looked as heavenly as it tasted. A burst of flavours from the broccoli, quinoa, tomatoes, bell peppers and crushed peanuts tasted even more divine with their chilli garlic dressing. We ordered the basic Tom Yum soup next, and suffice it to say, it was the veggie equivalent of the chicken soup for the soul. 
The Pok Choy Dumplings were everything we expected, but served as a great contrast to the sweet potato and pumpkin kebabs that made us believe that Indian and Oriental flavours can complement each other. We were hoping to try their Kaffir Lime Khichdi and Bao Bhaji but unfortunately, our appetite gave way and we ended with the churros withorange marmalade, and Apple Crumble with an Apple Miso Ganache. Both sealed our love affair with the fine-dine with their perfectly-balanced aromas and flavours. In fact, they fell in that sweet spot where fusion doesn't weigh heavy on comfort food. 
P.S. Extra points for presentation. Every dish looks totes Instagrammable with the leaves and flowers and veggie flourishes.
So, We're Saying...
60% of Kiara's menu is vegan, and they are determined to let diabetics and people with dietary restrictions have a good time. So, their menu is very mindful.
P.S. Their bar is all set but it'll start serving by the end of April. Thank God, they haven't assumed that vegetarians don't drink. We'll go next month only to pair that Garden Salad with Japanese hummus with a flowery cocktail.
Also On Kiara Soul Kitchen
Comments
Nearest Metro Station:

KAILASH COLONY