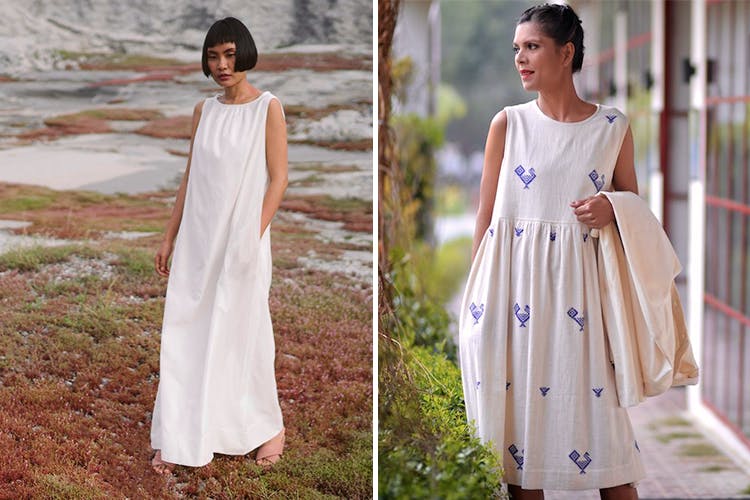 Like White Dresses? Get Skaters, Shifts, Maxis And More From These 10 Places
We have a white dress problem. Give us white in any form, right from floaty and oversized to dainty and skater and we seem to find a reason to bring it into our lives.
If this situation sounds familiar, we've got 10 sites/brands for you to hit up. We've zeroed in on 20 particular dresses, but know that there's a whole world waiting to be explored – if only you're determined and patient enough.
Westside
Westside has come a long way from the time our mums used to go there for kurtas. We dig that they are going a little unconventional with their designs, and have options in bigger sizes as well. Truth be told, we found very hipster designs at very affordable prices. Oh, and their assorted collections from other brands like Global Desi, AND, Vero Moda and more make the website a lot of fun to browse.
We love: This (INR 3,499) and this (INR 1,699)
Find more options here.
Koovs
Our only grouse with Koovs has been they're somewhat partial to petite body types and their sizes and designs are more apt for slender body types. That said, however, we have to agree that it's also one of the more budget-friendly places to shop online, and their range of white dresses in particular is fun and fulfilling.
We love: This (INR 1,499) and this (1,999)
Find more options here.
Kaito
This beautiful store at Cafe Soul Garden makes us go weak in the knees. All for sustainability and handcrafted with fun irreverence, Kaito is what we want to wear to the beach, to a brunch and when we eat our morning bread. Basically, if it were up to us, we would have a whole section just for Kaito's organic cotton dresses, but hey, we need to start saving up for a decade before that happens.
We love: This (INR 9,800) and this (INR 6,800)
Find more options here.
Myntra
A last-minute birthday invite or a sudden beach holiday? Myntra is our favourite for emergency shopping. Count on it for affordable finds, great variety and swift doorstep delivery. From un-fussy to OTT frilly and from shifts to skaters, you'll be spoilt for choice here.
We love: This (INR 517) and this (INR 599)
Find more options here.
The Loom
Our love for handloom meets our obsession with summer dresses in the most perfect way at The Loom. With its anarkali dresses that end right above the knee, or their paisleys that look rather cool on maxis, it's making us believe that fusion can be fun too. Ikat, Indigo, block prints… Channel that inner hipster with this brand's many white dresses.
Khara Kapas
For white mul dresses that feel soft as a cloud, we find ourselves gravitating towards Khara Kapas. Their focus on clean cuts, pure fabrics and on ensuring that they work with gifted artisans, makes shopping with them even more rewarding. Their attempt at reinterpreting handlooms makes it perfect for hipsters who love hanging out at Oddbird.
Swoon By Sakshi Astir
Our encounter with Swoon was rushed, but it was a breeze coordinating with Sakshi over Whatsapp. Everything she designs can be made-to-order, and this ensures that her clothes fit like a glove. Her love for vintage and lace is also pretty evident. Want something unique, white and ladylike? Trust Sakshi to stitch it for you.
We love: This (INR 4,000)
Nicobar
Think white outfits and the connection with Nicobar is inevitable. The understated vibe combined with the tropical, resort-y feel adds to its charm. They've also got soothing prints alongside flirty summer dresses that don't try too hard. The two featured being two ends of the spectrum. 
Summer House
Promoters of fair trade and champions of organic fabrics, the folks at Summer House are giving us clothes that lie comfortably between designer labels and high street brands. Their garments are well-tailored and classic. So, if minimalist is what you seek, this will be your best (slightly more affordable) bet.
Ajio
Let's get this straight. We lust over Khara Kapas and Nicobar but, in the end, we find ourselves buying off Koovs and Ajio. If you can't but wait for Nico or Kapas' end-of-season sales (or it isn't your birthday/anniversary yet), you'll probably found yourself indulging in some Ajio therapy too. On the white dress front, we're happy that they've got fusion, boho, bodycon, shirt dresses and lace numbers to office appropriate and more styles that will appeal to diverse body types.
We love: This (INR  1,259) and this (INR 899)
Find more options here.
Comments