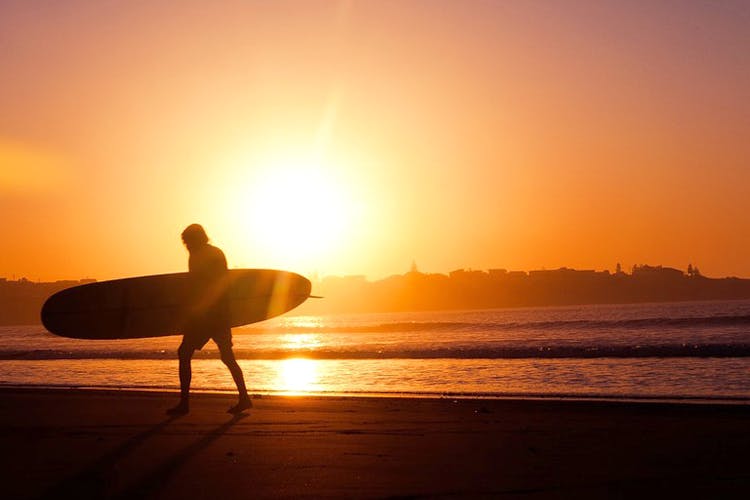 Why Your Next Trip To Goa Should Be Just About Surfing
Goa is perfect for surfing beginners, mainly for its abundant surfing schools, and mellow swells for getting comfortable with the waves. Here are the surfing schools I recommend to anyone visiting Goa.
Surfing season is from October till April and shuts down for the rest of the year n Goa.
Vaayu Waterman's Village
Overlooking the Aswem beach, Vaayu Waterman's village has a dedicated sports centre perfect for surfers to hit the waves. Otherwise famously known as Goa's only surf shop, Vaayu offers a range of water adventure sports like surfing, stand-up paddling, kayaking which I also highly recommend.
Need To Know: Vaayu is a wholesome holiday place with a guest house, café and even an art gallery. In the surf season, the swell can go as high up as two feet, and is ideal for beginners. Vaayu has accredited surfers whom I've seen training beginners very well.
Season: October to May
Price: INR 2,700 upwards
Banana Surf School
Located on the pristine Aswem beach, Banana Surf School is another favourite surfing spot, just a couple of miles from the famous Arambol beach. The surf school is in the popular Shanti Beach club, and has an elaborate sea view and a restaurant I've often eaten at, amongst other things.
Need To Know: The instructors are professional accredited surfers from Bali, and are very good at guiding the beginners I have introduced to them through the surfing process. They have individual and group lessons available.
Season: October to March
Price: INR 3,500 upwards per hour
Surf Wala
One of the most popular go-to surfing spots in Goa, Surf Wala is located on the Arambol beach in North Goa. Based out of the Surf Club, Surf Wala has many international surfers working for them available for training beginners. They train in a small lagoon on Aswem beach, and cover all aspects of surfing, from theory to practical training.
Need To Know: The instructors are easy to interact with, and speak a myriad of languages from Russian, Japanese to Konkani. November onwards they get really busy, so I like to make sure that my friends' classes are booked in advance. I can also rent the surfing equipment, gear and clothes from Surf Wala. Heads up, prices may go really high up during the surfing season.
Season: November to April
Prices: Board rental INR 500, Classes: 2 hours lesson INR 2,500
Aloha Surf School
Pioneered by veteran surfer and ISA-certified Velumurgan, fondly called Velu, Aloha surf school is the latest entrant to the Goa surf scene. It's on the beautiful Agonda beach, and I find it easy to miss, so look for a yellow graffiti of a langur surfing. It's also one of the most reasonably priced surfing schools in Goa.
Need To Know: Velu personally teaches the surfing lessons. All of the surfboards are supplied to Aloha by Temple surfboards, India's handmade surfboard company based out of Mahabalipuram. Surfers can rent the surfing gears, boards from Aloha starting INR 300 per hour.
Season: October to May
Price: INR 1,000 upwards for an individual lesson per hour
Price for Private lesson; INR 1500 for group lesson; INR 10000 for 7-Days package (2-Hours a day):

₹ 2000
Comments