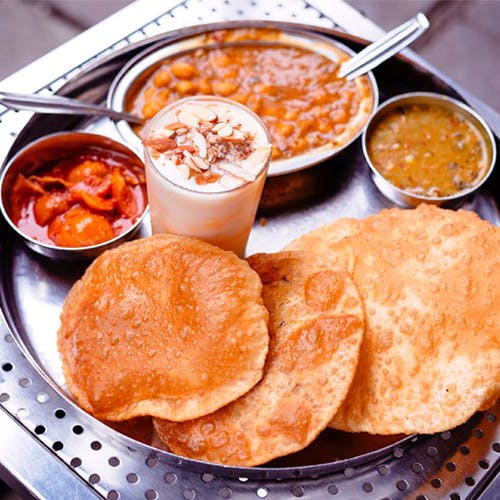 Get Your Plate Of Chole Bhature From These Places & Calm Your Inner Desi
If chole bhature is the question, the answer should always be yes. Hyderabad is no stranger to soft, puffy bhature and zaikedaar chole and we're going to tell you all the awesome places where you can get some.
13 Dhaba
We want to crack a lame "mera dhaba, tera dhaba" joke, but we won't. But what we won't hesitate to say is that the chole bhature here, at 13 Dhaba, is one of the best in the city. We recommend you pair the chole bhature here with a glass of lassi because it's going to be a spicy ride. Gachibowli peeps, head out!
Sardarji's Chaats & More
Sardarji's Chaats & More is a landmark in Gachibowli but we suggest you treat this place like a drive-in because chances are, you're not going to find a place to sit. The chole bhature here are spicy and full of our favorite Punjabi flavors. And the best part? You can ask for an extra bhatura too.
Dadus Purani Dilli
How can we not add our personal favorite to the list, right? Super popular among locals for Dilli ki chaat waale flavors, order a plate of chole bhature here and you're in food heaven. Soft bhature, masaledaar chole, and khatte onions — your pupils will dilate after the first bite.
Kailash Parbat
For all the times you were in a mall and didn't think of stopping by the food court to grab some chole bhature, why though? Two bhature and lots of flavorful chole, Kailash Parbat has to be on your must-go list.
Reason 9
What's the first thing that comes to your mind when someone says Sindhi Colony? Food, obviously! Tucked away amidst many eateries, Reason 9 is a hidden gem for delicious desi fast food. We won't give you nine reasons to check this place out except one, chole bhature. Well maintained, hygienic, and simple — go here for authentic flavors.
Ohri's Eat More
One of the most popular places in the city for chaat, you cannot go wrong at Ohri's Eat More. Walk in, say hello to delicious aromas, and order their Chole Bhature. You only get one bhatura for one plate but don't be fooled by the number. The bhature that Ohri's serves is one of the biggest in the city and your tummy is going to be full with just that. Oh, and did we tell you the chole is amazing? It's served with a side of tangy onion and lemon which gets them brownie points.
Comments