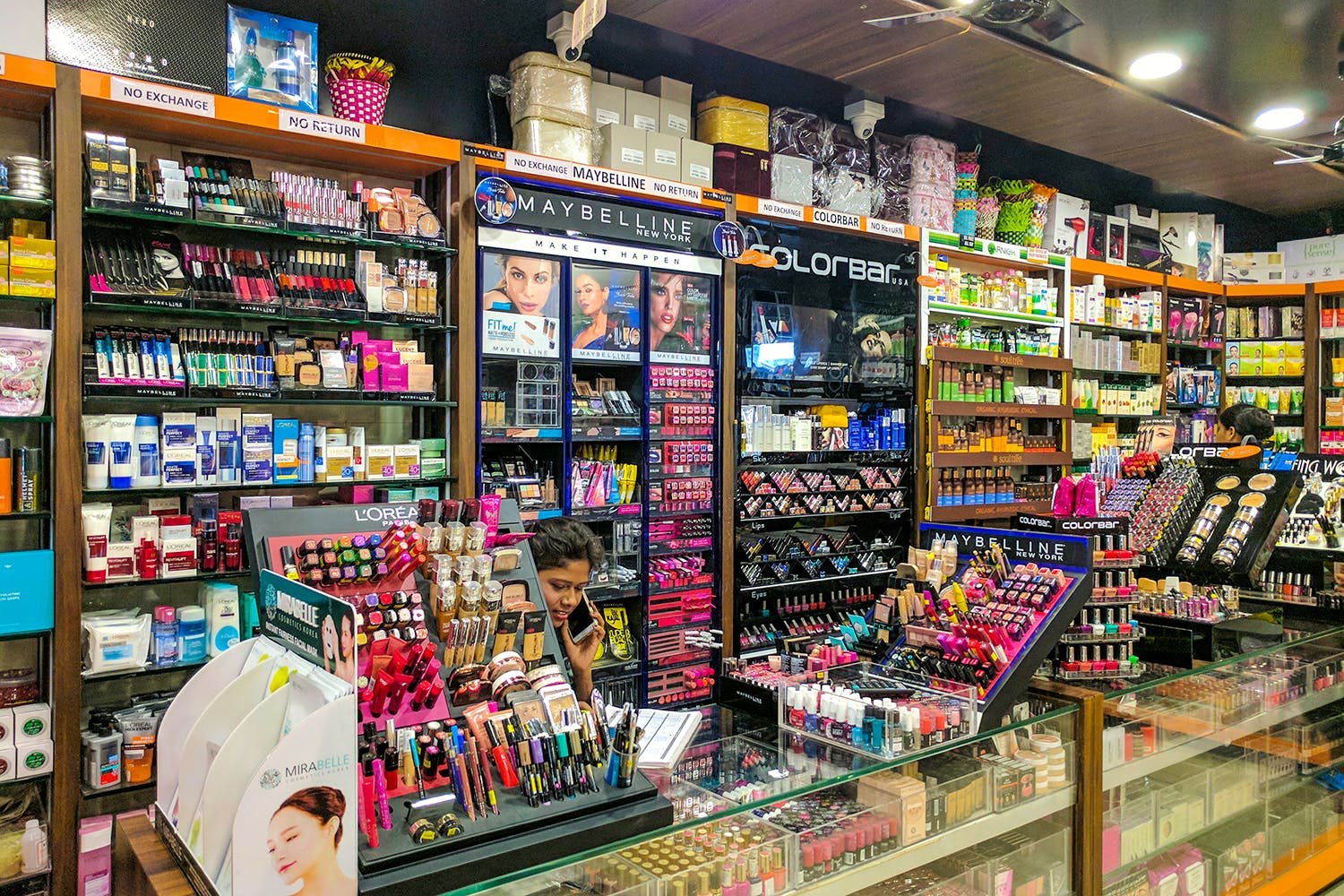 Hoard Makeup, Bath & Body Products & Cosmetics From These Stores In Hyderabad
Does our hunt for good cosmetics ever end? Oh, never! While you might think Hyderabad isn't big on cosmetics, we'll tell you otherwise. Right from luxe to rare finds and budget ones, here's a list of stores from our little black book. Let's take all our moolah and get home some good old Maybelline and Elizabeth Arden.
PAC Cosmetics
Want to perfect your party mojo? Then, trust in PAC (Professional Artist Cosmetics), in Jubilee Hills to set you up with quality make-up, from toner to lipstick. You will be spoilt for choice with their long-lasting matte lipstick collection that includes classy nude shades and glamorous dark shades too (We love the Red Wine and Cupid's Bow colours). Do check out the foundation and moisturisers they have, that will make your skin look healthy and soft. They also have lip primers, makeup brushes of all sorts, highlighters, eyeliners, eyelashes, makeup removers, and brush cleaners, and blenders from different parts of the world.
Kathiawar Stores
Kathiawar is a 75-year-old cosmetic store with several branches in the city. It is said to house more than 3,000 brands. Shelves full of makeup and bath and body/hair care products from popular brands like Bath & Body Works, Revlon, Lakmé, and L'Oreal Paris as well as from organic brands like Aveeno and Biotique sort all your beauty needs without having to jump from one cosmetic store to another.
Sreeja Cosmetics
Sreeja Cosmetics has whopping discounts that run throughout the year. From Victoria's Secret and Bed Head to Indian brands like Biotique and Plum, this store has it all. We found plenty of goodness in the form of BeYu Germany, L'Oreal x Balmain, Faces, Bath & Body Works, and BBlunt too. Apart from just cosmetics, makeup brushes, and toolkits, electronic gadgets like trimmers, blow dryers, steamers, and facial toolkits are available. For men, there is a separate section with imported perfumes, deodorants, shaving creams, and so much more.

Cinderella Imported Shoppe
Cinderella is known to house high-end labels like Burberry, Armani, Versace, Dior, and this is usually where we go when we need something luxe. Cosmetics from German brand BeYu and body lotions and mists from Victoria's Secret adorn the shelves of this store along with Hamaam El Hana essential oils and Beardo beard care products. It has two branches in the city.

Nykaa
Bringing us the best of international brands while concocting its own products, Nykaa has been winning hearts for ages now. You can get the best of Clinique, Ralph Lauren, Yves Saint Laurent, Estee Lauder, and all things luxe. But we also go here to hoard the face mask sheets from Korean brands like The Face Shop, Innisfree.
Ancient Living
Ancient Living in SLN Terminus is all about pocket-friendly organic products. We have a thing for handmade soaps and we get them at INR 150 a piece here. It also has soaps for kids that come in animal shapes. With plenty of hair care and massage oils, indulging in a home spa is all too easy. Apart from cosmetics, it also stocks up on artisan toys and native games like Puli Meka, Ashta Chamma, Vamana Guntalu.
NewU
If all you are looking for are basic products like Lotus Herbals, BBlunt, Olay, Neutrogena, Biotique, NewU is where you should head to. We frequent NewU because they have products from OGX and It's Skin that are otherwise not found at brick-and-mortar stores in the city. Plus, they have a loyalty program where you can accumulate points when you make purchases offline and online.
Comments