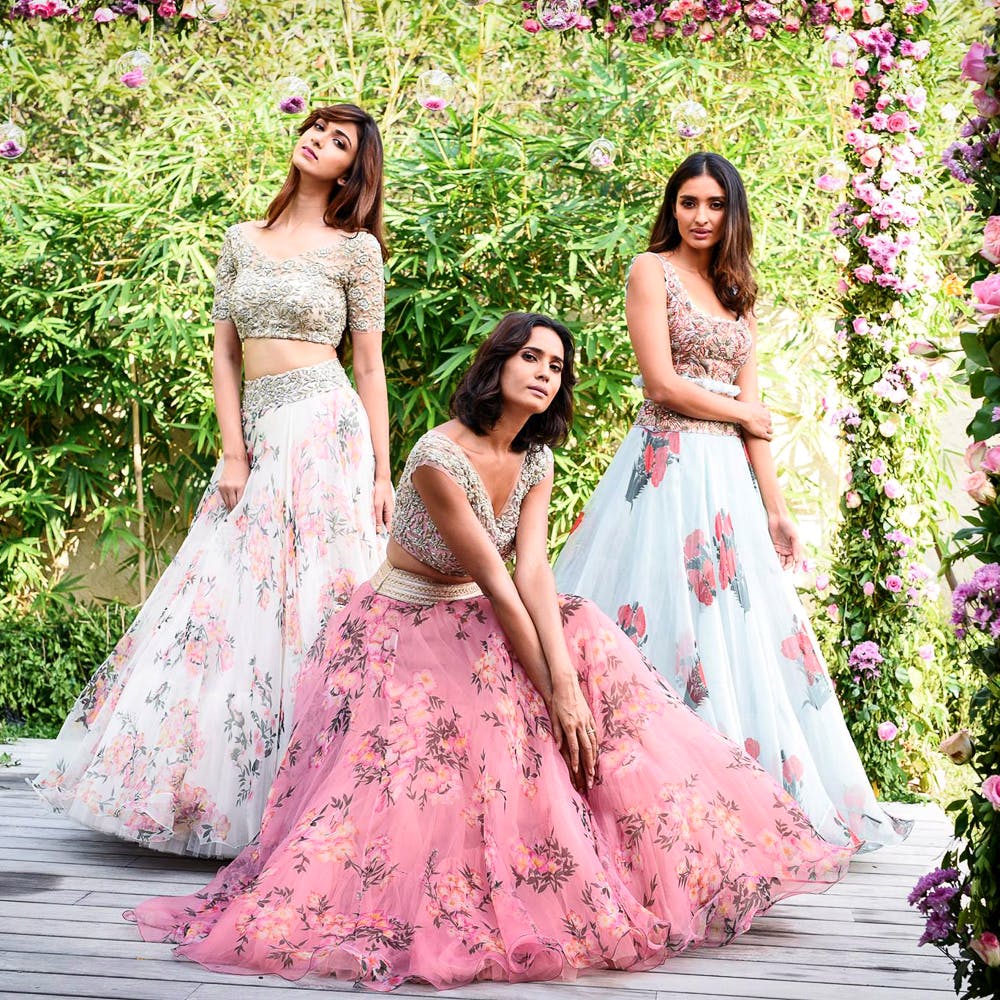 Don't Mind The Occasional Splurge? Treat Yourself To Awesome At These Stores
We all have those days when we want to go all out and about shopping. Whether it's jewellery or a dress, if you want to splurge, there are plenty of options in Hyderabad. From Sabyasachi Mukherjee to our homegirl, Anushree Reddy, here's a list of places where you can shop.
Sabyasachi
Stepping into Sabyasachi is like walking into a Sanjay Leela Bhansali's movie set. Yup, it's that grand, and if you've always dreamt of being a Sabyasachi bride, get to the store on Road No. 10, Banjara Hills. From stunning and elaborate lehengas to sarees, it's a work of art. You'll find Sabyasachi Couture, Bridal, Sabyasachi for Sabyasachi, and Chotu Sabyasachi under one roof.

Ogaan
Tucked away on Road No. 10 Banjara Hills, Ogaan is a fashion store that curates various designer labels like Dhruv Kapoor, Pero by Aneet Arora, Anamika Khanna, Anavila, Payal Singhal, and many more Indian designers. You'll be spoilt for choice and whether you want accessories or clothing, you'll find them all. The store alone will leave you with a longing so you'll be back for more. Plus, Ogaan's own collection is quite drool-worthy!
Anushree Reddy
Deepika Padukone to Tamannaah Bhatia, Hyderabad-based Anushree Reddy is pretty much on every fashionista's speed dial. Her store in Banjara Hills is a couture paradise and knowing how well Anushree is loved by not just celebrities but also young women (and brides) of Hyderabad. The store has already stocked up on the latest season's outfits and her popular 'Sitara' and 'Vintage Rose' collections. In fact, it is going above and beyond with its fully customisable bridal couture sessions with Anushree Reddy herself.

AM:PM Clothing
Ankur and Priyanka Modi's label has found lots of love in Hyderabad. Located on Road No. 10, Banjara Hills, this store is for those of you who love shopping for lehengas and formals under one roof. From embroidered shirts to chanderi shirts, you won't stop gawking at those mannequins. Say hello to embroidered linen waistcoats while you're there.
Architha Narayanam
Architha Narayanam in Banjara Hills is a Hyderabad-based designer that specialises in bridal couture. Got a thing for embroidery? From stunning lehengas and sarees to gowns and dhoti skirts and crop tops, you're going to love the collection. Sorting not just an evening or party look, this store has simple sarees and outfits as well. The price range begins at INR 25,000, and this label can customise an outfit within 24 hours too.

Suhani Pittie
Suhani Pittie — a popular jewellery designer from Hyderabad has literally put our city on the map. Gold-toned haathphool to Sterling Silver bird hoops, Suhani's pieces are worn by not just celebrities but also girls next door. Head to Suhani Pittie's flagship store in Banjara Hills, which is also listed as a must-visit store in Hyderabad by Lonely Planet. Whether you're looking for 22K wedding essentials or minimalistic am-pm pieces, we're sure this store won't disappoint you.

Mrunalini Rao
Floral, frills, and feminine — very little can go wrong at Mrunalini Rao's designer boutique. This is located on Road No 14, Banjara Hills and if you are looking for Indian wear like anarkalis and lehengas in bright and offbeat colours and designs, this store has to be your go-to. For one thing, you'll stand out in the crowd. The price range begins at around INR 30,000.
Ritu Kumar
Ritu Kumar has opened up a fairly large store on Road No. 36, Jubilee Hills, a few months ago. And it definitely warrants a visit. Whether you are looking for kurtas, jackets, or beautiful saree blouses, there is plenty for you to explore. The store has lovely accessories like scarves, bags, and mojris.
Angasutra
Regality and unruffled designs share aisles at Angasutra. This designer wear boutique on Road No. 10, Banjara Hills curates various Indian designers and labels like Mrunalini Rao, Anand Kabra, Falguni Shane Peacock, Anita Dongre, and more. They host regular pop-ups and clearance sales as well. So, get here and shop your heart out.
Elahe
Elahe is an iconic boutique in Banjara Hills and they curate Indian designers like Jayanti Reddy, Abhinav Mishra, Pankaj & Nidhi, Confluence by Swarovski, Arpita Mehta, and more. From jewellery to couture, Elahe has your back in all ways. Plus, they host several pop-ups too.
Comments