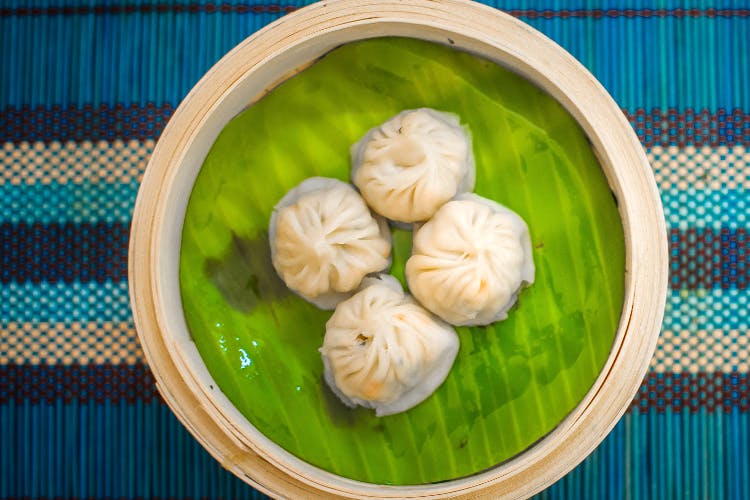 This Or That: Do We Love Our Momos At Kathmandu Momos Or The Himalayan Cafe
Hello, Hyderabad! Welcome to the second episode of This Or That. This is where we'll pit two dishes against each other or pick two restaurants and their popular dishes, and rate them for price, packaging, and taste. For our second episode, we've picked Steamed Momos from Kathmandu Momos and The Himalayan Cafe. Let's dig in to find out who won.

Is Kathmandu Momos A Step Ahead?
Selling off the cart like hot cakes, Kathmandu Momos attracts a crowd like no other stall in town. Let's start with the basics. The momos arrived in aluminum foil and the chutney was packed in a polythene packet. This might be a little tricky and messy to eat if you're ordering it to your workplace. Six momos set you back at INR 70 and talking about value for money, it's not a bad deal. But the stuffing isn't quite generous but the tangy chutney definitely makes up for it.

Will The Himalayan Cafe Be Left Behind?
Located in Kondapur, The Himalayan Cafe (THC) is easily one of the best momo places in Hyderabad and we had to pit it against Kathmandu Momos. Our steamed momos arrived in a plastic box, and the chutney was packed in another box. We would have really liked if they use as little plastic as they can. We took a bite into their momos and loved how generous they were with the stuffing. Super authentic and at INR 90 for six pieces, this is a fantastic value for money. Plus, the size of each momo is much larger than Kathmandu's momos. But the only downside is, most of the momos fell apart, which is a bummer!

*Drumroll* And The Winner Is....
Verdict time, peeps! This was a very tough call to make, guys. Both the momo joints are our regular haunts but if we're talking about authenticity, The Himalayan Cafe definitely takes the cake. They almost remind us of the hills, so they're our winners for this episode. But you know what we're craving right now? The Himalayan Cafe's momos with Kathmandu Momos' chutney. What a terrific combination!

Ask Sunaina a question