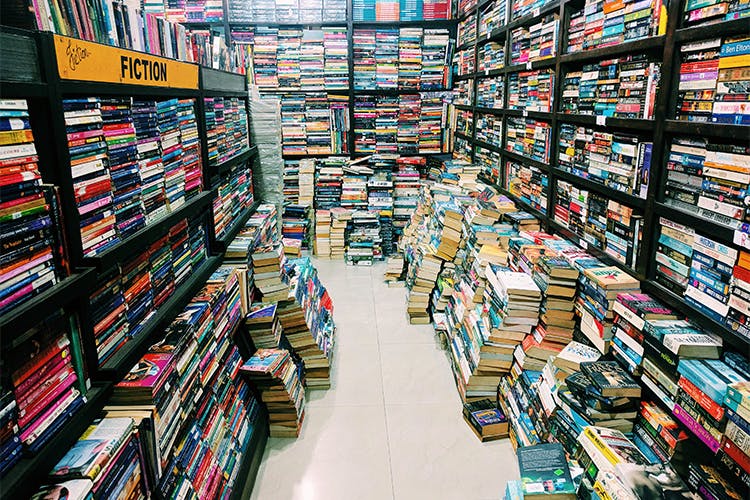 This Bookstore In Begumpet Has Rare Books & Prices Start At INR 20
Shortcut
If you love books, then you will love this. Because dear LBB users, this is the Holy Grail of book places in Hyderabad. MR Book Center, a 15-year-old bookstore, offers rare, unused, and old stocks of books at super discounted prices.
What Makes It Awesome
What defines this bookstore is its unfussy, nonchalant atmosphere. The books are arranged haphazardly, stacked in every possible corner. You need patience, we warn you, to discover books that you've only heard of, but never held before. Because this store is stacked high with graphic novels, vintage collectibles, Japanese manga, Reader's Digest's best collections, and illustrated biographies too.
Classics from Jane Austen, Leo Tolstoy, Victor Hugo, and more find a major place here and they are priced as low as INR 100 while graphic novels of Tom Sawyer, Nancy Drew, Agatha Christie (it's tough to find these in Hyderabad) are priced at INR 100 too. Make space for Archie Comics (INR 99 upwards), Charlie Brown (INR 299), The Adventures of Tintin (INR 200. Wait, what?). Fan of Princess Elsa, Joy, Nemo, and all things Pixar? Then grab those books with rich animation for yourself and your favourite kiddies. Boxed sets like Lord of the Rings, The Chronicles of Narnia, The Hunger Games, Enid Blyton's Secret Seven series rub shoulders with the likes of Bill Bryson, Roald Dahl, Haruki Murakami, Jo Nesbo, and PG Wodehouse. Although there is a decent collection of manga, it's mostly Ecchi manga (High School, Prison School) or classic manga like Astro Boy. Mills and Boons has its own dedicated shelf and if you're looking for exchanging books, M&Bs are priced at INR 20 only. You will also find coffee table tomes and illustrated biographies of Frank Sinatra, Bruce Springsteen, Elvis Presley, Bob Marley, priced at INR 300 only. If you're interested in learning Japanese or any new skill, you have plenty of choices. Don't let your heart skip a beat when you spot those celebrated books on Fashion such as Frank Trapper's Red Carpet, Kostas Murkudis (a comprehensive monograph on the work of the internationally acclaimed fashion designer Kostas Murkudis) that are priced under INR 1,000 (against their original prices which are between INR 1,600-3,900). With books on spirituality, politics, history, science, travel, and technology, this store is where we are going to blow up our monthly salary on.

Pro-Tip
Clutch your wallet and get to the store with a raft of patience and knack for spotting hidden gems. Every year, at least a lakh of books are sourced from Australia, and the US too. So, we can say that you're spoilt for choice. On your way out, be sure to pick a copy of the Quran which is offered free of cost.
Comments