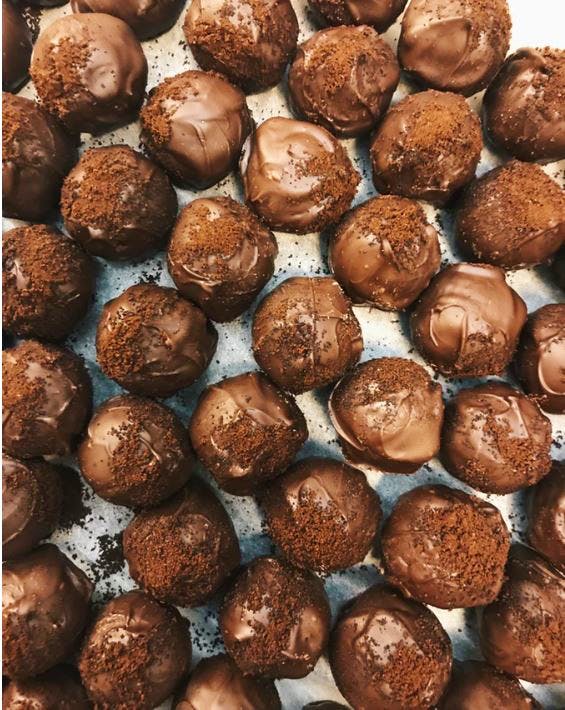 Hershey's, Lindt & More: Here's Where To Get Imported Chocolates In Hyderabad
Love imported chocolate but don't know where to stock up on them? We just found you a few stores that answer all your chocolatey prayers.

Mangal Mani Traders
Located in the crowded complex of Aziz Plaza in Begum Bazaar, Mangal Mani Traders is a wholesale store that sells all things imported. Whether you are looking for confectionery or nibbles, this store has it all. There is a massive variety of sour candies, popsicles etc, and if you are looking for grabbing these (on budget prices) for your kiddie's birthday, this is your ultimate destination. While you can pick box sets here, you can also buy them individually. That just sealed the deal for us.

Cinderella Imported Shoppe
Passing by Road No. 92 in Jubilee Hills, Cinderella Imported Shoppe might look like a regular store with a fancy name, but don't be fooled. It is indeed a shop where you can get the best imported products. Stacks of mouth-watering chocolates from Hersheys and Raffaelo to Lindor and Toblerone will make you gleam in joy for you don't have to wait for a visiting cousin or relative to enjoy these treats anymore.

Karachi Bakery
Just for once, let us forget about Karachi biscuits and cakes and talk about their chocolate collection. From chocolate bars to baskets and packets, Karachi Bakery actually has a pretty good collection of imported chocolates and we have no complaints. Yes goes out heart when we check out their aisles and get our hands on Hershey's, Lindt, etc.
Holland & Barrett
Holland & Barrett is a UK-based health and food chain store that set its foot in Hyderabad. Whether you like nuts, vacuum fried snacks or organic quinoa, millets, pasta, there's plenty for you to pick. Plus, if you are a fan of Mason & Co. (this is an Indian brand) chocolate, don't forget to grab a bar or two. Apart from that, you'll find other imported chocolates like Hershey's, Twix, etc while you gawk at the aisles.

House Of Candy
We'll quite literally take you to a candy shop which is made up of our childhood dreams. House Of Candy is a tiny kiosk in Next Galleria Mall, Punjagutta and it's where we go for our share of rare candies. Attracting not just kids but also elders, this kiosk has a fine stock of Gummy Bears, Raspberries (So good!), Fizzy Peaches, Cola Bottle, sour belts (perfect for late-night binge eating), M&Ms, chocolate fudge.

Rajguru Trading
Butter Tops, foreign varients of Kit Kats, and Milkies — you can score imported chocolates and toffees at Rajguru Trading in Begum Bazar for affordable prices. The only drawback of this store is that it's mostly crowded but hey, what's the harm if you're getting chocolaty treats for a less price, right?
Variety Dry Fruit Stores
Our inner kid is saying yey because this store has Mars, M&M, Twix, Bounty, Fox's, Lindt, and lots more. Though it's essentially a dry fruit store, keep walking till you find the chocolate and snacks aisle and loot everything. PS. you might get some discount if you buy in bulk.
Comments