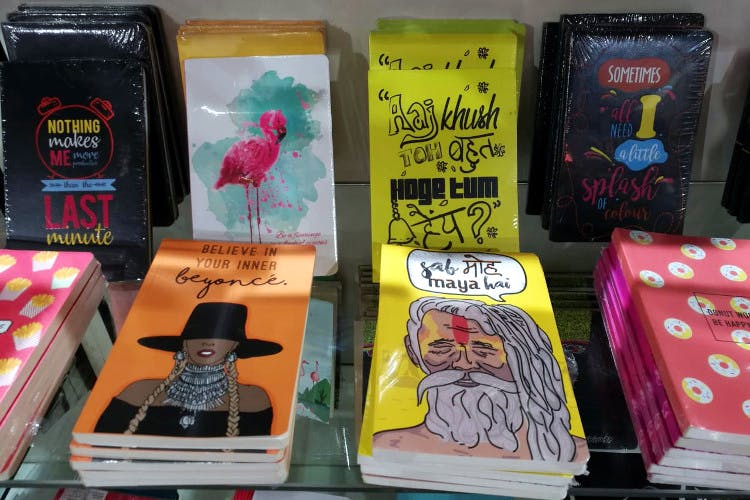 Pen Holders To Coffee Mugs: Quirk Up Your Work Desk With These Accessories Under INR 600
Don't you just hate working out of a boring cubicle/desk space? We know we do. So, here's a list of quirky add ons we found at Landmark for your desk to be the cutest, and most refreshing one in office. Besides, it will motivate you to work better too.

File Holders - INR 299
Replace boring file holders with these designer ones that come in many patterns and colour palettes. We particularly love the paisley print from Paper Theatre, and the fact that it can easily accommodate at least 10 files.
Notebooks - From INR 5 - INR 299
If you're desk is filled with notebooks, why not make buy notebooks that make statements with their colourful covers? We found some with quotes like 'Believe in your inner Beyoncé", and 'Donut Worry, Be Happy' which we all need to hear sometimes at work.
Piggy Bank - INR 199
For all the spare change that you end up losing every time you buy lunch, there are printed piggy banks that can keep a check on your savings. With lots of British elements like the London bus, or the Queen's soldiers, and floral patterns, these will instantly make your desk the classiest.
Coffee Mug - INR 299
Not just to make your desk more fun but also to make your coffee breaks worthwhile, get a crazy coffee mug which comes with witty sayings.
Pen Holders - INR 199
It's time to say sorry to all the pens you have misplaced before, and get a pretty aztec print pen holder now. Staying organised is the key to a better performance, fellas!
Post It Notes - INR 49
Your to-do lists can get work done from you quicker, when they come in cute shapes, or so we think! So, when we found apple and globe shaped post it notes, we knew our desk had to have it.
Framed Quotes - INR 499
No day can be a bad day when there's a framed quote on your desk to remind you that it's not the end of the world. We totally bought these to keep ourselves on the track, and to constantly tells us to 'do something awesome today'.
Chalkboard - INR 99
On days when it's all fun and games in the office, this chalkboard will come in handy. Designed to look like a clapboard, it is but a mini chalkboard set that comes with chalks and clip pins too.
Paper Weight - INR 199
We found a miniature pineapple that made us go aww, and we figured it's gonna be our new paper-weight. Because, who says paper weights have to be basic?
Tumblers - INR 399
We know how important it is to stay hydrated, and so you must get these adorable tumblers that come in various shapes and sizes. From pastel colours to patterned and minimalistic, find the right fir for your desk.
Ukulele - INR 599
How could we miss a cool ukulele that will help us show off our skills during the talent shows at work? That's right, we couldn't. Our desk rocks now, and yours will too once you get this.
Comments