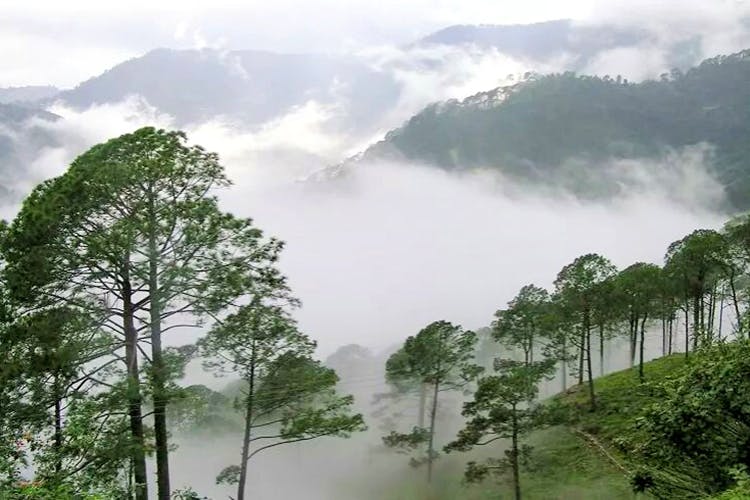 Waterfalls To Coffee Museum, Here's What To Do In Araku Valley
Often regarded as 'Ooty of Andhra Pradesh', Araku Valley is a hill station and home to indigenous tribes on the Eastern Ghats. Abundant with forests and coffee plantations, it is known for its rich bio-diversity. Waking up amidst the greens of this valley and exploring the slow (but beautiful) life of the natives in this area is an experience worth taking a road trip for. But are you wondering what else you could do in and around Araku? Allow us to chip in!
Ananthagiri Hills
Offering one of the best views of the Araku Valley, Ananthagiri has several waterfalls and coffee plantations in its lap. While driving to these hills, there is a viewpoint that offers the view of coffee plantations on one side, and deep cuts and bends of the valley on the other. It's also popular for its camping (In the right season) and guided hikes. But if you are someone who doesn't mind wandering on your own, tie your shoelace, and get lost in the woods.
Mastyagundam
Did you ever want to feed the fish on your own? Mastyagundam is where you should head to. Many rocks form a barrier around a tiny pool (it's a river) where plenty of fish gather. Here, you can sit atop the rock and feed the fish without an iota of fear, and the fish are quite playful too. There's a small Siva temple of the banks of this river, and the surroundings are well-maintained with steps for seamless walking.
Coffee Museum
Located right inside the Araku Valley Coffee House, this museum is a caffeinated treat for a coffee lover. You can learn a lot about the coffee plantations in this area, especially of its history as coffee was first introduced to the Eastern Ghats through Araku. On your way out, we urge you to sample local coffee and purchase not just coffee (Which is amazing) but also brownies, chocolate-covered coffee beans.
Araku Aadiwasi Arts & Crafts
Located between the coffee house and Araku bus stop, this tribals arts & crafts centre is where you can indulge in shopping. While spreading an awareness of the tribal culture and lifestyle, its mud and real metal construction add to the beauty of the artefacts. It has also passages inside, making your exploration interesting. Be sure to purchase tribal jewellery, jute bags, and ornaments made from brass and wrought-iron.
Dumbriguda Waterfalls
Want to picnic right next to the waterfalls? It has to be Dumbriguda as its endless stream makes for fresh breeze and great views. These waterfalls have massive natural rock formations with water gently flowing on them. Your feet can quite literally take a dip into the fall, but be cautious as the rocks can be slippery.



Vasundhara Restaurant
No trip to Araku is ever complete without devouring an Andhra Thali or meals. Check into Vasundhara Restaurant, inside, Rajadhani Hotel, to get your fill of budget meals.
Tyda Nature Camp
If you've got an extra day on hand, we recommend a stay at Tyda Nature Camp, which is around 40km away from Araku. Tyda is basically a tiny tribal village that's carefully tucked between the forest ranges of the Eastern Ghats. This camp is equipped with trekking, rock-climbing, birding, and bow-arrow shooting. The stay options are sorted and you have a choice between log huts and tents, which are priced under INR 2,000. Here, you can also hire an expert guide to learn the jungle language, identification marks or calls.
Borra Caves
Well, we all know a visit to Araku is incomplete without Borra Caves. These million-years-old limestone caves are supposedly the deepest caves in the country. Filled with natural stalagmite and stalactite, these caves are usually lit up and the light forms beautiful patterns on the interiors of the caves. There is a staircase inside that leads you to the shrine (Or Shivalinga) but the caves are usually super crowded over the weekends.
Comments