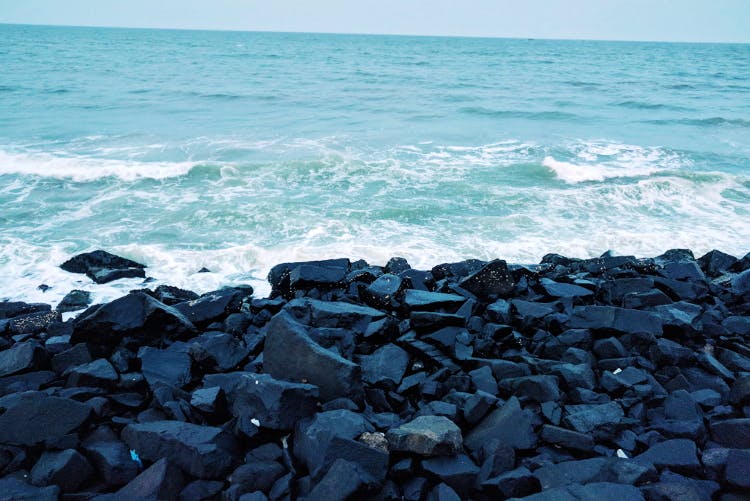 Heading To The Sunny Pondicherry? Here's What To Do In 48 Hours
We think there is nothing quite like a beach that can fix all our woes. And what's better than escaping to Pondicherry for a weekend to remember. Traveling to Pondicherry for the first time? Here's a tried and tested itinerary for two days. Get on an overnight bus, opt for an accommodation in White Town and start exploring the quaint historical town. Rent a bicycle or scooty, and your transport is sorted too.
Aurobindo Ashram
Begin your day at Aurobindo Ashram that opens at 8am. We spent 30-40 minutes here gawking at the beauty of the garden and reveling in the silence and atmosphere. You can neither speak nor use your mobile phones inside. While there isn't a lot to see here, we enjoyed exploring the bookstore where we picked beautiful postcards and books.
Baker Street
After a quiet time, head to Baker Street. Quiches to croissants and pizzas to burgers, Baker Street nails the baked goods. The ambiance is nothing fancy — in fact, it's rather plain with low lighting but the desserts will win you over. We tried a chocolate cheesecake, brownie, lemon sorbet, and chocolate pie. The cheesecake and the pie demand a standing ovation; the brownie and the sorbet (too sour) were quite a letdown but when eaten together make a wicked duo.
Explore White Town
Much of White Town can be best explored on foot, and you can pretty much cover everything within an hour or two. The houses here are hashtag goals and we couldn't stop 'gramming and putting them on Snapchat. After you're done spotting colourful homes, gardens overflowing with bougainvillea, head to one of these cafes/restaurants for ambrosia.
Serenity Beach
Serenity Beach is easily 6km away from White Town or the central town (unless you're staying at a backpacker's hostel near the beach), and to reach here, you'll zoom through narrow streets, rural homes, and of course, awful traffic. Everything seems worth it when you spot the pleasant sea peeping through the bushes. With a few shacks and friendly dogs, this one's crowded and the police get the beach cleared by 6pm, so be sure to visit before evening sets in. There are a set of rocks on one end of the beach that you can climb up to witness a proper view. Plus, you can collect many sea shells here.
Dine At Le Dupleix
What was once a residence of Pondicherry's Mayor is today a hotel-cum-restaurant. Le Dupleix (a 300-year-old property) is a classic restoration of erstwhile architecture with a few modern touches, here and there. We hit up this restaurant for dinner and settled for an outdoor seating (The live music is amazing!). The trees here form a canopy over your head which keeps you cool in Summers but watch out for the crows. The area of the indoor seating is limited but try and get seated next to the bar as you can check the bartender whipping some amazing drinkies.
Take A Walk At Rock Beach
Rock Beach bans the entry of vehicles from evenings to early mornings (a little after the sunrise), and this is perfect because you'll find everyone walking, exercising, or just enjoying the sunrise/sunset. Gawk at the street art or stop by for coffee at Le Cafe or Promenade and wait for the nightfall because that's when the beach gets crowded and the street food scene starts. This is a shoreless beach, so just sit on the rocks and watch the glowing lights at a distance.
Pichavaram Mangrove Forest
At a 2-hour drive from Pondicherry is the world's second largest mangrove forest — Pichavaram. Skip a motorboat ride and go for a row-boat ride that takes you through lush mangroves. While they charge INR 100 (per head) for an hour, the boatman can take you through thicker foliages if you pay extra. We enjoyed spotting frisky fish and birds.
Note: We recommend getting here before noon to avoid the heat.
National Parks & Wildlife Sanctuaries
Immaculate Conception Cathedral
Got a thing for 18th-century architecture? You should absolutely stop by at Immaculate Conception Cathedral to admire its spectacular architecture. When you step in, the dome of the cathedral is sure to hold your breath. It's elaborate. It's beautiful, and it's something you'd just want to look at. Without taking any pictures.
Paradise Beach
What nobody ever tells you is how far Paradise Beach is from the town. You'll literally find yourself at a different corner of the town where the beach is barely populated. Brownie points for its cleanliness. Go here before 4pm and play all you want before it gets crowded in the evenings. There is also an island near this beach where you can take a quick boat ride. Don't want? Just eat fried fish or an omelette on the beach and head back.
Shopping At Mission Street
Swing by Mission Street to shop for clothes on a budget, little knick-knacks to gift your friends back home. Check out the lanes and by-lanes of this area where you can find stores selling branded apparel at prices that will make you take a jive. These are last season or surplus stock, so you need to roll up your sleeves and find just those rare gems that'll jazz up your wardrobe. Also, the bookstores here have a brilliant collection of indie magazines.

Grab Pizza At Xtasi Gastro Pub
Popular for its pizzas, at Xtasi, we knocked ourselves with mouthfuls of them. The place is nothing big on ambience but has three floors of packed peeps waiting for their meals. The wood-burnt pizzas are quite well-made and are huge-sized (So, fold them like Joey's pizza) and are generous in toppings. With no fuss and further ado about the slow service, dig in, and keep diggin' in!

Comments