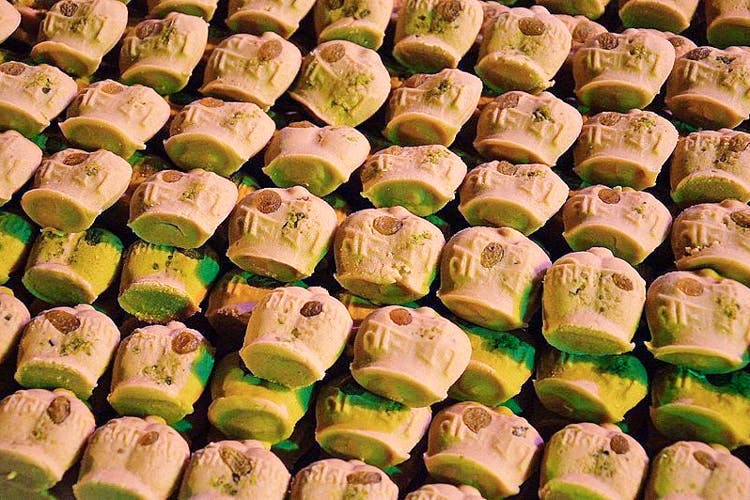 5 Creative Food Inventions From Bengal (And Where You Should Have Them)
Kolkata has been influenced by many cultures ever since it became a hub of trade and commerce. From the Chinese to the Armenians, the Brits to other Europeans, people have made it home at various points and added their unique touch to the city's architecture, culture and cuisine. In fact, many new dishes were born from the confluence of cultures, including local ones. From Chinese Manchurian to kathi rolls, here are a few famous dishes that were created in Bengal.
Chop-Cutlet
Kolkata loves its chops and cutlets with streetside kiosks, and even railway stations, serving a variety of these. These are delicious very Kolkata snacks are made with vegetables (think aloo'r chop and the ubiquitous vegetable chop served on Bengal's trains made with beetroot!) minced meat or fish, coated with crushed biscuits or breadcrumbs and then fried. These are often served with a dash of the famous Bengal mustard — kasundi — and a salad of julienned cucumbers, carrots, onions and radish. The influences for Kolkata's chops and cutlets culture comes from European food — they were mostly introduced by the Portuguese and Brits.
The most popular Kolkata cutlet has to be the kabiraji cutlet made out of minced mutton, chicken, fish or prawn with a coating of breadcrumbs and a brushing of kasundi. What sets it apart, and gives it its name, is the thin, delicate lace-like layer of whipped fluffy eggs on top. It is served with thinly sliced onions, carrots and cucumber. The name is believed to be a derivation of 'coverage cutlet' — because of the added layer of egg batter that is dropped on top.
Best Places: Dilkhush Cabin at MG Road, Kalika at Surya Sen Street, Mitra Café in Shyambazaar.
Kathi Rolls
This skewer-roasted kebab wrapped in a parantha is said to have been invented by Nizam Restaurant. The story goes that one day a customer was in a hurry and asked for something light and dry which he could eat quickly. So pieces of chicken were removed from the curry, deboned, wrapped in a parantha and served. And so, the kebab roll was born. But soon after, the use of iron skewers to cook the chicken was disbanded and bamboo sticks were used for convenience. And hence, the name "kathi" roll stuck (kathi translates to 'stick') referring to the bamboo sticks in Bengali.
Best Places: Nizam's at New Market, Kusum Rolls at Park Street, Parijat at Shakespeare Sarani.
Bengali Chinese
The Chinese in Kolkata are a dwindling community and over the years they have impacted the socio-cultural environment of Bengal. Along with the Chinese came Chinese food, but over the course of time, that authentic cuisine has metamorphosed into a more Bengali-Indian Chinese.
To suit the taste buds of Bengalis, the bland Cantonese sauces were spiced up with chillis and hot sauces, creating unique dishes like Chicken Manchurian. Chicken Manchurian is widely recognised and reproduced with gobi and paneer, and is the creation of Nelson Wang, a man of Chinese descent, born in Kolkata and brought up in Mumbai and founder of the famous China Garden restaurant in Mumbai's Kemps Corner.
Best Places: Chinese eateries in Tangra and Tirretti, Mainland China, Tung Fong, Marco Polo.
Chicken Dak-Bungalow
This colonial recipe is said to have been prepared in Calcutta's dak bungalows where the British officers used to stay while on hunting expeditions. The British didn't like the thick spicy Indian curries and wanted the khansamas (cooks) to prepare their chicken in a light broth with very little spices. And this chicken curry lived on to be called the Chicken Dak-Bungalow.
Best Places: Bhojohori Manna, Oh! Calcutta at Elgin Road, 6 Ballygunge Place at Ballygunge.
Sandesh
Apparently Bengal's most popular sweet was invented accidentally in Bengal, when a milkman was left with plenty of unsold milk. Soon the milk turned sour and formed 'chhana'. To make it edible, sugar was added to it and a paste was formed, called 'makha'. This was the sandesh in its earliest stages. Later sweetmeat makers mastered the art of the sandesh by mixing the correct proportions of flour and sugar. Gur (jaggery) was also often added for extra flavour.
Best Places: Balaram Mullick and Radharaman Mullick, Girish Chandra Dey and Nakur Chandra Nandy, Nalin Chandra Das and Sons.
Comments