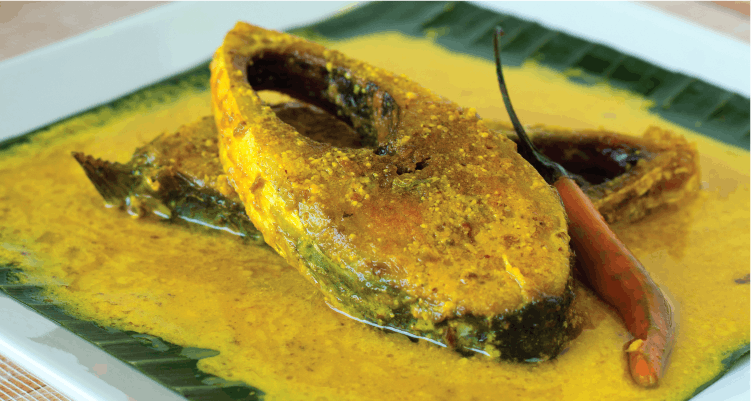 The Director Of Maacher Jhol Shares His Fave Fish Dishes In Kolkata
Journalist, film critic, screenwriter and film director Pratim D. Gupta's latest film Maacher Jhol is a delightful, delicious watch. We caught up with him to find out his favourite places in Kolkata for fish delicacies, and it certainly is quite an eclectic list!
Kasturi
I love the kochu paata chingri bhaapa from Kasturi at any of their branches. It's like dynamite in a small bowl. I usually have this with white rice and not need anything else for a meal. I first ate here about 5-6 years ago in the Ballygunge outlet. The bowal kaalia they prepare is also very nice.
Mocambo
The fish meuniere at Mocambo is delicious because the bhetki simply melts in your mouth, and it goes great with garlic toast. Mocambo also makes terrific devilled crabs. I first ate here as a teenager in the 90's, and it's still one of my favourite places for Continental food.
Campari
I first ate at Campari in the 80's, as a kid. The fish rolls here are excellent – a tasty fishy filling rolled in a fillet of fish and crumb fried to perfection. A little bit of kasundi, and you're good to go. I also love the tandoori fish rolls here.
Oh! Calcutta
When it opened in Kolkata, about 12-13 years ago, I discovered the kankra chingri bhaape at Oh! Calcutta, and found it to be quite unique. It's steamed and so tasty that you can actually eat it just like that, without any accompaniment. I also love their aam ilish when it's available during hilsa season.
Tarun Niketan
This is a small eating house near Lake Market. They make a simple rui maacher shaada jhol, which goes very well with white rice. I discovered this place about ten years back thanks to my filmmaker friend Sujoy Ghosh. This dish is made with radhuni, which usually goes in shukto. I also recommend Tarun Niketan's ilish-er matha diye kochu shaak.
Poddar Court Roadside
As a teenager, I used to eat fish momos at Poddar Court's roadside, with lots of chili sauce. It's part of the legendary Chinese breakfast. You'll also find nice pork bao here!
Spice Kraft
About two years ago, I ate beer batter fish fry here. It's crisp, crackling and served in a beer can. And it goes very well with cocktails. I also highly recommend Spice Kraft's nasi goreng.
Comments