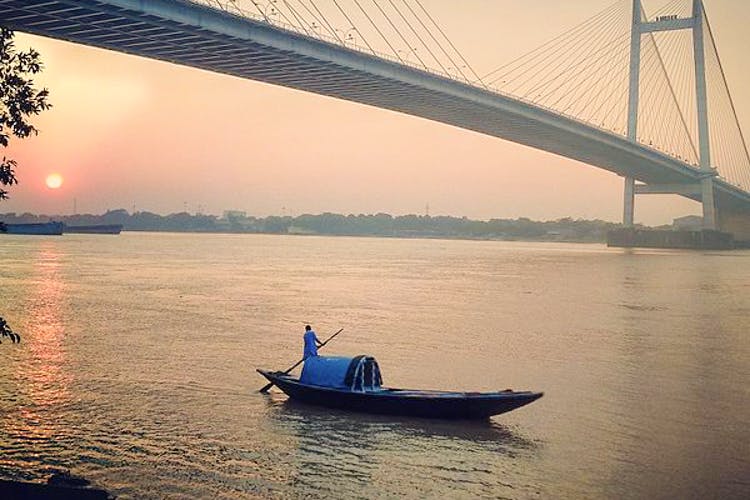 Things You Can Do In Kolkata For Free!
If you're low on cash or are saving up but still wish to explore the city, then check our guide to some fun stuff that you can do in the City of Joy without shelling out a single penny. Yes and we're not kidding!
Catch The Sunset At Princep Ghat
There's nothing that can beat the beauty of a sunset. You don't just gaze at a sunset, you experience it. And you can have the best one at the city's famous Princep Ghat. With the Vidyasagar Setu in the foreground and the river flowing below, the stunning sunset view will leave you awestruck and overwhelmed at the same time. It'll just immediately make you feel at peace.
Besides Princep, you can get similar feels at other ghats in the Hooghly area like Outram Ghat, Armenian Ghat, Fairlie Ghat and Babu Ghat.
Visit National Library
This iconic library in Alipore is a must-visit for all you city folks, especially book lovers (it's heaven on earth!). Even if you aren't a reader, just drop by this place to laze around in the huge, open green space. Membership is free of cost and here you can scroll through over 20 lakh books, including rare manuscripts and journals in several Indian languages.
Walk Around Rabindra Sarovar Lake
It's one of the most famous, serene and picturesque lakes in Kolkata surrounded by lush green park and walking space on all sides. Sit by the lake with your partner or your gang and while away time gossiping as you enjoy the view. It's perfect if you wanna go for a stroll, walk or a run. You can tag along your furry friend too!
Iconic Cathedrals, Churches & Synagogues
The city hosts a couple of iconic cathedrals, churches and synagogues and St Paul's Cathedral is one of them. Then, there's St John's Church in Dalhousie where the popular Bollywood film Parineeta was shot. You must also visit the 17th century Armenian Church. If you walk down from Writer's Building towards Burra Bazaar, you'll find the Magen David Synagogue that dates back to the 19th century.
Visit Kumartuli
Witness the process of idol making at the famous potter's hub, Kumartuli. Locals in the area have been in the business of creating wonderful idols made of clay, straw and mud since generations. All the idols are handmade by best potters and artisans and a lot of them are even shipped to other cities and countries. The place is also a photographer's paradise.
Attend Exhibitions At Art Galleries
There are lots of art exhibitions, seminars, talk shows and other events that keep happening in the city almost every week. Watch out for events being held at art galleries like the Kolkata Centre for Creativity, ICCR, Academy of Fine Arts, Birla Academy Of Art And Culture to name a few. Renowned artists from across the city, country and world showcase their work here.
Explore South Park Street Cemetery
Learn about the city's colonial past at the South Park Street Cemetery, which also happens to be one of Kolkata's oldest burial grounds built by East India Company in the 18th century. It's a fave spot for photographers as well. The place has some of the oldest graves in the city and lush greenery that makes for gorgeous backdrops. The decaying tombstones with crumbling corners are bound to give you spooky feels. But beware! It's infamous for paranormal activities too!
Mullick Ghat Flower Market
The iconic, over-a-century-old Mullick Ghat Flower Market deserves a visit even if you don't intend to buy anything. The magnificent Howrah Bridge towering above one of the biggest flower markets in Asia makes it a must-visit place for photographers and tourists alike. The market is along the riverside where you can actually see stunning sunset views and take Insta-worthy shots.
Places Of Worship
The city hosts a number of old, famous temples that deserve a visit even just to know about their history or admire their architectural grandeur. Head to Birla Mandir in Ballygunge that took 26 years to build. You can't be done with the city without a visit to the iconic Dakhineswar Temple in Belur or Lake Kalibari temple in Kalighat.
Cross The Howrah Bridge
Connecting Howrah and Kolkata, over a lakh people cross this bridge everyday. For a truly local experience, walk down the bridge instead of driving or taking a cab or bus. Feel the cool breeze brush against your face and, who knows, you might just end up watching the breathtaking sunset.
Spend The Day At Maidan
Laze around in the lush green Maidan area of the city. Go for a family picnic or sit for an adda session with your squad. It's the best place for a jog or run early in the morning. You can also stop by Victoria Memorial for a brush with history.
Comments