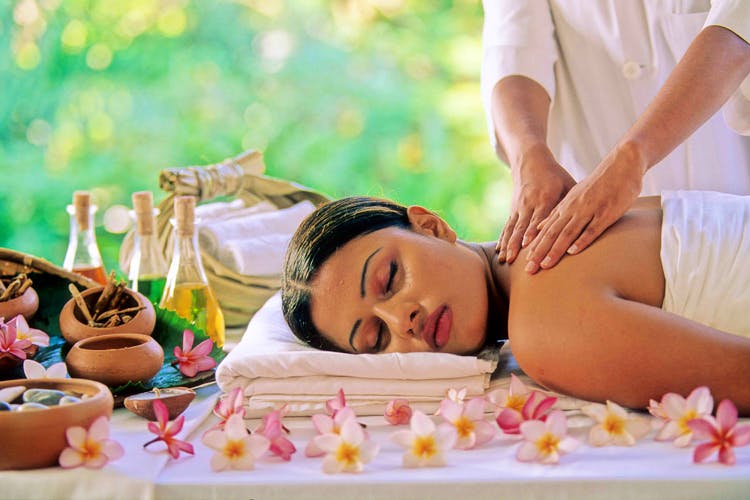 Bad Backs & Tennis Elbows To De-Stressing Massages, These Places Have You Covered
The massages and postural therapy at these places are just what you need for a frozen shoulder or a sluggish lymphatic system.
Shodhanam Kerala Panchakarma Ayurveda
Not strictly a spa, this one is an Ayurveda-based wellness centre which will help you detoxify or get rid of doshas from your body! Think dandruff issues, frozen shoulders and migraines treated by strictly ayurvedic treatments. Try their head to toe Kerala oil massage followed by a herbal steam, an optional addition of Shirodhara for releasing mental stress and fatigue or the rubbing of warm herbal potlis on pressure points. The Abhyangam i.e full body medicated oil massage for 60 minutes plus herbal steam will come to INR 1,800, Shirodhara with oil pouring relaxation treatment will cost INR 1,500 and Potli massage INR 2,300.
Medica Superspeciality Hospital
Cannot get enough of sports? Oh the adrenaline rush but what about the nightmare-ish next morning when your body feels like it's turned into stone or going to just fall apart and break because of the pain?! We say game on, as Medica now has a special 'sports massage' in place for athletic junkies like you! Call their physiotherapy department at least a day in advance to book your slot. The sports-centric massage focuses on releasing body aches and stiffness caused due to athletics. It is a full body dry massage that involves stretching of joints and releasing tired muscle rigidity and back aches. A 30-minute sports massage session will come for INR 550.
Ayusya Ayurveda
This is a super speciality treatment centre where you can get rid of issues such as hair loss, diabetes and asthma but if a warm, effective Ayurvedic massage is what you're looking for their clinical approach shall leave you satisfied and rejuvenated like never before. Try their full body Ayurvedic massage that extends for an hour plus around 15 minutes extra if you would like to take steam. They apply traditional Ayurvedic herbs with medicinal values over the body using one-stroke movements which makes the treatment all that more effective. Opt for their full body oil massage for 1 hour, at INR 1,500 and if you want to take steam, that will come for an additional INR 300. They also have showering facilities for after a massage.
Endorphins
Endorphins is one of the few gyms in the city that encourages a machine-free exercise routine. They give you real and practical exercises which you can do even when they aren't around. 'Corrective exercise' is their mantra. Form, posture, lifestyle, diet – they focus on all aspects of the body which will improve the over-all quality of your life. You can sign up for the quarterly package of INR 12,400, the half-yearly package for INR 21,900 or the annual package for INR 41,200.
Balinese Spa
If you're up for spending romantic quality time with your partner at the couple's massage or are looking to treat an injury with a sports massage, Balinese Spa has you covered. Get the Swedish and Thai massage done which makes you as relaxed as possible and help with everything from sleeping disorders to muscle pains. The trained therapists come from Thailand and Bali, and know exactly what they are doing.

Sawasdee Namaste Spa
Combining warm hospitality with professionalism, Sawasdee allows you to come in early, check out the spa and make you feel as comfortable as you possibly can be. Focused on stress reduction and relaxation, Sawasdee offers dry and oil massage in three variations -- soft pressure, medium pressure and medium to hard pressure. You will be charged INR 1500 for 30 minutes, INR 2500 for 1 hour and INR 3500 for 90 minutes. The happiest part is, they offer A 20% discount on all body massages!

Comments