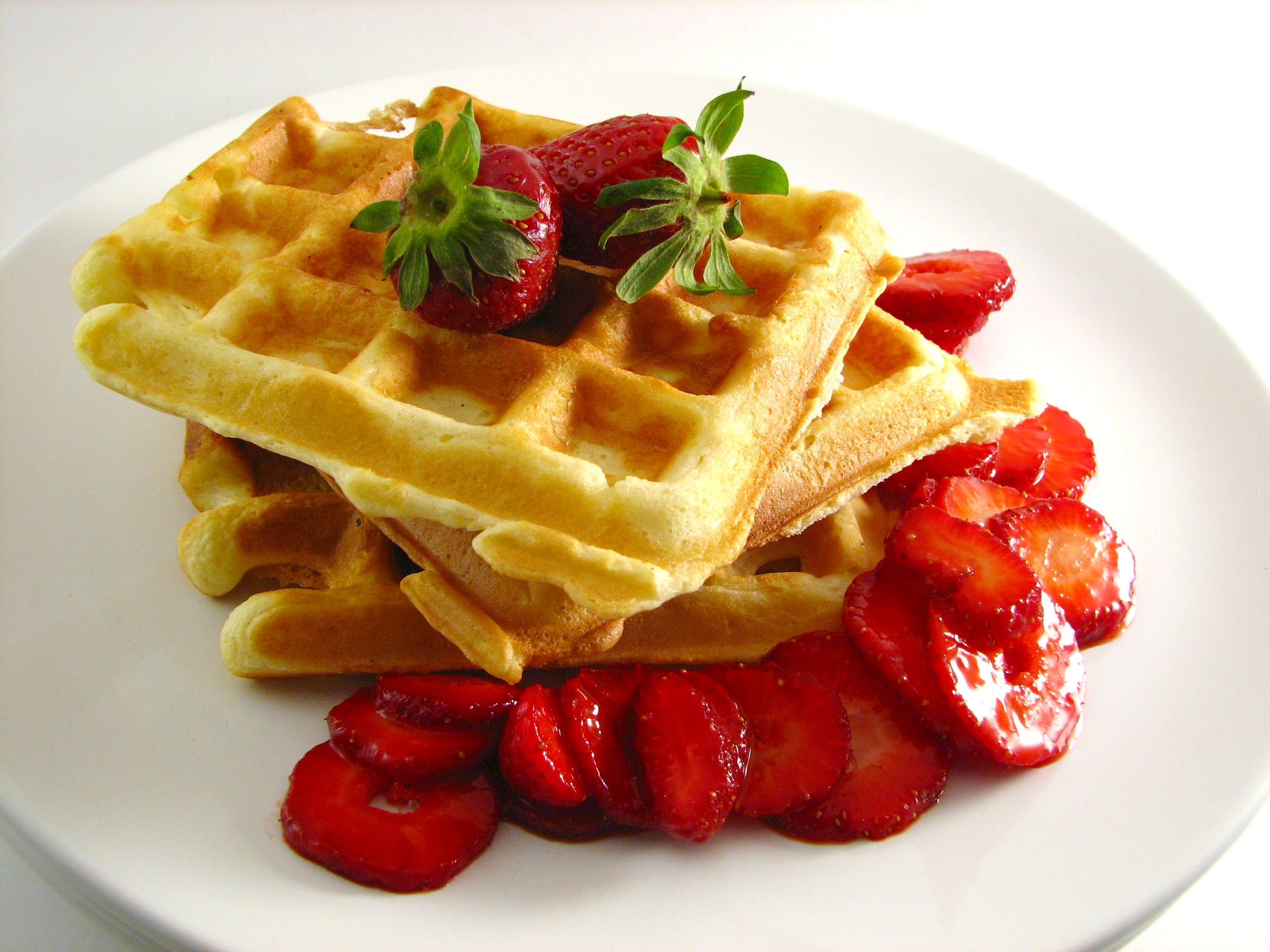 Waffle Away! List Of Places You Can Go To Get The Best Waffles In Town
Crunchy warm waffles, with a generous helping of maple syrup or melted butter on the side, can instantly transport you to your happy place. In fact restaurants and cafes in the city are bringing out the versatility of waffles by serving up sweet, savoury, spiced, herbed or filled with cheese and other fun toppings. Head to these places to fix your waffle cravings.

Picadilly Square
Located on Sarat Bose Road, this vegetarian hub serves crisp warm waffles in both sweet and savoury varieties. You will love the European themed décor, complete with cobbled streets and vintage lamp-posts, an apt setting for feasting on some classic Belgian waffles. If you're there on a cool evening, take an outdoor table. The Grilled Potato Waffle Sandwich is a must try for potato fans.
The Belgian Waffle Co
It's a tiny place in Elgin road, which is always packed to capacity, serving freshly baked waff-wiches (served like a sandwich in a conical pouch). They have a huge variety of flavors of to offer like – Dark & White Fantasy, Cinna Wapple, Blueberry Creamcheese, Coffee Waffle, Belgian Chocolate, Red Velvet, etc. Portions are regular but quite filling so don't get carried away while ordering the favourites.
Krazzy For Waffle
This one lives upto its name of serving up some crazy combinations of flavours. You have binged on nolen gur in a lot of forms, now how about a nolen gur waffle? We also could not get enough of the rabri malai on crunchy waffle with dry fruits on top for some added texture. They are going strong with 3 outlets in the city already. Best part? They are open till midnight! If you wish to surprise someone on their birthday with a waffle instead of cake that is.
The Shack Lounge
This cafe cum lounge in Ballygunge has the best savoury waffles in town. You must try the crispy chedar cheese and herb waffle served with creamy cheese and corn. Set your mouth on fire with the paprika potatoes waffle with hot salsa sauce. If you love your veggies, don't miss the smoked roasted vegetables waffle, flavoured with parsley and olive oil. Don't mind the carbs? Then go for the grilled potatoes waffle laced with garlicky mayonnaise. Sweet options include waffles topped with caramel sauce and a dusting of cinnamon powder, or whipped cream and chocolate sauce.
Haagen Daz
Apart from their Instagram-worthy sundaes, they serve Belgian Waffle Dream which is a caramel butterscotch delight. What's better than a fresh warm waffle with dollops of cold silky ice cream and whipped cream. Although it does burn a decent-sized hole in your pocket, then again who can put a price on happiness?
Waffle Wallah
Waffle Wallah is quirking up the waffle scene in the city with their creamy (or cheesy), crunchy and oh-so-good-looking waffles. Full marks for presentation! Whether it's the Nutella & Nuts Wallah or Coconut & Orange Wallah, we bet you would want to Instagram first and eat them later. Try the death by chocolate here, waffle square studded with crunchy bits of cookies, whipped cream, gooey chocolate sauce and chocolate chips.
The Country House
This one is for all the Nutella lovers – Nutella waffles at their absolute best at The Country House. Crisp and golden on the outside, and light and fluffy on the inside, this portion of waffles comes with four large pieces that are perfect for sharing. They are very generous with the Nutella and fudge sauce that comes with it. For the ultimate experience, order a side of vanilla ice cream.
Waffle Junction
An entire place dedicated to waffles? Count us in! From classic combinations like Banoffee Toffee or Classic Belgium they also do fun new versions like Oh-Reo, Choco-berry and Kitkat Crunch! Reasonably priced and perfectly portioned for one person, they will satisfy your midnight dessert cravings (one in sector 5 is open right until 4 am!)
Ask Fatema a question