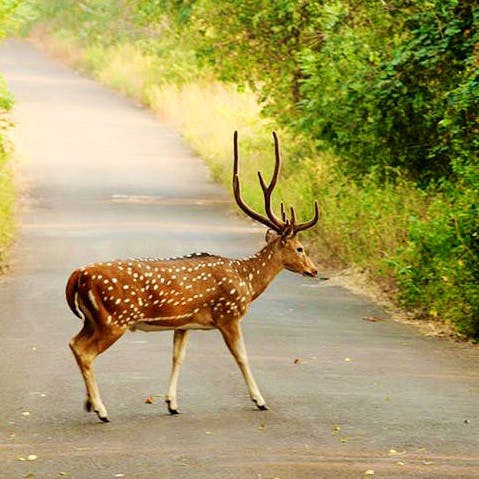 From Spotted Deer To Blackbucks: Catch A Glimpse Of It All At These Wildlife Sanctuaries
Did you know you can spot some of the most rare birds and animals just a few hours from the city? Yes! Bengal boasts of several wildlife sanctuaries replete with diverse flora and fauna and many different species of birds and animals that make them a paradise for every wildlife lover and photographer. We've made you a list of seven such sanctuaries that you must visit. Read on to know more.
Buxa Tiger Reserve
The second largest tiger reserve in Bengal after Sundarbans, Buxa Tiger Reserve is located in Alipurduar and boasts of the endangered Asiatic elephants and rhinos, rare birds like white-rumped vulture, slender-billed vulture, chestnut-breasted partridge, rufous-necked hornbill and others. You can also spot rare mammals like leopard cat, Bengal florican, regal python, Chinese pangolin, hispid hare and hog deer. Buxa's biodiversity includes over 450 species of trees and 150 kinds of orchids. Avail jungle safaris to explore the park.
National Parks & Wildlife Sanctuaries
Chintamoni Kar Wildlife Sanctuary
Located 10 km from Ruby, this sanctuary is heaven for ornithologists and wildlife photographers. It's home to a wide variety of birds, butterflies, ferns and orchids. Visit during winters to spot species like the Tickell's Thrush, Eurasian Woodcock, Blue-throated Flycatcher, Black-hooded Oriole and Chestnut Trained Sterling.

National Parks & Wildlife Sanctuaries
Mahananda Wildlife Sanctuary
Located in the foothills of the Himalayas in Darjeeling, Mahananda Wildlife Sanctuary has over 300 different kinds of plantations. It's one of the best places to spot elephants and, if you're lucky enough, you might just be able to spot the Royal Bengal Tiger as well. You can spot over 30 different species of mammals here including Himalayan black bear, leopards, rare mountain goats (serow), porcupines, golden cats, sambar, spotted and barking deer, to name a few.
Raiganj Wildlife Sanctuary
Raiganj Wildlife Sanctuary is home to over 160 species of birds and over 90,000 migratory ones that visit every year. Also known as the Kulik Bird Sanctuary, this area is an extremely important heronry because it supports a major population of the Asian Openbill that exists in South Asia. You'll find kites, flycatchers, owls, kingfishers, woodpeckers, drongoes and other resident birds at the sanctuary. And if you are lucky enough, you might just catch a glimpse of the Asian Paradise Flycatcher and Indian Pitta.
Senchal Wildlife Sanctuary
Senchal is one of the oldest wildlife sanctuaries in Darjeeling. You'll also find over 350 types of flowers including Rhodendrons and orchids as well as animals like Rhesus Monkey, Assam Macaque, Himalayan Flying Squirrel, Barking Deer and Wild Boar. Be prepared to spot endangered species like leopards, jungle cats and the Himalayan Black Bear.
Ramnabagan Wildlife Sanctuary
This wildlife sanctuary located in the Burdwan district of Bengal is slowly becoming a popular getaway for travellers, wildlife enthusiasts and photographers. The place is home to spotted deer, langurs and blackbucks. Catch a glimpse of snakes, owls, storks, mongoose, leopards and different species of birds. Relax in the lap of nature among teak and sal forests away from the chaos of the city.
Lothian Island Wildlife Sanctuary
The Lothian Island Wildlife Sanctuary is situated inside Sundarbans at the confluence of The Bay of Bengal and River Saptamukhi. It is home to Estuarine Crocodiles, Olive Ridley Sea Turtles, Spotted Deer, Jungle Cats and Rhesus Macaque. You'll also find a variety of birds here like the Black-Capped Kingfisher, Curlew, White-Bellied Sea-Eagle, Tern and Whimbrel. Watch out for red crabs as well.
Comments