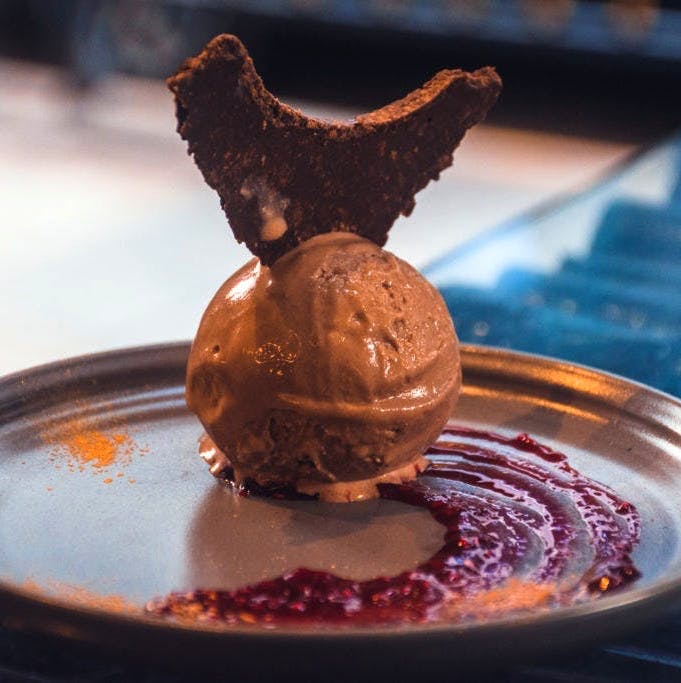 Offbeat Flavours & Organic Ingredients: Guide To The Best Artisanal Ice Creams In Mumbai
Rare ingredients, fine textures and quality, and slightly heavy on the pocket. Yup, we're talking about rich artisanal and home-made ice-cream. Die-hard fans of ice cream will not think twice before spending more on a scoop which is hand-crafted from the purest quality of ingredients. Artisanal ice cream has its own charm and a bunch of loyal fans too! Unlike most ice-cream parlours, artisanal ice-cream is produced in small batches as against mass production with lots of fresh ingredients and love.

We list the best ice-cream parlours that you just gotta bookmark.
Sucres Des Terres
Launched in 2014, Sucres Des Terres surely makes it to the top of our list for best artisanal ice-cream in the city. At SDT, every scoop or jar of ice-cream is made in small batches where only the freshest and the riches ingredients can make it to your ice-cream. By sourcing the highest-quality, local and seasonal fruits, the good folks at SDT offer unique flavours such as Bean to Jar, a decadent chocolate ice-cream which uses cocoa beans from Regal - India's first and only single origin 'Bean-To-Bar' chocolate maker from the foothills of the Annamalai in Tamil Nadu.
Their other flavour, Clean Mean Vanilla Bean, transforms the often under-appreciated, humble vanilla into a heady, intoxicating flavour using vanilla beans from Kerala. And limited-edition flavours make the most of seasonal ingredients such as mango, strawberries, winter apples and much more, to create unforgettable, natural interpretations of the beloved childhood treat, with a flavour available for every discerning palate.
Price: INR 750 to INR 950 (500 ml tub)
Coppetto Artisan Gelato
Can't take a trip to Italy for their authentic gelatos? Ice-lovers, if you're looking for some really good artisanal gelato in Mumbai, then Coppetto should be on your to-visit list. The parlour has made its way to the queen of suburbs, Bandra, and is sure to call out to you with it bright lights, pretty grass walls and quirky décor. You're sure to have a hard time choosing a flavour made from organic milk, fresh fruits and ingredients.
The menu has flavours like coconut, pistachio, coffee hazelnut, dark chocolate, milk chocolate and salted caramel. The selection includes a range of icy & tangy sorbets in fresh lemon, raspberry flavours and more. In case of scoops just don't do it for you – there's also gelato shakes available – crunchy Ferrero Rocher, Oreo cookie, dark chocolate, Sicilian pistachio and more.
Our pick was the Salted Caramel and Nutella Gelato - a perfect mix of salty-sweet caramel and the goodness of Nutella (YUM!).
Price: INR 800 (for a Coppetto jar); INR 170 (for a scoop)
Bono Ice-Cream
Based out in two prime locations – Kemps Corner and Bandra – Bono Ice cream is for those who are looking for off-beat ice cream flavours and quality hand churned ice-cream. Using organic milk and no preservatives, Bono is run by a sister duo that started the parlour first in Bandra, and then in Kemps Corner. They have approximately 12 unexpected flavours which are available all year round. These include blue cheese honey, milk chocolate bacon, sugarfree dark chocolate sea salt, lavender honey, Pondicherry vanilla etc. Depending on the seasons, do expect introduction of new flavours like strawberry during winters or raspberries during monsoons.

Price: From INR 750 to INR 900 (500 ml tub)

Peko Peko
If you're hungry and are craving for a dessert, just say 'Peko Peko' to your friends. It's a Japanese term which means hungry or starving. From dairy-free options and vegan options to pet-friendly ones, we're in love with this quirky ice-cream destination in Andheri. Their menu makes it all clear. Every ice-cream on offer is naturally made using organic milk and locally sourced ingredients. Which is served with home-made toppings and add-ons like marshmallow, raspberry jam, salted caramel sauce etc. Some of their flavours include milk chocolate sea salt, sweet and salted caramel, white chocolate passion fruit, green apple and basil sorbet (this one's vegan and detox) etc.
If you're in a mood for some experimentation, do try out the traditional Italian dessert called Affogato. It includes a scoop of ice cream dunked in a shot of espresso with topping.
Price: INR 150 – 200 (per scoop)
Bina's Homemade Ice Cream
Started by a housewife, this ice-cream parlour had a humble and a small start before it became a popular name for home-made and unconventional flavours. To ensure the ice cream is super fresh, she restricts herself to making only three-four ice creams per day. A fan of old-school techniques, she adopts the traditional method of churning with an Indian sancha - a metal kitchen equipment to churn ingredients classic and unconventional ingredients. One thing about her ice cream is that it's made of 100% milk and not cream, thus making it light and fresh. Apart from classic flavours, over the years she experimented and innovated offbeat flavours like Chai Biskoot, Popcorn, Thai Red Rubies, Lemon grass etc.
She also provides the service of free home delivery between Mahalaxmi to Churchgate and in Vile Parle (with a minimum order of one litre).
Price: INR 305 – INR 425 (per tub)
Hawte
Their tagline is 'Slow + Simple = Sexy'. They are one of the few ice-cream parlours in Mumbai which employs the art of slow churning to maintain top-notch quality of ice-cream. Apart from freshness, another benefit of slow churned ice cream is that they contain less amounts of fat and one-third of the calories when compared the other commercially available ice-creams. They even claim that their ice-creams can be consumed by diabetics without any regrets. Every box of ice-cream is hand packed with the organic daily supplies, fresh farm produce and rich flavours, avoiding any sort of chemicals or preservatives. And the best part? They do not charge an additional amount for extra toppings. Some of their flavours include Raisin Monk, Jamaican Kiss, Irish Crème, Hokey Pokey, Filter Kappi etc.

The brand was first established in Auckland (New Zealand), after which this brand came to India in 2017.
Price: INR 300 to INR 500 (for a bucket)

Ask Shaili a question