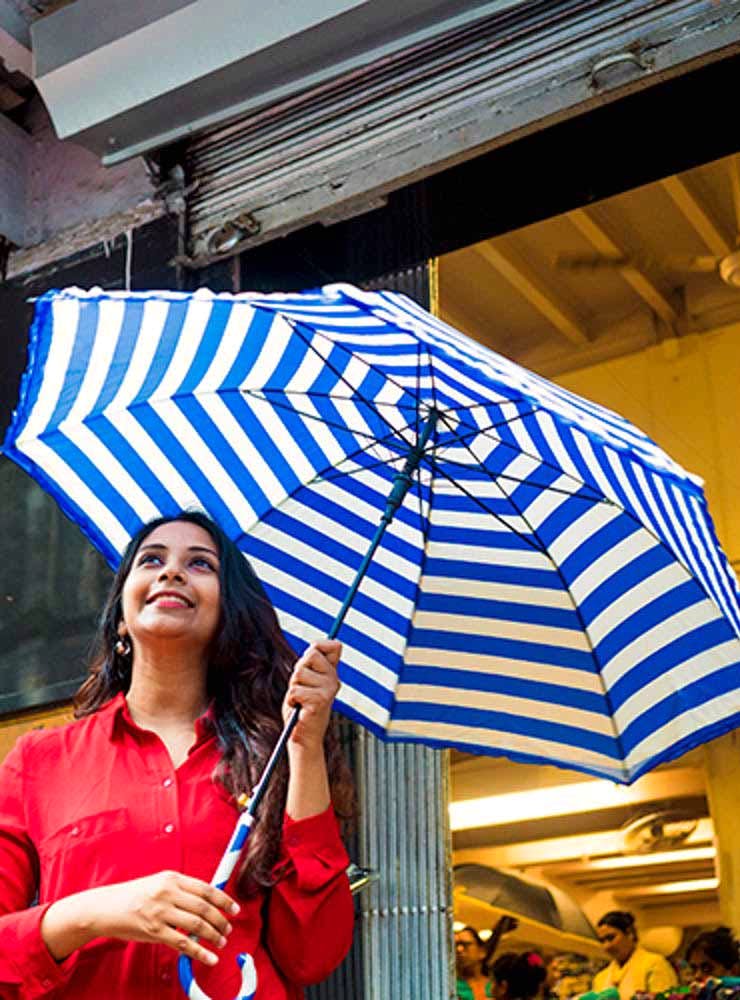 No More Rain Woes: The Definitive Guide To Arming Yourself This Monsoon
You're no stranger to the trials and tribulations of braving Mumbai's monsoons while you get to college/work, and we're on the same boat as you are. Here's where you can arm yourself with the ammo you need to win the fight against puddles, open streets and public transport!

Raincoats & Windcheaters
We know it's ideal for you to order 'em online, but we love finding hardy, quality ones we can try on for fit before purchasing. While making the morning commute is (arguably) comparable to an adventure sport, Decathlon has reasonably priced and well-made windcheaters that will last you a long, long time. They've got a few basic colours to choose from, if you'd like a simple one that does the job. They're foldable and perfect to carry around in your bags or purses.
Alternatively, splurge at any sporting goods store - Adidas, Nike et al., all have colourful, yet slightly expensive, options to choose from.
Looking for something easier on the wallet? Head to HyperCity (Thane, Goregaon) - they have an exhaustive seasonal collection which will have you covered (heh) for everything! You could also head to any outlet of Lifestyle for really cute printed ones.
Umbrellas
While a normal black umbrella would do the job... We're fans of anything that fills you with joy.
Equip yourself with cute printed/ruffled/uniquely-shaped umbrellas at one of the numerous stores at Linking Road in Bandra, Lokhandwala Market in Andheri, and most major departmental stores (Miniso, Pantaloons, you get the picture).
The Bombay Store does a killer seasonal collection of umbrellas with new Mumbai-inspired patterns every year. Head to any outlet in the coming weeks, and we're sure you'll be picking one up!
In the mood to make an expedition out of monsoon shopping? Head straight to Mumbai's oldest umbrella store - Ebrahim Currim & Sons. It's 157 years old, and still going strong.
Rainproof Footwear
Mumbaikars: Breakers of Signals, Survivors of Monsoons, Avoiders of Puddles, need footwear that doesn't betray them, come hell or high water.
Hill Road's assortment of shops doesn't disappoint. We need rainproof footwear. Here's where to get it while in Bandra. There's also the entirety of Lokhandwala market at your disposal. Head to any outlet of Crocs and/or Timberland if you're feeling bougie.
Waterproof Bags
You gotta keep your (work/college) ammo dry, and you need a waterproof bag/backpack.
Again, Decathlon, American Tourister, Quechua and most sportswear companies will have you covered for these, but if you want something cheaper, we suggest jelly handbags (they're quite sturdy, we assure you) - they're a great bet.
Again, Lokhandwala and Hill Road are great bets for bags that come in different materials, are colourful (so pick one for every day of the week!) and are cheap! Hell, yes!
Waterproof Earphones
JBL, Sony, Philips and boAt will have you covered for this! Make sure you get wireless ones, so you can keep your phone safely in your (waterproof) bag while you're plugged in!
If you'd like to test a pair before buying it, head to any electronics store at Irla to shop for these - Alfa, Mobile Point NX, SR Telecom, and more.
Comments