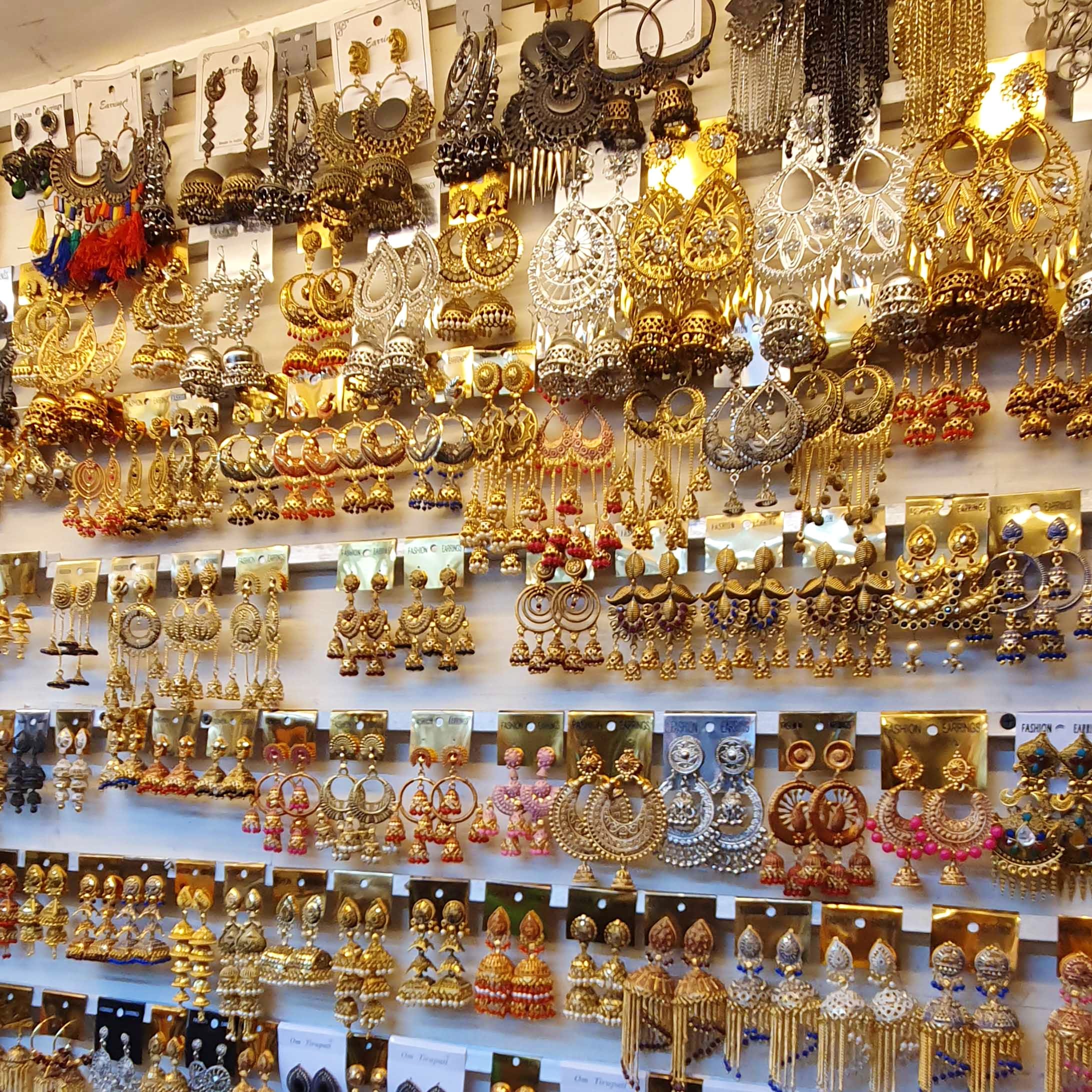 Clothes, Jewellery, Food & More: Conquer The Open Market At Lokhandwala Under INR 2,000
A lot of us head to Lokhandwala market to shop our hearts out, and we intended to do just that. While we walked towards Kamdhenu Shopping Centre, we noticed the open market right outside and decided to walk around. Conquering this lane in under INR 2,000? We found a goldmine. Check it out!

For The Love Of Jewellery
Beauty Art
As soon as you enter the Kamdhenu Shopping Centre, you see rows of gorgeous shiny neckpieces that immediately grab your attention. The tiny store called Beauty Arts, has beautiful stone-studded neckpieces, earrings, nose pins, accessories, hats and caps and even costume jewellery for men (if you love Bhai, you'll find a replica of his bracelet here!)
Price: The stone neckpieces start at INR 300 and you can even get pretty jewellery for less.
Shilpi Creation
This one's the first shop you'll notice after entering the market. It's got pretty cotton tops, kaftaans, shrugs, palazzos, and even wrap-arounds that look super elegant. You might also want to invest on some regular-wear semi-formal shirts. The quality's bang on. Oh, they also have kids section in case you're looking for pretty dancing frocks for your tiny tot.
Price: The casual tops start at INR 500 onward.
Miss World
While there are quite a few stores in the complex that have some really exciting options when it comes to clothing, we found one treasure called Miss World, that sells women's clothing, largely western wear, with some of the prettiest designs we've laid our eyes on. From tops to formal shirts, dresses and pants for any occasion, the garments are only made of cotton, which is a boon in Mumbai's omnipresent garmi.
Price: INR 350 onward.

For Gifting Your Loved Ones
Ashish Gems
It's always a good time to gift a little Ganpati idol to someone in case you're confused about what to give. And Ashish Gems has a massive variety for you to choose from. Apart from the idols, they've got windchimes, nazarbattus, and vases at very nominal prices.
Price: INR 100 onward for everything that the shop has.
Harsha And Rakesh Professional
In case you're tired of the heat, and holding those shopping bags, do yourself a favor. Take a break and enter Harsha And Rakesh Salon. They're a team of professionals who've got four salons in Lokhandwala (one of them being at Kamdhenu) to de-stress you.
Price: A basic trim will cost you INR 590; A haircut will be around INR 830; and if you want a quick head massage, shell out INR 710
Citizen Man's Salon
There's another one in the market which specializes in haircuts for men. It's been here since 10 years now and if you're low on budget, you could opt for this. They've got discounts all year round.
Price: Pay INR 120 if you're looking for a haircut, INR 150 for a head massage, and INR 700 for a facial, on which you have a discount of ten percent.
Juice And More
Let's admit it, shopping makes us all crave for food. And a lot of it. In case you want healthy and tasy on a budget, the Kamdhenu market has a fix for you. Originally known as Nissan Hot Roll, this one whips up some really tasty chicken rolls, that you must devour yourself in. Go for their Bhuna, Hot Gralic or Tikka frankie. You'll feel super full and satisfied. And quench your thirst post that with some refreshing juices or milkshakes.
Price: INR 100 onward for beverages, INR 200 onward for rolls and frankies.
Comments