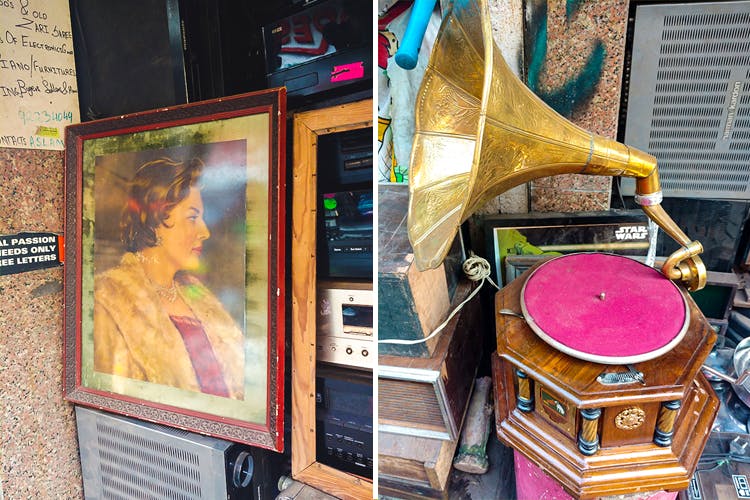 We Bought Vintage Gramophones, Magazines & Hand-Painted Crockery From Bandra's Chor Bazaar
Shortcut
We all know how awesome Chor Bazaar is. But there are several reasons why you might not be able to go there every time you need to buy something quirky. One can be the distance if you live in suburbs. The other can be exertion since you will have to go through a lot of shops there. Also, the fact remains that Chor Bazaar won't come to your house in case you want to sell some old stuff.
We found you three kickass thrift shops in Bandra that will save you the trip!
Topaz Scrap
Topaz Old Paper Mart on Waroda Road is an amazing spot to find antique relics such as gramophones, vinyls etc. You can also sell your stuff there. The shop also sells and buys old books at discounted rates. Lots of non-fiction, fiction, encyclopedias, graphic novels, comics, manga, PG Wodehouse novels etc. at half their original prices. If you live in Bandra, they will even pick up stuff from your house (in and around Bandra) so you can quit arguing about who will step out to get rid of that old vase you hate.
Read more about it here.
Rajan Old Paper Mart
Right opposite Topaz is another thrift shop you will be able to spot easily because of the big book collection displayed outside. It keeps a collection of old books, novels and magazines which are sold in less than half of original prices. You might have to skim through a few bundles to find the gold, but it'll be worth it. Although the shop deals majorly in books, you will find a lot of quirky objects displayed for sale from time to time.
We spotted a huge and super quirky Micky Mouse telephone and some hand painted crockery. If you want to sell something old you have, they even come and pick stuff up from your house if you live in and around Bandra. You can call on +919004857338 for the same.
Supreme Thrift Shop
Walking a little towards Bazaar Road will take you another hidden treasure that has some real gems hidden beneath those dusty sheets. Supreme Thrift Shop is located bang opposite Navrang Stores on Bazaar Road (in case you are not able to find the location). The shop, despite being small, holds a large collection of DVD players, speakers and other electronic items. The price of each piece will vary with its condition and how antique it is.
You will also find a number of other awesome vintage stuff like old paintings, gramophones, typewriters, crystal paperweights, crockery, utensils, musical instruments etc. I found a 96-year-old London Vogue – 1922 (the royal wedding edition) for INR 100. To ask for directions or any other enquiry, call on +919818194743.
Comments