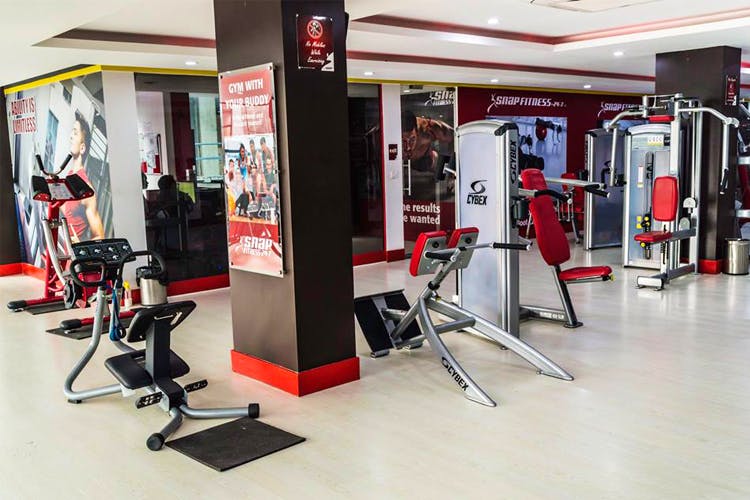 Work Out On A Budget: Gyms Under INR 3,000 A Month
We feel your pain. First, you have to get out of bed early in the morning to hit the gym, and then you have to shell out plenty of monies for it too! How does that work, right? But since we know that feeling, we went about trying to find gyms in the city that charge less than INR 3,000 per month (yeah, you heard that right), without compromising on trainer expertise, facilities or equipment. Here's our pick.
Whitefield Total Fitness
Great for all kinds of training from cardio and strength training to more specific functional workouts or stamina session, we like this one for its large space. The trainers here give it their best to customise the programme for you, so you're in good hands even if you're a beginner.
Price: INR 1,000-2,500 for one month
Snap Fitness
With a branch in almost every locality in town, this one is great to get fit at. With different levels for you to join, they will encourage you every step of the way. And by that we mean chide you even. So don't even think of slacking!
Price: INR 2,500 upwards a month.
R2Fitness Revolution
Describing themselves as a scientific fitness destination, R2 prioritises the often overlooked aspects of fitness such as nutrition and personalising your training. They've also got educational sessions with tips on how to live a healthier lifestyle. This is your go-to gym if you're looking for more than just a place to workout.
Price: INR 3,000 for a month
Figurine Fitness
While dance aerobics is their forte, they have gyms that will give you a break from group classes. Trainers are fun and poke and prod with humour, which is why we like this place. Camaraderie is paramount, and you'll soon be hooked to the gym. Body building, functional training, circuit training are all on the cards if you need a proper schedule.
Price: INR 1,800 upwards per month
Contours Women's Fitness Studio
A popular ladies only gym, they offer group classes like zumba, pumpy Bollywood and 29-minute interval training sessions. The equipment is simple and isn't tuned to the hardcore workout. But you can get a 360-degree workout, be it intense abs sculpting on a Swiss ball or light weight training.
Price: INR 2,800 upwards per month
Slam Lifestyle and Fitness Studio
A fitness centre on the Indiranagar block, SLAM is really an acronym for Sports Liberation Aesthetics Muscle. This means that while there are machines to work out on, you'll likely be put on a circuit training routine focusing on High Intensity Interval Training (HIIT). Think bootcamps, muscle building or toning, and weight lifting. Fighting fit for real!
Price: INR 3,000 upwards
Volt Energy Club
While if you join here on a short-term basis it isn't as economical, we suggest you sign-up for a year in one go. Why? Because then you get to pay under INR 3,000 a month, for all their classes and spaces. That means you can do Zumba one day and then hit the gym the next, before pushing yourself to Body Pump, RMP or Capoeira on other days. Plus, valet parking, shower, sauna and use of the exclusive cafe upstairs. Check out the LBB lowdown on it here.
Price: INR 32,000 for the year (INR 2,666 per month on this package)
Comments