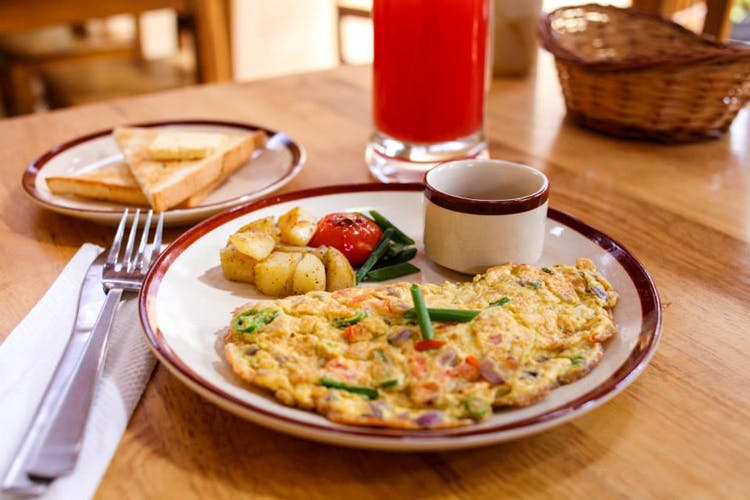 Koramangala Has A Secret, And It's The Breakfast Pentagon
If you're a resident of Koramangala, then you'll know that there's a restaurant for every conceivable cuisine. If you are not a resident, you'll know this anyway! But what you may not know is that there's this Koramangala Insiders Secret – The Breakfast Quadrilateral. Except that with one more joining the party, it's now a pentagon. Comprising five eateries, best acknowledged for their English brekkies, pancakes and egg-citing creations, fuelling up here is a real treat. We suddenly like our geometry much more than before.
A Hole Lotta Love
The waffles and pancake options here are just too sweet and good. Either you go for the Funky Monkey Waffles that you can kick-start your day on a sugar rush or settle for something more usual such as the Chip Off The Old Cluck which are eggs cooked with potato chips, onion and a lot of cheese. You can even for unconventional breakfast options such as the Chilli Chicken Bomb Burger, The Naked Veggie Burger, Grilled Chicken Sandwich (INR 90), and The Complete Meaty Omelete (INR 180) when you are looking for a heavy breakfast.
Café Terra
Just 50 meters ahead on 80 Feet Main Road, this place is a familiar haunt for most Koramangala residents. Their stack of books and comics keep you entertained as you wait for your food to arrive. While they have set breakfasts on offer, their signature dish is crepes with all kinds of fillings from chocolate and banana to ham and mushroom. If that didn't catch your fancy, perhaps the blueberry pancakes will. Oh! And the next time you want to cheat on that diet, their hash browns are a good bet!
Mustard Cafe
Sharing their space with the apparel store, Mustard Cafe is the ideal spot for a lazy brekkie with great company. You can accompany that with a game of scrabble, or UNO. If you need some alone time (post-party morning moods can be rough, we know), pick up a book while you enjoy Mike's Beefy Omelette, or an Aapam and stew. Whatever floats your boat (or their veggie idli pies with chutney if you're feeling experimental).
154 Breakfast Club
Walk ahead onto 8th Main A Road to find this cosy nook. Their yellow-and-black sign greets you upon an entrance to a homely seating area surrounded by flora. We can't stop gushing about their seasonal juices. There's nothing like a good mango shake in the morning! Also try their omelettes if you enjoy a few (or dozen) toppings. We can't get enough of the Porky Treat loaded with bacon, ham, and chilli pork. Vegetarians, don't be put off, they have lovely options for you too. It has begun to get crowded, especially on weekends, so reserving a table is probably a good idea.
Hole In The Wall
End your adventure at the original breakfast spot (this is where it all begun) in Koramangala, at end of 8th Main Road. Try their waffles, especially drizzled with their homemade chocolate sauce that tastes almost as good as Nutella. Seasonal fruits are great additions to the breakfast here, and we like that they have a Hangover Remedy comprising eggs, cheese, bread — plenty of protein and carbs! We also love Chip Off The Old Cluck which are eggs cooked with potato chips, onion and a lot of cheese. Yum!
Comments